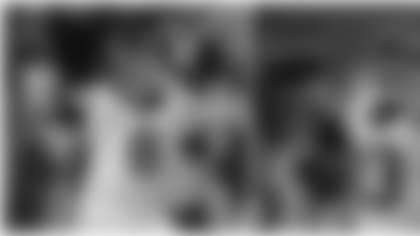 ]( "QB Matt Schaub, QB T.J. Yates")

The Texans begin their offseason workout program on Monday. Among those reporting to Reliant Stadium will be free safety Ed Reed, who signed with the Texans as an unrestricted free agent on March 20.
Texans general manager Rick Smith called it "a great day for our franchise" when the Texans signed Reed. Texans defensive players are uniformly excited about playing with the nine-time Pro Bowler. The Texans' quarterbacks are excited, too.
Having both gone against the future Hall of Fame safety, Matt Schaub and T.J. Yates know first-hand what makes him such a great player – and why he's such a threat to opposing quarterbacks on the field. They explain that here:
Texans QB Matt Schaub
Career stats vs. Ravens/Reed: 3 games (1-2 record), 75-of-136 passing (55.1%), 869 yards, 6 TD, 2 INT (83.2 rating)
Reed's stats vs. Schaub: 17 tackles, 2 PD, 0 INT
On signing Reed: "It's huge for us. Anytime you can add a player like Ed Reed and what he's been able to do in his career, at this point, he's already a Hall of Fame player. When you can add that leadership, that experience, his ability on the field to make plays, it's just gonna bring out the best in everyone. It's such a huge get for us. We're extremely excited to add Ed to our locker room and to our team."
On what makes Reed so good: "His experience and his ability to be the quarterback of the defense and be able to read what a quarterback's doing. You always have to be aware of where he is on the field and where he could end up. He might look (like he'll be at) one spot before the snap, but then on the snap or just at post snap be in a completely different spot. If you're not good with your eyes and on your P's and Q's about where Ed is, he can take advantage of it and create a negative play for your team. When you're keying in on him so much, that might take away from what you have to know about the rest of the defense. So his presence on the field can affect more than what he can do at the safety position."
On Reed's ball skills: "His ability to go up and make plays and find the football and catch it and then his ability to return the ball as well after the interceptions… How many touchdowns has he scored after his interceptions or his fumble recoveries? His ability to make plays on the ball are as good as any receiver in the game, so we're excited about that."
On if adding Reed will help the Texans get to the Super Bowl: "Anytime you add someone to your roster, it's in an effort to better your team, better your organization and hopefully get yourselves to the last game of the year. That's where our goal is and that's where our focus lies. Hopefully, with Ed coming in and his experience in this league and at that level, he can help bring us to that spot."
Texans QB T.J. Yates
Career stats vs. Ravens/Reed: 1 game (0-1 record_, 17-of-35 passing (48.6%), 184 yards, 0 TD, 3 INT (28.8 rating)
Reed's stats vs. Yates: 6 tackles, 4 PD, 1 INT
On what, as a rookie fifth-round draft pick, he learned about Reed in the 2011 playoffs: "He's one of the best safeties to ever play the game. Especially as a rookie, he makes sure that you're on top of your game. You can't hesitate. You can't make a bad read. You can't be off at anything. If you're going to be able to be successful against a safety like that, you're going to have to be at the top of your game, and even if you are sometimes he'll still get you. (The) guy's got amazing ball skills. He's just so rangy back there. As a safety, I didn't really know what to expect, and he kind of gave me a lesson of how to play football."
On if he plans to discuss the game with Reed: "I'm pretty sure that'll probably come up. I might ask him for one of those balls back that I threw to him."
On if he has seen any other ball hawks like Reed: "He's kind of a different type of guy. He's going to take some chances, but he does it in a smart way. He does it because he's studied so much film and he's so experienced back there that he knows what he's doing; he knows the risks versus rewards. Usually, when he takes those chances on the field, it never really comes out in a negative way. It's always a positive thing. You're saying, 'Oh, he's taking that risk by jumping on that ball,' (but) it's because he went and got the ball. When he does get the ball in his hands, that guy is like a punt returner back there. There's a good chance it's going to go into the end zone. There's not many guys out there with his ball skills."
Twitter.com/NickScurfield