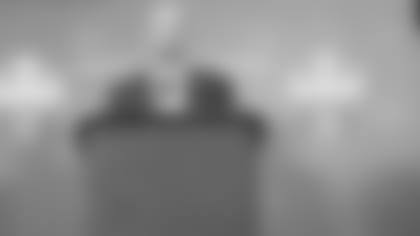 INDIANAPOLIS – With the 2013 NFL Draft two months away, general manager Rick Smith and the Texans are in full-blown evaluation mode at the annual NFL Scouting Combine.
The Texans have been scouting the 2013 draft class since last May, but the Combine gives them a chance to observe and interact with players in an up-close-and-personal setting. Over a five-day span, 333 prospects file through medical evaluations, interviews with all 32 teams, interviews with media and, of course, drills such as the 40-yard dash and bench press.
"I've heard a lot of talk this week about how important medical is and that's 'A-Number-1' and how the interviews are important and I agree with that," Smith said on Thursday. "But I do think that the other piece, the on-field workout, is significantly important as well.
"Do you draft a player on height, weight and speed? No, but it's a critical piece to the evaluation process, particularly when you have guys that are the best of the best. We've got 333 of the best here this weekend, and you want to see them in competitive environments. You want to see them compete. So that's a big part of it.
"The medical piece is certainly important. The interview portion, where you can look a man in his eye and talk to him and get to know him a little bit, albeit it's a short amount of time, all those things are important. But again, it's a piece to the puzzle of the evaluation process."
Smith is in Indianapolis along with the Texans' college and pro personnel scouts and other front office staff, including doctors and trainers. Gary Kubiak and the Texans' coaching staff also meet with prospects one-on-one in addition to watching drills.
"I'm trying to find out how much a guy loves to play, but I think there are certain guys that I know that by studying them and by watching them play and their history," Kubiak said. "When  I interviewed J.J. (Watt in 2011), I didn't have to ask him that. I knew it when he got in that room; it was amazing. But I wanna know how much a guy loves to play. I like asking guys, 'What do you expect of yourself? Where are you going to be a year from now? What kind of rookie year are you going to have?' It's interesting. When guys have high expectations, they usually find a way to attain them. So we'll find us some good ones."
Twitter.com/NickScurfield