A euphoric feeling pervaded the Texans locker room Sunday afternoon. Going out on two straight wins will do that for you.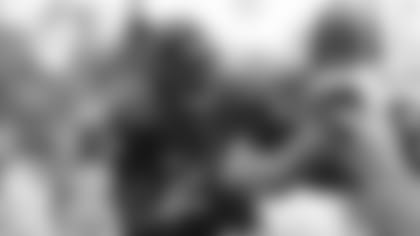 Especially when you know how far this defense has come.
"It's night and day," rookie linebacker DeMeco Ryans said of the defense this season. "From the beginning of the season when we lost those first three games to now, it's a whole different team."
"We've gone from probably the worst defense in the league those first three games to who knows how good we are now?" Robinson said. "We just persevered throughout all the injuries and guys just came through. Guys just made this into an outstanding defense."
Ryans, the best player on this team, ran up his tackle total to 156 for the year, the most by a rookie in the NFL in 20 years. He's indicative of how far the Texans' defense came this season.
"Those first three games, we were just getting to know each other," Ryans said. "Now we've developed into a unit. The chemistry improved so much. Now we're playing together."
And he too came a long way.

"I think I did OK as a rookie," Ryans said. "I came pretty far, too. I started out and wasn't a great communicator. I worked on my communication and I think I developed into a leader toward the end."
Another illustration of how far this team came was defensive tackle Anthony Maddox, who was out of football and delivering furniture six years ago. He was on the practice squad early this season before working his way into a starting role following some injuries to previous starters.
"I've come a long way this year," Maddox said. "I've made a big improvement from the practice squad to here. I think (the coaches) know I can get the job done now."
On Sunday, Maddox sacked quarterback Charlie Frye and then ran back the ensuing fumble 47 yards for his first career touchdown. The final 30 yards were a task for a player not accustomed to long touchdown runs.
"I ran out of gas at about the 30-yard line," Maddox said with a smile. "I was thinking, 'Where can I find some energy?' I was tired. I thought someone wanted to tackle me, but no one wanted to tackle me."
Free safety C.C. Brown, who had an interception in the end zone in the first half, also thought the Texans came a long way.
"This will be really special for us," Brown said of the final two wins. "This should be good for us to build on in the offseason. We came a long way from the beginning when we were busting assignments all the time to now when everybody knows where they're supposed to be.
"We had a bunch of losses this season that came right at the end of games. But now we know how to finish games."
Defensive end Antwan Peek had the same regrets after the Texans refused to allow a touchdown for the first time in 32 games.
"We lost a lot of close games," Peek said. "We easily could have won four more games. We just have to play better in the fourth quarter.
"We're very close to being a really good team."
That thought occurred to a lot of players as they considered losses to the Titans (28-22 and 26-20), the Giants (14-10) and the Bills (24-21).
"I'm excited to comeback next year," Robinson said. "Next year, we should go 10-6 instead of 6-10. We lost four games we had the lead in the fourth quarter. You win those four games and who knows where we'd be now."
Robinson knows there will be changes, though.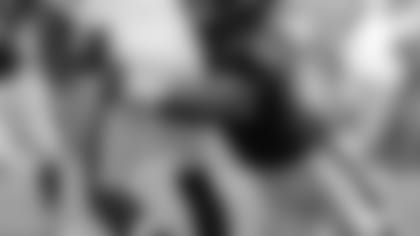 "Yeah, I'm excited about next year, but I'm probably going to lose a lot of friends in the process," Robinson said. "That's the nature of this business, but you've just got to move on."
Just getting a win in the last game, which the Texans never had done in their history, was big.
"It's huge to win the last one," end N.D. Kalu said. "When you win the last one, it stays with you the whole six months. When you lose it, you have questions in your mind all the offseason. This should really help us."
"It's big-time for us," Peek said. "Everyone's going to come back with a good attitude now. Guys have shown they're willing to step up and make big plays to win.
"I think the sky's the limit for us now, especially on defense. We've got too much talent on this defense not to get better, and the coaches know it."
*EDITOR'S NOTE:Jim Carley is a veteran Houston sportswriter who has covered the NFL for more than 25 years. He has worked for such newspapers as the Fort Worth Star-Telegram, The Houston Post, the Los Angeles Herald-Examiner and the National Sports Daily covering such teams as the Dallas Cowboys, the Houston Oilers, the Los Angeles Rams and the Oakland Raiders.