Reggie McKenzie already has one thing in common with the Texans: He also believes Mario Williams was the top prospect in the 2006 NFL Draft.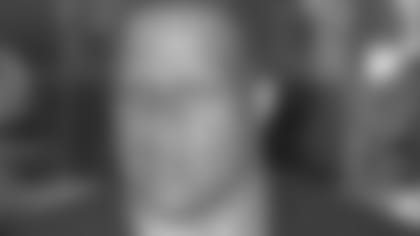 The Green Bay Packers' director of player personnel even knows what he would be doing right now had his current team selected the 6-7, 290-pound defensive end with the fifth overall choice.
"If (Mario) would've landed at the No. 5 pick, I'd still be dancing in the streets of Green Bay," McKenzie said. "He's the one guy that we think could turn a defense around. He's a young guy and he's got a lot to learn, but I think that's the type of player that you're willing to learn with."
McKenzie may in fact have the chance to work with Williams. On Wednesday, he interviewed with owner Bob McNair to be the Texans' next general manager. Denver Broncos assistant general manager Rick Smith was the first candidate to interview for the position on Friday.
"My message was that I'm the man for the job and I can lead this team," McKenzie said. "I can work with all the powers that be and try to put a championship team together, and if the route we want to go is to win, I'm their guy."
A former NFL linebacker for seven seasons, McKenzie played for the Los Angeles Raiders (1985-88), Phoenix Cardinals (1989-90) and San Francisco 49ers (1992) after being chosen in the 10 th round by the Raiders in 1985. Following his playing career, McKenzie coached at his alma mater, the University of Tennessee, in 1993 before the Packers hired him as a pro personnel assistant in 1994.
Head coach Gary Kubiak remembers McKenzie well from their playing days.
"I think Reggie is 42 or 43, and I think about seven out of my 10 years that I was playing, Reggie was playing," Kubiak said. "I know him well. He's really done a great job. He's moved up well in this business and is very well-respected."
The feeling apparently is mutual. McKenzie had nothing but good things to say about the job Kubiak has done in Houston thus far, and cited the Texans' reputation as the main reason he's interested in joining the club.
"I look at it as a team that's moving up," McKenzie said. "I think the acquisitions during this off-season, the draft—I loved the draft that they had this year—and coach Kubiak is from a winning program. He knows how to get it done as a coach. I look forward to working with him.
"As an organization, I've heard excellent things, and that's one of the reasons I'm coming down here, really. If I'd heard nothing but negative things being talked about from ownership and the stadium and the support, I highly doubt I would be standing here today."
Assistant head coach/offense Mike Sherman has a strong familiarity with McKenzie since they worked together in Green Bay. During Sherman's stint as head coach there, he and McKenzie helped the team win 57 games and reach the playoffs four times in six years.
"I don't know all of what (Sherman) has told the people here, but I think my track record pretty much speaks for itself, and coach Sherman was part of that track record," McKenzie said. "We worked together for (six) years and we had a good working relationship together."
Before his interview, McKenzie attended the Texans' practice this morning and came away impressed with the team's makeup and direction. After 11 years in the "frozen tundra," he appreciated the change in venue, however brief it was.
"I love watching the guys work," he said. "That's how you get a feel for your team. It was important for me to be out there to see how the coaches coach, see the players and how they transition from station to station and see how they work. It was good. All I've been seeing is green and gold for all this time, so it was kind of good seeing a different color."
McNair has been clear in that he expects the new general manager to continue to work closely with Kubiak on all personnel matters. When Smith interviewed last week, he emphasized his relationship with Kubiak as a selling point.
McKenzie, on the other hand, has not worked in the same proximity with Kubiak, but doesn't foresee that being an issue. He is receptive to others' viewpoints and believes that his approach fits well with what Kubiak wants.
"When it's all said and done, you want to get the best player," McKenzie said. "Now, it is my philosophy that you can never go wrong with bigger, faster and stronger. Now, when you're talking about you want this type of running back, I'm going to take the bigger, faster and stronger one and I'm going to try and sell that. When you're talking about equal or like ability, you want to go with the bigger, faster and stronger guy. It may be simply put, but that's the way you look at it."
McNair hasn't given any timetable for hiring Charley Casserly's replacement. Chances are that a few more people will interview before the list is narrowed.
But if McNair feels like cutting the search short, McKenzie is ready for the call.
"As far as I'm concerned, the sooner the better," McKenzie said. "I want to jump right in; I don't want to wait. If I can know in 15 minutes, that's fine with me."