Texans director of college scouting Dale Strahm will undoubtedly tell his wife today how he feels, especially since its Valentine's Day. Dale and Diane have three sons, so clearly the pair has developed a strong relationship.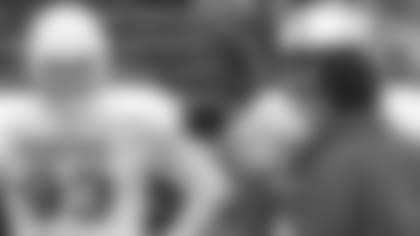 That comes as no surprise to those who know Strahm, a person who has excelled in football as a player, coach and now administrator. His success, in large part, can be attributed to the relationships he's built over the past 40 years hovering around the gridiron.
"There aren't many schools across the country where I can't step on campus and not know anybody on that staff that I have a really good working relationship with," Strahm says. "To me, that's the key to evaluating people."
Strahm's track record of player evaluation speaks for itself. As a regional scout for the Denver Broncos during the eight years previous to joining the Texans this past June, Strahm cultivated talent from the Southeast region of the country.
His last find was probably one you might have heard of: quarterback Jay Cutler out of
Nashville knew he was an NFL-caliber player, but it was probably Strahm's careful analysis that led the Broncos to trade up in the draft to grab him last April.
What made Strahm so sure on Cutler? A relationship he built over 15 years ago.
"I knew the strength coach at Vanderbilt," Strahm said. "He played for me when I was the head coach at
Western Carolina, so I was really able to get a great feel for Jay of not only what he could accomplish on the field, but what kind of leader he is, how he is in the weight room, the type of young man that he is."
Strahm went on and on about Cutler, mentioning that his father is a state highway patrol man, his mother, a teacher.
"You just knew he came up from the right stuff," he said.
Strahm, and those like him, know hundreds of facts about thousands of players. It's what they do. When a job depends on it, any means, or people, are used to get as much information about a player as possible.
"It's a continual process," Strahm says of scouting potential NFL stars. "You talk to teachers, high school coaches, equipment staff, anyone that can give you a glimpse of the young man. It never stops."
If you think that Strahm and his staff are busy now, you're right, but don't think they're relaxing on a couch back in August when NFL players are powering through two-a-days.
The process for this year's draft in April began then with a long list of college seniors to evaluate, about 12,000, in fact.
Strahm oversees a staff of six regional scouts - he was a regional scout in
Denver - and those six are responsible for the 12,000 seniors that will be eligible in the draft. Their task is simple to start.
"Review the young man, look at him, watch him at practice, watch him at a game, gather as much information on that individual as you can," Strahm said.
Those scouts then sit down with Strahm, tell him the players to keep an eye on, and then Strahm hits the bricks, using his relationships to either validate what his area scouts have told him or to discover other minor facts that might have been overlooked during the initial evaluation.
In November, the scouts switch for what Strahm likes to call a cross-check. More than just two pairs of eyes will view a potential Texan in the fall, and when it is all said and done, the list of 12,000 players is cut down to 800 by the end of the NCAA regular season.
Today, Strahm is working toward a number closer to 275 for a more workable list of players who the Texans "will have interest in" come draft time.
This whole process is only thrown for a loop when college juniors declare for the draft. NFL scouts are now allowed to speak to juniors on campus in the fall, so by January there is a frantic pace to catch up on players that are just entering the fold.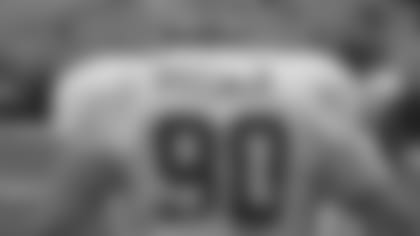 "Most of the time you're talking about anywhere from 40 to 50 early-out juniors that declare, and when that happens, that's usually a booster shot to the draft process because those guys are quality and they've been evaluated by the NFL to see if it's worth coming out.
"The majority of the time they are value candidates. Now we go back to stage one, assess them and see what they bring to the table."
Campus pro days and next week's scouting combine offer a glimpse of what those juniors have to offer, and then it's back in the office to filter in the names to a list that will be circled throughout the Texans' war room on draft day.
On that day, Strahm will be seated close to Texans general manager Rick Smith as a living, breathing encyclopedia on nearly every player in the draft. He'll be asked for measurables on players from across the country, but in the end, he may just trust his instincts.
"It's not an exact science," Strahm says of scouting. "It's an evaluation process, but sometimes in the end, it just comes down to a gut feeling."