You don't need to look any further than each team's record to see that the Texans and Colts have performed at different ends of the spectrum offensively this season.
At 10-4, Indianapolis already has wrapped up the AFC South for a fifth-straight season and heads to Houston this weekend looking to secure a bye in the playoffs.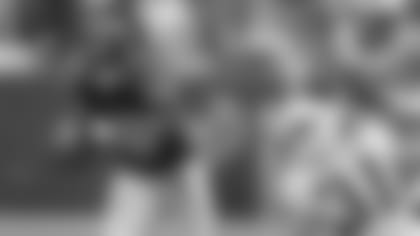 The Texans will be looking to finish the 2006 season on a positive note. Two wins to close out Gary Kubiak's first season in
would secure the second-best record in franchise history and help the team end the season with some momentum.
to pull off an improbable win Sunday and follow up next week with a victory against the Cleveland Browns, they are going to have to be more efficient on offense, especially on third downs.
Over the past three games,
is just eight-of-33 on third downs for a conversion rate of 24 percent. On the season, the Texans are converting on third downs at a 37-percent cilp to rank 19 th in the NFL.
Indianapolis ranks first in third down efficiency converting at an astonishing 57 percent of opportunities.
's deficiency the past three weeks is something they are keenly aware of. Wide receiver Eric Moulds said that the entire offense is to blame, not just one or two players.
"I think it's attributed to making mistakes and not being consistent in what we're doing," Moulds said. "Some series, in particular, we run the ball well and some series we don't.
"We have a few series when we complete passes here and there and then we have a series with guys dropping passes. Collectively, as a whole, we have a lot of guys making mistakes."
The guy pulling the trigger on offense, quarterback David Carr, said that
needs to do a better job on first and second down in order to improve their performance on third.
"I don't know, just being in bad situations, you put yourself in third-and-long situations, it's hard to convert," Carr said. "I think if you are third-and-eight or more, you have something like a five percent chance of converting in the NFL."
Aside from boosting a statistic that few fans probably pay much credence too, converting on third downs, if nothing else, gives an offense more opportunities to make plays.
"When you convert on third downs, you give yourself more opportunities to stay on the field," Moulds said. "You give yourself more opportunities to make some big plays and we haven't really learned how to stay on the field."
"No doubt about it," Calhoun said. "It just sustains drives. You get a little deeper in a drive and things tend to get a little better flow in terms of how you operate and you can get a rhythm. And naturally, you get a chance to wear a defense down."
Carr also feels that longer drives can lead to bigger plays.
"They're not guaranteed, but you're getting at least three more shots at it," Carr said. "Maybe then, you can find a way to get a ball down field or break a big run and change field position a little bit."
If the Texans are going to improve on third downs this week, Calhoun has a pretty simple formula to do so.
"There has to be high level of focus and execution, I think that's a big part of it," Calhoun said.
If the Texans can step up their third down production, they just might escape with a win, a first against
"We're pretty hungry," Carr said. It's been a long time coming against these guys. It would be nice to leave here after a game with these guys and feel good about yourself."