It was a perfect 80 degrees with a slight breeze for the Texans players and coaches who all gathered at the River Oaks Country Club Monday to participate in the fourth annual Houston Texans Golf Tournament.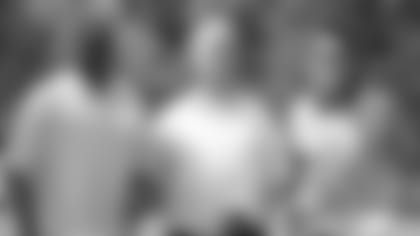 Texans head coach Gary Kubiak, defensive coordinator Richard Smith and several players were all in attendance to kick off the event, which benefits the Houston Texans Foundation. Tight end Mark Bruener said at the start of the day that he planned on being very competitive.
"We're going to be competing," he said. "I haven't met my team yet, but I'm going to give them a pep talk before. There are no bogies and we don't want too many pars; we want a lot of birdies today."
Along with his competitive drive, Bruener was also very excited about the golf tournament's purpose.
"I'm excited that we get to help raise money for a good cause," he said. "Any time you get an opportunity like this in a format where you can gather so many players and so many people that are willing to donate their time and their resources to such a great event, I think it's wonderful. I'm glad to be a part of it."
For organizer Joanie Haley, it was great to see the sponsors as well as the Texans players and coaches out on the golf course raising money for charity and also getting to know one another.
"For every foursome, we put a celebrity and the celebrity is either a player or a coach," she said. "And this year with our new changes, it's particularly exciting for the people who have played in the years past to be able to meet the new coaching staff and the new players."
The event is put on by the Houston Texans Foundation and it's the main fundraiser for the year. Proceeds from the event go to the five major charities sponsored by the foundation: Boys and Girls Country, Child Advocates, Juvenile Diabetes Research Foundation, The Health Museum and Rebuilding Together. In addition to those five charities, Heart of a Champion, a character education program, will benefit as well.