The holiday season is a time of sharing, and the Houston Texans Foundation did its share Tuesday morning. Texans players Samkon Gado and Charlie Anderson showed up to support the distribution of 29,000 pounds of chicken donated by Tyson Foods and 3,000 batteries donated by Interstate Batteries.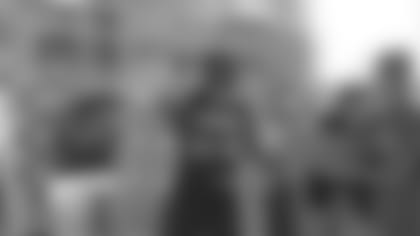 The Texans Foundation joined Lift Up America in their nationwide campaign to ensure those in need receive the generous donations from Tyson this holiday season. The campaign took part in more than 30 cities across the country and teamed up with other professional sports teams and universities to participate as volunteers during the distribution of the donations.
"The Houston Texans Foundation is very pleased to be a part of this because we truly want to be champions not only on the field but off the field," Joanie Haley, executive director of the Texans Foundation, said. "This is a small way that we can help coordinate activities such as these to get needed and necessary foods to those who might not have been able to enjoy them for the holidays."
Jeff Reeter, representative from Lift Up America, was present to witness the success of the event.
"Lift Up America has a vision for leaders in America to come together and make a difference in their communities," Reeter said. "When you have companies like Tyson food with a great leader like John Tyson, who says he wants to engage in the community, and a leader like Bob McNair and the Texans are willing to provide that, we just connect the dots for them. We're just so thankful for people who want to do this because 40,000 meals will go to the city of Houston from this."
The Houston Food Bank was on hand to receive all the donations and dispense the goods to more than 40 agencies, including churches, food pantries and Christian community centers. During the holiday season, the less fortunate count on such agencies for a warm and nutritious meal. According to Brian Green, President and CEO of the Houston Food Bank, Tyson's donation will be used to satisfy the supply of chicken that they normally have a hard time providing.
"We can't ever supply enough protein products," Green said. "Chicken is low in fat and rich in protein, and we appreciate this because we want to make sure what we're serving is not only good, but healthy. For us this is a very big deal because it's a very generous donation by Tyson arranged by the Texans and the Lift Up America foundation and we're just very thankful."
The Houston Food Bank distributes not only donated surplus food, but also donations from the community and from the federal government to almost 14 charities serving 18 counties around Houston. Last year, 38 million pounds of food were served to an estimated 498,000 people.
This was the second annual event of its kind, and Tyson representative Ryan Bosse also was there to present the donation.
"One of Tyson's primary focuses other than business is helping in the community," Bosse said. "In the past six years, Tyson has donated over 40 million pounds of product across the country for hunger and disaster relief.
"Out of the 39 million people that suffer from hunger, based on statistics, 13 million of those are children. We have over 100,000 team members in Tyson who work every day to manufacture and distribute our products. One of the things we like to do is give back to the community. We're doing this across the country with other sports and college teams. Tyson's been very big on promoting what they could give back to the community."
Along with the donation from Tyson Foods, the batteries offered by Interstate Batteries will be used for toys donated this holiday season. Various agencies collect toys, many of which are battery-operated, for underprivileged children. The donation will help ease the cost of batteries for the agencies.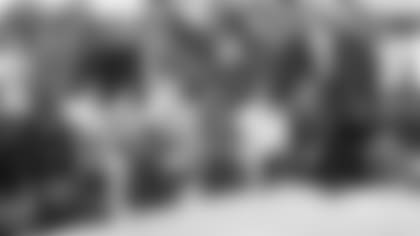 Somebody Cares America was called on to provide the manpower for Tuesday's event. The organization is a network of churches and ministries ready to jump in where the community may need them.
"We just want to let the community know that somebody cares and that when we work together we can get a lot of stuff done," volunteer Ruben Sanchez said. "We were able to get people together today to see lives transformed. A lot of kids are going hungry and we don't want to see that happen of course, and if there's something we can do we'll do it. We're just a body of people working together that believe in helping and serving people."