They are a fraternity without Greek symbols. They are a club without a marquee. They are a society without fanfare.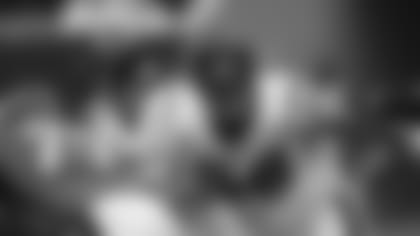 This is the Houston Texans' offensive line.
More beleaguered than any unit on the team, the Texans' O-line has been through it all this year. A total of nine players have started at the five interior line spots and last week another starter went down. Center Mike Flanagan is out for the year with broken ribs.
Yet it seems they keep bouncing back. Two weeks ago, this line blocked for 188 rushing yards against the Bills, the second-highest rushing total in club history. Then last week, it managed a meager 25 yards against the Jets, lowest in team history.
"It's been tough, but the good thing about it is we're a pretty tight group," one of the aging veterans on the unit, Steve McKinney, said. "Everybody has really hung together through all this the way you should in the NFL. Because there's going to be injuries and you like to see the way this group's responded to all the injuries.
"The guys who have had to step in and play have done a good job. As a professional, that's what you ask for. We're all professional athletes, and when your time comes, you've got to be ready to play. The guys who have been in backup roles have done a good job preparing for this situation."
It is just the way of the brutal NFL.
"When a guy goes down, the next guy has to step in and do his job," guard Chester Pitts said. "It's part of football, it's a part of this job. Just like if it were a receiver, quarterback, defensive back or if anybody goes down, the next guy has to step in and go.
"Guys go down, guys get hurt, guys get injured. It's a physical, tough sport. It's all about team. When one guy goes down, the next guy's got to jump in and you can't miss a beat. That's football. Everybody has injuries. Everybody gets hurt. You just have to keep going."
"You've just got to keep battling," Weary said. "Everybody has to prepare as if they're going to start each and every week. We've just got to keep on going. We've got to put another five out there and continue to do the good things we've been doing and just do them a lot better."
McKinney was considered for replacing Flanagan. The starter for the first four seasons for Houston at either left guard or, mostly at center, McKinney has been relegated to a backup spot most of this year, though he has played in every game. He started four games, but has rotated in to play in all of the other games.
So this week, some thought he might start in Flanagan's place. But the coaches decided to go with Drew Hodgdon, the second-year player who started in Flanagan's place twice earlier this season and three times in McKinney's place last season.
McKinney doesn't hide his disappointment in not starting, but he also isn't complaining.
"I guess I'm disappointed," he said. "But at the same time I haven't played center all year, and Drew's been at center all year, so I can definitely understand what they're doing.
"I talked to (the coaches) about it and I completely understand. He's been working at center all year. He's been the backup center, so I understand why they're doing that. I don't have any hard feelings about it."
In his ninth year, McKinney also recognizes that the coaches need to see what a young talent like Hodgdon can do.
"I think Drew's come a long ways," McKinney said. "I think he has improved a lot this year. He's done a good job working with the scout team and working in there with the ones. I think he'll be ready to play.
"He's a good player, a good athlete. He's a young player, so he's kind of unproven a little bit. But this will be a good opportunity for him to go out and show what he can do."
Hodgdon, a fifth-round draft pick out of Arizona State last season, is anxious to prove himself.
"I feel good," he said. "I feel like they have some confidence in me and I've been fortunate enough to have a few starts in the past this year and in my rookie year. This isn't a complete, new start for me. It's something that I can feel comfortable jumping into."
Coach Gary Kubiak says McKinney will still play as the swing man, but he wants to see Hodgdon.
"Steve's been around a long time and has done a fine job," Kubiak said. "But I would say this – there was going to be a point somewhere that I did want to look at Drew. He did play for us early in the season and did some good things, but has not played since Mike (Flanagan) got healthy and Mike has played well.
"I think they (Hodgdon and McKinney) both will play, but I do know that I want to take a hard look at Drew in the future and where we're headed and see how he handles his role."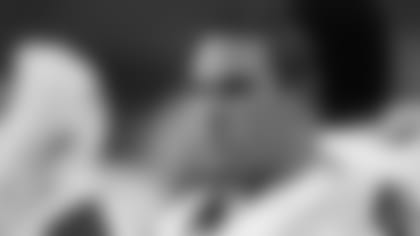 "Drew is fine," Carr said. "I've worked with Drew the last couple years and a lot of people make a big deal that he hasn't had much playing time.
"But really he got in there with us just last year and he got in there pretty good and I don't think he missed a beat. I think he is very athletic and I think he will get after people. He plays with good leverage. I like having Drew in the huddle and it's not going to be a problem for me."
The team has had its problems running this season, and Hodgdon knows it.
"I think as an offensive lineman, you take a lot of pride in the running game," Hodgdon said. "We're going to come out this week, especially after a poor performance on the ground (last week), and try and take care of that. But again, we're just going to do what we're capable of doing."