WEATHER BEATERS:Texans head coach Dom Capers always has a staff member check the weather the morning of a practice session. He didn't like what he heard Thursday morning.
"They told me there was a bad storm in Austin that would be coming here in the latter part of practice," Capers said. "I didn't want to miss out on any repetitions."
So the Texans headed indoors for the second consecutive day. And that forecast wasn't far off. A hard rain hit the stadium as the players were walking back to the locker room.
CLOSE QUARTERS:When the Texans do go inside, their available real estate shrinks from three fields to one. But Capers doesn't think that affects his team's preparations all that much.
"We do have more room out there in terms of the sled areas and those types of things," he said. "But we always have good practices in here because everything is kind of confined so the tempo picks up. In training camp, if we get tough weather outside, we can come in here and not miss a beat."
STEADY PROGRESS:It might be the most discussed body part in southeast Texas so we feel compelled to give a Tony Boselli left shoulder update almost daily. Boselli capped another week of working with the first-team offense Thursday. He took every repetition this week and it's obvious his footwork hasn't fallen off its Pro Bowl level.
Boselli also took some time after practice to help rookie left tackle Seth Wand with his stance.
SCRATCHING THE ITCH:Once a coach, always a coach. Many have wondered why former Jaguars head coach Tom Coughlin has attended Houston's coaching sessions this week. Capers understands. After all, he took a training camp tour himself in the summer of 2001 when he had a job but no players on his roster.
"Tom wants to evaluate other people and how they do things," Capers said. "That's something you're never able to do as a coach because you're so zeroed in our your team. Tom had this free time and I welcomed him over."
Capers and Coughlin took in the Astros' win over the Orioles last night.
YOU'RE IN GOOD HANDS:Proving the adage that the off-season can get a little too lengthy, a picture of Andre Johnson and Jason Simmons set off a deluge of coyote howls on this site's message boards last week.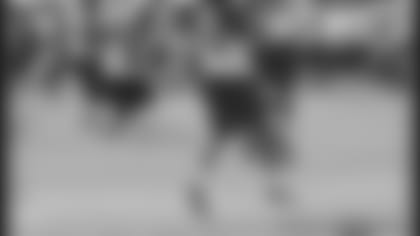 There's no truth to the rumor that Johnson had to stay after school for detention.
The picture in question showed Simmons covering the rookie wide receiver as the ball slipped through Johnson's hands. Never mind that the ball was a little high and Simmons was draped all over Johnson. The picture ignited concerns over Johnson's ability to catch the ball. In essence, the sky was falling, and falling fast.
To borrow from Mark Twain -- the death of Johnson's hands has been greatly exaggerated.
First off, we're still almost two months shy of training camp. And secondly, Johnson made a gorgeous catch during the two-minute drill Thursday, extending to grab the ball and getting his feet in bounds right in front of the man who will sign his checks -- Texans owner Bob McNair. Nice timing.
         But, hey,
         off-season debate is part of what makes this league fun.