BACK IN TOWN:The Texans had their first two practices since the Cowboys scrimmage today, and they have now completed 13 practices overall. This morning's practice marked the second time during training camp that head coach Dom Capers decided to have practice in the indoor facility.
"We had good work this morning," Capers said. "We had both sides of the ball play over 50 plays. We felt the timing was right to come inside. We had excellent work. It was a good tempo and there was a lot of good competition."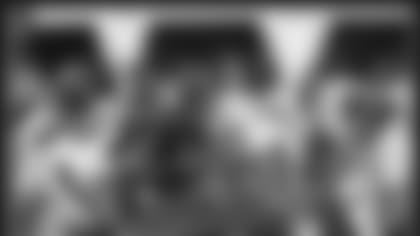 The Texans offensive line got some good work in during today's training with the addition of Wiegert and McKinney.
Capers was most pleased to see that a few of the injured players, especially on the offensive line, returned to the practice field and got a lot of repetitions.
"Today, we got four critical guys back working," Capers said. "Aaron Glenn worked and we had three of our offensive linemen come back: Steve McKinney, Zach Wiegert and Todd Washington. It is good to see them back in and working again. They'll work a little bit more as the week progresses. We had a little different looking offensive line in there this morning"
Now that there is a semblance of a starting offensive line, and the first-team defense is healthy, Capers is looking forward to getting some quality work in against the Denver Broncos. Their first practice together will be on Wednesday.
"Hopefully, we can get some of these guys who have been injured competing against the Broncos." Capers said. "We'll get our first-team defense back together and get them going."
During tonight's practice, the tempo picked up and players got after each other. The sense of urgency was a welcome sight for Capers, who is looking to make significant strides during the second week.
"Tonight's practice was a little bit more physical," Capers said. "We tried to work on our four-minute situation. We finished up with some good goal-line work. I thought we improved today as a team."
MORE BEEF:The Texans have brought in offensive linemen Carey Clayton and Ben Lynch to training camp. Clayton, who played football at UTEP, spent the 2002 training camp with the Jacksonville Jaguars before sitting out the season. A former seventh-round selection by the Kansas City Chiefs in 1996, Lynch played all 16 games with the San Francisco 49ers in 2002.
"Right now I am trying to take in everything that is being thrown at me," Lynch said. "It is a lot of stuff to take in in one day. I have to make sure I get my play book and catch up with the rest of the guys."
SETTING THE TONE: During the first week of training camp, the defense has been a little bit luckier than the offense has been as far as injuries are concerned. However, the defense has been missing their anchor in Glenn, who has been nursing a sore hamstring. Today, Glenn returned, but admits that he still has some catching up to do.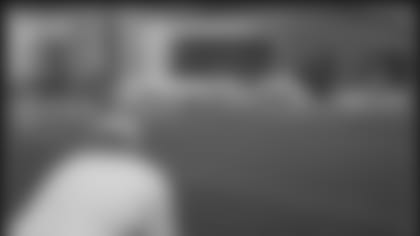 Defensive backs coach Jon Hoke, watching tonight's practice intently from the sidelines, is happy to have Glenn back on the field.
"When you have a hamstring injury and you come back you are going to feel it a little bit," Glenn said. "You have to get over that mentally."
The coaches are happy to see Glenn playing, but are more happy to see him leading the younger players on the Texans roster.
"It is good to see Aaron back, not only because he is a talented player, but he gives us good leadership," Capers said. "Aaron is his toughest critic. He is very hard on himself. He wants to make every play. He really gives us good leadership with the way he prepares and practices. It is a really good example to the younger players."
MASS CONSUMPTION:Not only is it important for the Texans to stay hydrated during these hot and humid summer days, but they also need a lot of fuel to keep their motors running. Here is a summary of what the players eat on an average day of training camp to stay energized:
75-80 pounds of meat/meal (lunch and dinner)
30 pounds of rice or pasta/meal (lunch and dinner)
50 pounds of potatoes/meal
25 pounds of vegetables (lunch and dinner)
80 pounds of fruit/day
400 cartons of milk/day
RIVAL MENTOR: Jabar Gaffney may not have appreciated the talent of rookie Andre Johnson when they were bitter rivals at the University of Florida and University of Miami, respectively, but as a teammate, Gaffney likes what Johnson brings to the field.
"We have a pretty good receiving corps this year with the addition of Andre." Gaffney said. "We can stretch the field and the defense will have to pick their poison. If they try to take one of us away there are two more of us out there."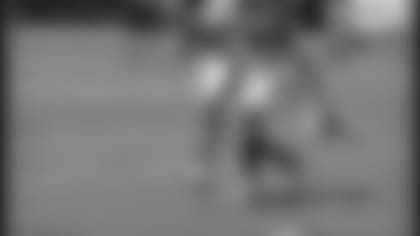 Gaffney, working against CB Kenny Wright in training camp, wants Johnson to succeed in his rookie season.
As a second-year wide receiver, Gaffney is not the typical mentor. At the same time, though, he was a rookie last year and he knows what Johnson is going through.
"We've grown kind of close," Gaffney said. "We talk all the time. I'm trying to help him so he doesn't go through what I did last year and he can just be relaxed and comfortable and play ball."
COMING TOGETHER: With the presence of Washington, McKinney and Wiegert, who got some work in at guard today, the Texans offensive line will be closer to full force for their first preseason test against the Broncos than they were in the scrimmage against the Cowboys.
"Hopefully, we can keep this line together now and start getting some chemistry in our line," Capers said. "We've had a difficult time here, which was evident in the scrimmage Saturday night."
The injuries may have slowed down the offense's progression during the first week of camp, but they have not hurt the collective confidence that the players and coaches have in the offensive line. There are still four weeks remaining for the line to gel before the Texans travel to Miami on Sept. 7.
"I think from what I've seen from our offensive line, I'm very encouraged," offensive coordinator Chris Palmer said. "I think when it's all said and done, we'll be fine up there."
On the positive side, the injuries have given other players a chance to prove their worth. Greg Randall, who came from the New England Patriots for a 2003 first-round pick, has risen to the occasion and showed coaches that he is a valuable asset as a run blocker.
"With the injuries, we've had Greg Randall in there for a lot of repetitions and he has responded well," Capers said. "He gives us a big physical guy. He's showed some things in the run game. We've been pleased with his progress."