CAMP IS ADJOURNED: This afternoon, after three weeks of intense mental and physical exertion, Texans players finally reached the light at the end of the tunnel. In the bubble, they had their last training camp practice of 2003 as they prepared for Saturday's third preseason game against the San Diego Chargers.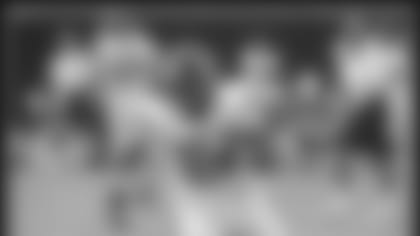 Hollings showed his speed and, most importantly, stayed healthy through his first NFL training camp.

"It was our first day of normal game-week preparation," head coach Dom Capers said. "It is a little bit of a new experience for some of these guys, the way we break it down and the tempo that we go. We have a number of veteran players here that set a good tempo for us on the practice field."
While players welcome the end of two-a-day practices, marathon film sessions and daily team meetings, the end of training camp also signifies the inevitable beginning of player cuts. The Texans roster will be trimmed considerably this Tuesday.
"(The players) know that it is getting down to the nitty gritty in terms of picking the team," Capers said. "Next Tuesday we have to make the first round of cuts. Then the Sunday after the Tampa game we'll have to go to 53 (players)."
With so many players deserving a spot on the team, it will be a very difficult process. As a veteran coach, though, Capers knows that it is a necessary evil.
"To me, (cutting the roster) is the hardest thing," Capers said. "Especially if a guy has come in and he has done all the things that you've asked him to do. It is extremely difficult. For most of these guys, it is their dream and they are obviously very disappointed if it doesn't work out for them. You wish you could keep more guys, but those are the rules."
Preparation for Saturday night's game resumes tomorrow, when the Texans have their first practice of the "season."
NEVER SATISFIED: To the casual observer, it seems that cornerback Aaron Glenn has come back from an early hamstring injury without having missed a step. During practice drills today, Glenn had an interception and broke up numerous pass attempts. Impressed by his recent performance and recovery, Texans coaches expect Glenn to see action on Saturday night, but they have yet to decide how much he will play.
"I'd like to see Aaron (Glenn) play," Capers said. "We haven't decided how many plays he is going to play yet. I know he wants to play. He jumped out there and looked good in practice today. He got his hands on some balls and made an interception that would have gone for a touchdown."
For as well as Glenn has been playing, he still is not satisfied. Long after his teammates had gone, Glenn was still on the practice field training to improve his footwork, technique and dropback into coverage.
ADDING DEPTH: Without the service of second-year fullback Jarrod Baxter, who has a season-ending foot injury, the Texans traded for Miami Dolphins fourth-year fullback Deon Dyer. In exchange, the Dolphins received a conditional draft choice in the 2004 NFL Draft.
Dyer, who played at the University of North Carolina, played in 13 games for the Dolphins in 2002 paving the way for running back Ricky Williams. He was selected by the Dolphins in the fourth round of the 2000 NFL Draft.
In addition to Dyer, the Texans may use tight end Jabari Holloway at fullback. Today, he got some reps in the backfield and may see more time there in the future if there is a lack of depth.
"We'll move our tight ends some," Capers said. "We are looking at that personnel group. If all of a sudden we end up a little bit short at fullback and have a few more tight ends, we have to adapt what we are doing to the people we have."
TRAINING CAMP POLL: What was the toughest part of the training camp for you?
"Adjusting to being in the NFL from college. Coming back off of a knee injury, jumping straight into the NFL, I had a lot of things to adjust to and I think I did pretty well." -rookie running back Tony Hollings
"Just getting used to the heat was the toughest part." -defensive end Jerry DeLoach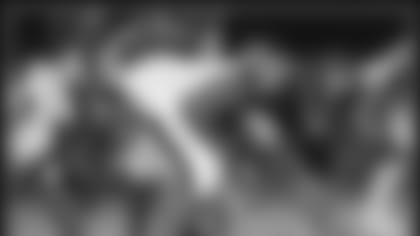 DeLoach lines up next to linebacker Patrick Chukwurah during training camp.

"The whole thing. You're away from your family, it is football 24-7. If you are not on the football field, you are in meetings. It's your job, but it is a grind. I don't know a single player that loves going to training camp. It is something we have to do to get to the season, so we endure it and we fight through it." -center Todd Washington
QUICK HITS:Some of the highlights from today's practice include: cornerback Kenny Wright stepping through traffic to intercept quarterback Dave Ragone's bullet up the middle…Ragone later connecting with wide receiver Derick Armstrong on a 50-yard touchdown pass during 11-on-11 work…guard Milford Brown pulling on a screen pass and pancake blocking linebacker Antonio Rodriguez…Glenn picking off quarterback Mike Quinn's pass near the sideline and bolting toward the end zone without a hitch in his stride.
INJURY REPORT:The following players did not participate in practice today: fullback Jarrod Baxter (foot), running back Domanick Davis (hand), defensive tackle Howard Green, wide receiver Atnaf Harris (hamstring), tight end Bennie Joppru (groin), center Steve McKinney (knee), guard Ed Ta'amu (PUP-knee), safety Travares Tillman (forearm), cornerback Darrick Vaughn (shoulder), defensive end Gary Walker (shoulder), running back Jonathan Wells (turf toe).