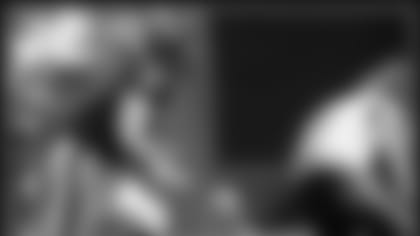 Our weekly Texans Q&A, sponsored by the Houston Chronicle, continues this week with Texans nose tackle Seth Payne.
Payne, who started every game last season at nose tackle, led the team with 90 assisted tackles and ranked third with 57 solo tackles in 2002. Payne is a native of Victor. N.Y., and he played his first five NFL seasons with the Jacksonville Jaguars.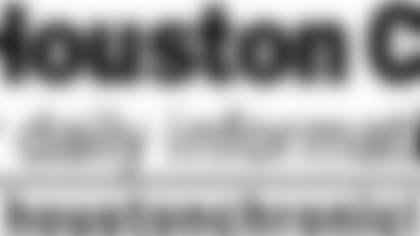 *Seth, how does the safety against the Cowboys in Game 1 of last year stack up against other momentous highlights during your career? *
"Brian, that is probably the number one highlight that I can think of. I've never played in a championship game, so to be involved in a play like that to seal the victory was probably one of the best feelings I've had."
*Hi Seth, what is your opinion of the o-line so far? *
--Scott Dawson (Clarksville, TX.)
"Scott, they have made a lot of improvement. Those younger guys, like Chester Pitts, Milford Brown and Fred Weary, have come a long way since last year. They are much more intelligent players right now. They know when to play aggressively and when to use defensive players' aggressiveness against them."
Seth, I just wanted to ask how much do you think the departure of Jeff Posey and Keith Mitchell will affect the defense, if at all? And how is Clemons doing adjusting to the 3-4? And finally, what are some defensive goals that you and your mates have decided before the regular-season starts?
--Seymore (Sydney, Australia)
"Seymore, we were sad to see (James) Posey go, but I think we are all very pleased with how Charlie Clemons has been playing in camp. He is a very explosive, physical player and he has had a lot of success as a pass rusher before. So he will fit into this defense well."
"Our biggest goal is to be the most improved team in the NFL. That doesn't always translate into statistics, but one of the areas that we've talked about is turnover ratio. We'd like to cause a lot more fumbles and interceptions this year."
*Mr. Payne, what is your impression of Keith Wright? He obviously doesn't have the prototypical build that you and Gary Walker have, but he seems to bring some unique aspects to the table. *
Jerry DeLoach was a surprise starter last year. What has he done to ensure that he holds on to that starting spot this season?
"Rooster, I think that Keith Wright has a lot of potential. He is very fast. He has a natural knack for rushing the passer. He just needs experience now. He needs to learn about playing in the NFL.
"Jerry DeLoach played very well last year. He is solid. He might not have made a lot of spectacular plays, but in the 3-4 defense that is not necessarily what you are looking for. He has worked really hard in the weight room and on his conditioning this last year so I think that he'll be even better this year."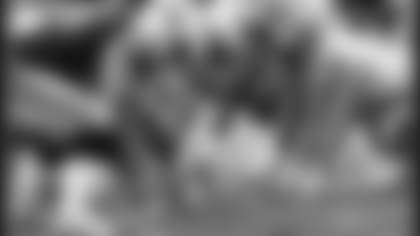 Payne lines up against the Titans in last season's game at Tennessee.

*If you, Gary Walker or Jerry Deloach see something from the opposing offense that negates the defensive play called, do you signal the rest of the defense or just try to adjust the line? *
"Steve, we try to communicate with each other as much as we can before the snap if we have a pre-snap key on the offense. You pretty much have to work with whatever defense you are playing. Usually with Vic Fangio calling the plays, there aren't too many bad calls."
*Hey Seth, Dan Riley believes in lifting the day after the game to avoid muscle soreness. Did you do this in Jacksonville and was the Jaguar progressive resistance program as cutting edge as Riley's seems to be? Have you felt any net benefit from a year under Riley? *
Also, you play in all those thankless two-gap techniques just to free up Sharper and Foreman so they can hear their name over the loudspeakers. Do they ever buy you Dinner?
"Vinny, I think one of the best parts about this organization is Dan Riley. He helped me play stronger throughout the season than I ever have before. I felt stronger at the end of last year than I had in any of my previous five seasons."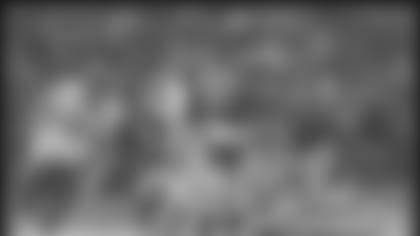 Payne runs down Redskins quarterback Patrick Ramsey during their game at FedEx Field last season.

"As far as Jamie Sharper and Jay Foreman, yeah, they take care of me. I get a lot of free dinners from those two guys. They definitely show their appreciation."* *
Hi Seth, with your great performance last season, did you think that you deserved to make the Pro Bowl? * *Also, at the position you played, how did you manage to stay injury free last season?
"Adonay, I try not to worry about things like the Pro Bowl. There are a lot of factors that go into that. My biggest goal every year is to be on a great defense. I think as a nose tackle in a 3-4, your number one goal should be to have a stout run defense and not to worry about personal accolades. "
               "As
               far as staying healthy, it is a combination of things. I have
               learned over the years how to take care of my body during the
               season. We have a great training staff and a great strength
               and conditioning staff, too."