Our weekly Texans Q&A, sponsored by the Houston Chronicle, continues this week with Texans running back Domanick Davis.
Davis, who the Texans drafted in the fourth round (101st overall) of the 2003 NFL Draft out of Louisiana State University, has been voted NFL Rookie of the Week for an NFL-record three consecutive weeks starting after his 129-yard performance against the Jets on Oct. 19. Davis left LSU as the school's all-time record holder in punt and kickoff return yards. A native of Lafayette, La., Davis attended Breaux Bridge High School.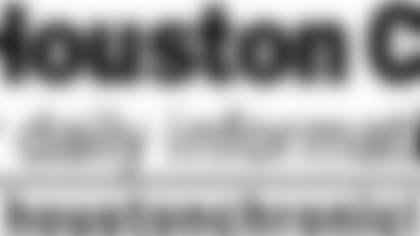 *Domanick, what has been the key to your recent success and have you been surprised by it at all?
"Jonathan, no, I haven't been surprised. I'd say the key to my success is working hard in practice. I push myself a little bit harder each day I come out here."
Domanick, which player past or present would you compare your running style to? Some say that your running style is comparable to Emmit Smith's style, would you agree?
"Pat, I'm just trying to get out there and start my own style. I'm not trying to be like anybody else."
Domanick, since you missed a large portion of training camp, has it been tough physically adjusting to getting almost 20 carries a game?
"Jorge, no, not really. The time when I was hurt, the conditioning I did while they were practicing was great. So I never really missed out on anything."
*Domanick, what do you enjoy more, running the football or catching passes out of the backfield?
*"Kenny, I'd say running the football."
*Domanick, how has it felt to receive all the attention around the league for getting NFL Rookie of the Week three consecutive times and playing so well?
*"Ryan, it feels great. I just tell myself I have to raise the stakes because there is always someone trying to take your spot. So while I'm at the spot right now, I'm trying to keep it. I've just got to push myself even harder."
*Domanick, what are your thoughts about going up against LB Kevin Hardy and a tough Bengals defense this Sunday? Also, how is your chest feeling? *
"*Peter, my chest is feeling alright and it's a great defense we're about to play against. We just have to do what we've been doing. It's going to be a physical game. They might stop us a few times, but if we keep at it, eventually it will open up."