Our weekly Texans Q&A, sponsored by the Houston Chronicle, continues this week with Texans linebacker Jamie Sharper.
Sharper, one of the original Texans from the expansion draft, is having another stellar season at middle linebacker. He broke the team's single-game tackle record last week against the Bengals with a career-high 22 stops. He also held the previous record of 19 (at Philadelphia, 9/29/02). Sharper leads the team with 98 tackles this season.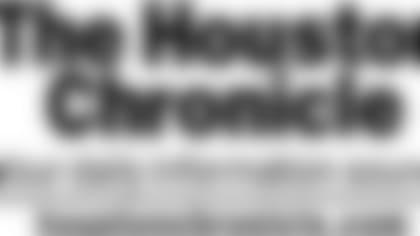 *Jamie, what was the biggest transition for you coming to Houston from Baltimore?
Kim, my biggest transition was coming to Texas--I had never been here before. And probably just being away from my family.
*Jamie, I heard that you were going to launch a website. What's it about and how can I check it out?
Paul, log on to JamieSharper.com. It's about me personally and what I do off the field, and my on-field accomplishments.
*Jamie, what was it like having LB Ray Lewis as a teammate with the Baltimore Ravens?
Patrick, Ray Lewis is a great player as you well know. He helped me hone my skills at linebacker and now I'm playing middle linebacker--the position he plays. So I definitely learned a lot from him. He is a great player.
*Jamie, who is the best running back you've ever faced and what style of runner usually gives you the most trouble?
Doug, the best running back that I've faced is probably Fred Taylor. He gave me the most fits when I was in Baltimore. He is still a good running back now. He is a big running back and he has speed. He can break a touchdown anytime.
*Jamie, what would you be doing if you weren't playing football?
Nathan, I'd probably be a guidance counselor. I'd have my graduate degree in education and then use my undergrad psychology degree and be guidance counselor, probably in high school.
Jamie, *what will be the key to stopping the Bills' offense this Sunday?
Jonathan, not allowing Travis Henry to break long runs and keeping him limited to what he does against us is the main thing. Then putting pressure on QB Drew Bledsoe will be important as well.