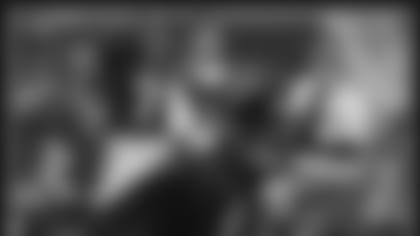 </td></tr></tbody></table>

Our weekly Texans Q&A, sponsored by the Houston Chronicle, continues this week with Texans quarterback David Carr.
Carr has been Houston's starter since his first NFL snap. He has thrown for 1,251 yards this season with five touchdowns and eight interceptions. Carr threw for a career-high 371 yards in last week's loss at Tennessee and has improved in every statistical category so far this season. A native of Bakersfield, Calif., Carr attended Stockdale High School.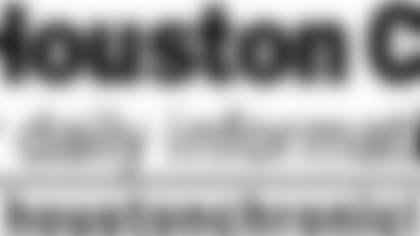 ---
Danetta, I think their individual strengths are the same. They all have speed. The thing with Andre is when he came in he made those guys competitive every day when they go out to practice. It's made our whole offense better.
David, do you think the fewer number of sacks you've had this season is due to an improved offensive line or due to your ability to read the defense quicker than last season?
Brooke, I think it's a little bit of both. I'm seeing the defense really well. That enables me to help the offensive line out with some protection calls and get them straightened out and going in the right spot. We're all on the same page. Things just happen faster for us now.* *
David, will you ever come back to Bakersfield for a signing for your hometown fans?
Christy, I can't wait to get back to Stockdale High. I got to go back last year when they retired my number out there at the stadium and I am excited to go back this year.
David, which opposing defensive player has really talked trash to you?
Mwengi, I'd say the teams in our division are probably the people who talk the most trash because you see them twice a year. Any of the Titans, Jaguars or Colts--they always get after it.
In particular, the (Jaguars) defensive line. Marcus Stroud and John Henderon--we've become really close the last couple of years.
David, who was the quarterback that you looked up to during high school, college and even now in the NFL?
Tor, there are a couple of them. But I really liked watching John Elway and Troy Aikman. Those guys are two pretty good football players. Now, I'd say Brett Favre definitely. He does things with the football that should be illegal.* *
David, I was just wondering how great you felt after that touchdown that won the game for you guys against the Jaguars? Could you describe what you were feeling like before and after you scored that touchdown?
Tara, before the play, I didn't want to screw it up because coach Capers--it was all on the line for him. He made the call so we wanted to make sure it all worked out for him.
After the fact, it was pretty electrifying in the stadium. I was glad it happened.
David, how much different is Houston compared to Bakersfield, Calif.? Besides the fact that your current home is bigger and better, how are you and your family handling life in Texas?
Randy, I'd have to say it is just as hot here as it is in Bakersfield. It may be even worse with the humidity. The family has adjusted really well. They love it out here. My mom and dad are retired and they get to hang out here and spend time with their grandkids, so we love it out here. This feels like home now.