Our weekly Texans Q&A, sponsored by the
Houston Chronicle
, continues this week with Texans quarterback
Tony Banks
.
Banks will make his second start of the season this week against New England. He has played in four games in 2003, completing 43 of 63 passes for 500 yards with three touchdowns and two interceptions. Overall, Banks has started 76 games over seven-plus NFL seasons.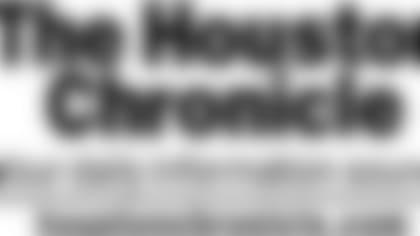 ](http://www.chron.com/sports/)
Tony, you've done a great job filling in for David Carr. How tough is it on you physically being a backup and not knowing when you'll get in or how long you'll be playing for?
* *
--Justin Hall
"Justin, it's tough because you get kind of stiff on the sidelines. You try to stay stretched-out because you never know what might happen, but my body stays a lot more loose when I am playing."
*Tony, I saw you played baseball in the Twins' farm system, which current MLB players did you play against and do you still keep in touch with any of them?
"Ben, I actually don't keep in touch with any of them anymore. But Matt Lawton and LaTroy Hawkins were my roommates. They both made it to 'The Show.' Brad Radke was on my team. I actually hit my first minor league home run off of Eddie Guardado. Through other people, I've sent them good will and they've sent me good will."
*Tony, what would you say is your best attribute as a quarterback?
"Colin, I feel like I am able to get the ball pretty much wherever I want to get it. If I've got my mechanics straight, I feel like I can throw with anybody."
*Tony, compared to other groups of receivers you've thrown to when you played for other NFL teams, what makes the Texans' receivers so special?
"Pete, just their ability. They are able to do almost everything well. They are able to get vertical. They're physical, smart. We have a guy like (Jabar) Gaffney working in the slot. We have Billy Miller. And Domanick Davis is as good of a back as I have ever played with. Andre (Johnson) is all those things rolled into one. He is a big guy, a physical guy. He hasn't been intimidated by anything since the first snap. Even when we were scrimmaging Denver in the preseason, he was killing those guys like he was still in college. I love his gameday mentality."
*Tony, coach Palmer has been recognized as a great quarterbacks coach. What has he done to help you develop as a signal-caller?
"Nathan, just staying on top of me with my mechanics, trying to get my hips and shoulder into every throw so I can be as accurate as I want to be. I'm not as accurate when I get a little careless and try to use all arm."
*Tony, if you could pick any receiver from NFL history to throw to, which receiver would you choose and why?
"Mahdi, that would be tough. Who doesn't want to play with Randy Moss? But when Isaac Bruce was healthy with me (in St. Louis), he was as good of a receiver as I could dream of having. So I'd have to say Isaac."