---
Our weekly Texans Q&A, sponsored by the Houston Chronicle, continues this week with Texans strong safety Eric Brown.
Brown re-signed with the Texans in March after a stellar season at strong safety. Brown started 15 games for Houston in 2002, registering 95 tackles and two interceptions. He is a native of San Antonio who played at Mississippi State.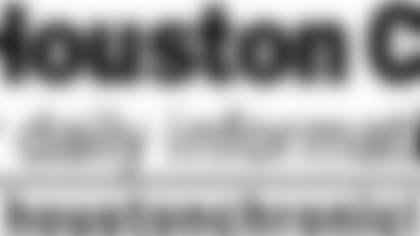 Eric, compare playing with the Texans to the time you spent in Denver?
--Reginald Williams (Houston, Texas)
"I think the Texans defense gives me a little bit more of an opportunity to make more plays. It's a harder scheme but it gives me the ability to be up near the line a lot more than I was with the Broncos. It puts me in the position to make bigger plays.
Eric, how have you addressed the off-season in preparation for playing Fred Taylor, Edgerrin James and Eddie George twice this year?
--Derek Holden (Sugar Land, Texas)
"Every year there's a different back, a better back, a different Pro Bowl back that we have to play. The only way to prepare is to prepare hard every year in the off-season. You have to work hard to get ready for these guys, these are big, strong, guys and you just have to be mentally and physically prepared."
Eric, what are your personal goals on the field this season?
--Petty Officer Richard Santel, United States Navy (Ingleside, Texas)
"I'd like to make the Pro Bowl. I know it's a big statement but a couple of times, I haven't been too far out of the hunt, just a couple of plays here and there held me back. I think if I could put it together and play like I know how to play, along with my teammates' help, I think I could get there."
Eric, what is the most difficult assignment when playing strong safety in the NFL?
--Scott Dawson, Clarksville, Texas
"Strong safety is a very versatile position. We have to be able to get in there and mix it up like a linebacker as well as cover our receivers and tight ends like we're corners. It's a transition, you can never be too one-sided. You have to be very versatile."
Eric, I was wondering how you got the #24? Did you choose it or was it assigned to you?
"They (the Texans) gave it to me. I was wearing #12 and they gave me 24 because they said that 12 was a quarterback's number."* *
Eric, will the Spurs repeat next year?
--Tom Sarnelli (San Antonio, Texas)
"Yes. They're the next dynasty, they're going to go three, maybe four!"