This is not Dancing with the Stars.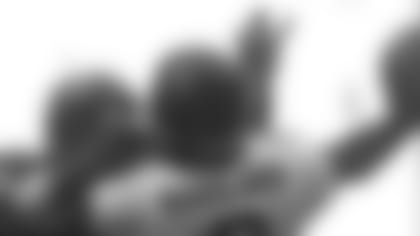 The topic of discussion in the Houston Texans locker room this week often has been Jacksonville quarterback David Garrard, the man with the dancing feet. The Texans know him well.
While he's no Emmitt Smith, Garrard poses more problems for the Texans when they go to Jacksonville Sunday. Smith could only run in his glory days with the Cowboys.
Garrard runs and passes. And runs. And passes.
"He can move," coach Gary Kubiak says. "He makes a lot of plays with his feet. It's obvious their team responds to him because they have played so well when he's played in these past few, (and that's) a great indicator."
That's almost an understatement. Garrard has been impressive in the last two seasons, going 6-1 as a starter in that span. He filled in for an injured Byron Leftwich last year and went 4-1 in the team's playoff run.
This year, he replaced Leftwich seven games into the season and the Texans are at least part of the reason. They beat Jacksonville 27-7 at home three weeks ago, sacking the statue-like Leftwich four times.
One week later, after the Jaguars had floundered to a 3-3 record with Leftwich at the controls, coach Jack Del Rio went to Garrard. They are 2-0, including an impressive win at Philadelphia, with Garrard starting.
"Leftwich would sit in the pocket and pick you apart with his arm," cornerback Dunta Robinson said in his best diplomatic spin. "Garrard, if nothing's open, he can hurt you with his feet. It's going to be a different look for us, different than what we're used to when we face Jacksonville. We've just got to contain him as well as possible.
"It'll be like playing against a new team. He doesn't do the same things that Leftwich does and he gives us a totally different look."
The Texans know Garrard well. He beat them 38-20 last year when he passed for 292 yards and a touchdown and rushed five times for 40 yards. Houston also knows Garrard has rushed 10 times for 50 yards in his two games this season, picking up first downs in six of those rushes.
Last season, Garrard rushed 31 times, gaining first downs 14 times on his way to 172 yards. He can definitely cha-cha-cha and that can lose a defensive back on the dance floor.
"It's tougher any time you've got a quarterback who can run, because most of the time your back is turned and if he can get loose it gives the receivers more time to get open," Robinson said. "So it's always tough on you as a defensive back, but you know if you can get pressure on a guy like that and keep him inside the pocket, keep him contained, then you have a good chance of being successful against him."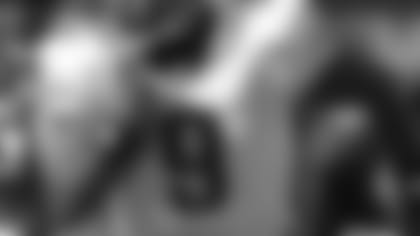 Houston's defensive ends know that's a tall order. They did sack him three times in last year's loss. But Antwan Peek knows what he's up against.
"He's a little more mobile quarterback than Leftwich," Peek said. "He's been a quality backup for them over the years and I really think we have to keep tight lanes when we're rushing him and keep him contained.
"You've got to worry about yourself keeping your rushing lanes tight so you won't create an opening for him to scramble."
Anthony Weaver plays tackle and end and has thoroughly studied the moves Garrard brings to the floor . . . or field.
"The biggest difference, obviously, is he's more mobile," Weaver said. "He creates a problem and can get an extra set of downs for them. He's able to scramble and make something out of nothing and get a first down for them.
"As a defender, the biggest thing is he causes you to play a little more passive. You don't want to get too far up the field or just pin your ears back and go at him because you know he has the ability to make you miss. You've got to not let that happen and just approach him like any other quarterback and let the plays take care of themselves."
And while Garrard can inject doubt into a defense, he has done the opposite for the Jags' offense.
"Obviously, he creates confidence in that offense," Weaver said. "They're a team that plays well when they're running the ball, and he poses another threat in their ability to run. I think that's why they feed off him."
When Jacksonville running back Fred Taylor wasn't spending time guaranteeing his team's win over Houston this week, he agreed that Garrard is a big advantage for the Jaguars.
"Yeah, that's just more reps they have to waste their time in practice on," Taylor said. "You have to take 'X' amount of reps for a mobile quarterback, certain things in your defensive game plan and then the same with a pocket passer. It's just more reps for them, more attention they have to pay to detail throughout the week." ](http://store.houstontexans.com/product/index.jsp?productId=1772607&cp=2237490&page=4&doVSearch=no&doVSearch=no&clickid=mainnavgeartxt&pageBucket=0&parentPage=family)
The Texans aren't wilting to the challenge, though. They are eager to get after Garrard and his happy feet. 
"Every week you're going to play somebody good, you know that," safety Jason Simmons said. "It's just another challenge for us.
"They're both quality NFL quarterbacks and they're going out there to beat you. The thing is, we're getting better as a defense and we're ready to face pretty much all of the challenges."
The Texans just hope the judges don't give Garrard any 9s or 10s after this game.

EDITOR'S NOTE:Jim Carley is a veteran Houston sportswriter who has covered the NFL for more than 25 years. He has worked for such newspapers as the Fort Worth Star-Telegram, The Houston Post, the Los Angeles Herald-Examiner and the National Sports Daily covering such teams as the Dallas Cowboys, the Houston Oilers, the Los Angeles Rams and the Oakland Raiders.