While the Texans have been putting their noses to the grindstone since early May, this week's mini-camp is about as close as the team comes to simulating summer training during late July and the month of August.

"We've had 14 practices, this morning was our 15 th, so we're just trying to gauge what kind of progress we've made over that period of time," head coach Dom Capers said. "Where you see it is really with your young players. They start to get comfortable with what you're doing and I think the speed and tempo has picked up a little."

The players meet for two practice sessions Monday and Tuesday and one on Wednesday, with meetings and lifting sessions sprinkled in between.

While the group is anxiously anticipating a much-deserved month of vacation after working so feverishly over the past few months, the extra practice time has certainly been valuable not only for rookies, but veterans new to the Houston system.

Cornerback Aaron Glenn heads into his 11 th NFL season, but the practice time never seems to get old or any less beneficial as part of his preparation routine. It's especially useful in getting rid of some of the rust built up after sitting out five games in 2003 with a groin injury.

"I'm feeling really good," Glenn said after Monday morning's practice. "I'm just getting back into that feel of playing. These coaching sessions are helping me get my groove back and these two-a-days now will be even better for me heading into training camp."
Glenn's not the only veteran taking full advantage of the extra repetitions and conditioning benefits. Newcomer to the Texans squad, defensive end Robaire Smith was recruited during the off-season to shore up strength and explosiveness along the defensive trenches. After four seasons in the professional ranks, Smith is very familiar with personnel and the flow of the game, but now must learn a new defense and tweak his technique to match.
"The better I get a feel for it, the more I can do out there and keep offensive linemen on their heels," Smith remarked.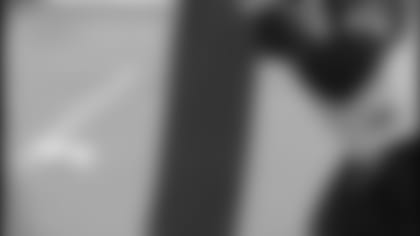 DE Robaire Smith uses the sleds as a preamble for what is to come against his 2004 offensive opponents.
The extra practice time has definitely paid dividends as Smith is clearly clicking nicely into the Texans' system. Capers likes what he sees from Smith and looks forward to adding his size and physical prowess to the Texans new look on defense.
"He's a big, powerful man and for as much as we can do with the linemen right now without pads, he's done a good job of learning the assignments and some of the techniques are different but you can see progress in his technique-work," Capers said about Smith.
Also making major strides is offensive leader, David Carr, who is no longer trying to master an NFL snap count, but has moved on to undertaking more intricate facets of the game like reading defenses and adjusting his unit to compensate.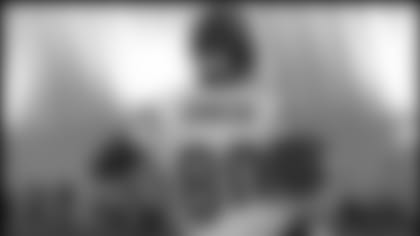 WR Andre Johnson is becoming more comfortable and fluid in his routes due much in part to the extra repetitions this off-season.
"I think I'm just more comfortable with everything that's going on," Carr said about running the offense. "I've been around this place so much and I know the guys and there's a real good feeling when I go into the huddle that I know what I want to get done."
All-around, there's more certainty on the Texans' offense heading into 2004 and the gang has only flourished in the past few months.
"The guys that are out there are going to play for us," Capers said. "It's not like we have any rookies on the field in our starting offense where right now, our starting defense has two rookies and a number of guys who are making position changes."
Capers and the defensive coaching staff have been evaluating the best combination of players on defense so that means this mini-camp will test the waters of the group's flexibility.
"We're trying to go through all of the possibilities as if we had an injury in there," Capers said about the swapping of posts.
Kailee Wong has seen some action on the inside, and of course, Marcus Coleman continues to work at free safety where he has remained solid and impressive.
"Marcus is a no-brainer," teammate Aaron Glenn said about Coleman's success in a new position. "That guy is probably one of the better athletes in this league and for him to accept the role of leaving cornerback and moving to free safety, a lot of guys can't do that.
"He accepted it and he's out there making plays and he's getting out to the middle of the field better than any safety I've seen in a while so I think he's going to do a good job for us at the safety position."
The depth on the playing field was also a little steeper today with the return of the Texans allocated NFL Europe players making their homecoming onto American soil for the first time since their departure in March. It's the closest the team has been to holding a complete full-squad workout in 2004.
"Our NFL Europe guys have joined us and we still have two or three guys yet to join us," Capers said. "The group that we have out here right now should pretty much be the group who we go to training camp with."
While the countdown clock to vacation has begun to tick away, each member of the Texans' squad is mentally and physically in tune with what is expected from them during this final mini-camp. And they all know that the only way to grow into an above-average club is to put in the time, commitment and dedication during every off-month. The sense of urgency is in the air, and so is the enthusiasm.
"I just feel like its time to win some football games," Carr stated. "I'm tired of being average, I'm tired of being called an expansion team. I just want to go out and compete for wins, championships, everything."
The team is slated for a 3:20 session Monday afternoon where more individual drills and game scenarios will be executed.