 Theresa York had no idea what she would be getting when she petitioned Rebuilding Together Houston (RTH) for repairs on her house a few months back. RTH gets hundreds of requests annually and
ultimately beat out four other finalists to have her home repaired and renovated Saturday.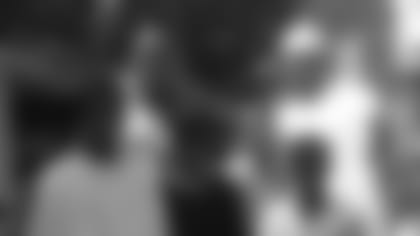 RTH repairs many homes in the Houston community every year thanks to a combination of volunteer teams as well as professionals that are paid through donations. RTH will spend a little more than four-million dollars repairing homes this year, but
's volunteer group was a little special.
A combination of employees from both the Houston Texans as well as Reliant Energy made up
was well aware of her good fortune.
"It's nice that they would come out here and help in the community," she said. "Their minds are not just on football right now, it's on helping people."
York, who lives in the house by herself, has six grandchildren, and three of them will be receiving scholarships to Houston Texans football camps. Most of the six were present Saturday to assist in the renovations to their grandmother's house. Executive Director of RTH, Robert E. Conklin, said that
's devotion to her family was just one of the reasons she was selected to receive assistance.
"She had asked for assistance with her roof, her electrical system and other things outside her house," Conklin said. "We looked at three or four different houses, but when we met her and saw how worthy she was of assistance, it was obvious that she was the person to get the gift she is getting today."
Conklin was also quick to point out the importance of two organizations like the Houston Texans and Reliant Energy working together.
"A quick term that comes to mind is synergy when one plus one equals a whole lot more than just two," Conklin said. "With both organizations, one operates for profit, the other, entertainment for profit, but both are led by great leadership and are huge pieces of the culture of
and for us to claim them as a stakeholder is meaningful. They've also been huge financial supporters so we can put the materials in the hands of our crews and also hire professionals for the more dangerous jobs like electrical and roof repairs."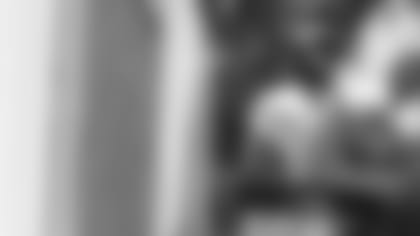 The importance of two strong organizations working hand-in-hand also didn't escape Tracy Carmen-Jones, Vice President of Reliant Energy Community Marketing.
"I think it gives an added momentum," Carmen-Jones said. "From a customer standpoint, it gives them the opportunity to see that the Texans and Reliant are working together, two of the more prominent organizations in
and that just makes people take notice."
Projects like Saturday are nothing new to Reliant Energy. They've been working hand with RTH for quite some time.
"Reliant has been working with RTH for about five years," Carmen-Jones said. "With our predecessor company, we probably go back about 20 years, so we have a long-standing relationship. We're really delighted to be out here, particularly on this momentous occasion with the Texans because this is the first time that Reliant, the Texans and RTH have worked together."
When the renovations to her house are complete,
will have a new professional installed roof and electrical system as well as aesthetic improvements throughout her home inside and out. Weaver probably summed up the day the best.
"Whenever you've got the opportunity to make someone's day, you have to get out there and help those people out and do all that we can to go out there and support the community."