**JACKSONVILLE, Fla. - Against a bitter division rival, with the game hanging in the balance on the road, head coach Gary Kubiak thought it was as good a time as any to send a clear and firm message to his team.
On fourth-and-inches from the Houston 41, the Texans held a 13-10 lead with momentum swinging in the Jacksonville Jaguars' favor. Rather than give the home team offense a chance to score, Kubiak signaled for the punt team to stay on the sidelines. Running back Samkon Gado bulled his way off the right tackle to pick up the first down with 1:40 left on the game clock.
The call led to the Texans' third win of the season—eclipsing last season's win total—and snapped the team's 12-game road losing streak. The victory also clinched the season sweep of the Jaguars for the second time in team history.
"That was a football team call," Kubiak said. "That wasn't my call. If it doesn't work, it doesn't look very good. But our team is fighting so hard, and last week is a great example, and today really was no different. That's a heck of a football team right there. You have to give your team a chance to win."
Another reason the call was so gutsy is because the Texans' defense had stopped Jacksonville for most of the afternoon. Behind a team-record tying four interceptions, the Texans limited the Jaguars to 193 yards of total offense through the first three quarters.
Yet several defenders, including starting defensive tackle Travis Johnson and defensive end Antwan Peek, were injured late in the game, leaving the defense slightly vulnerable.
Kubiak never wavered in his decision.
"Was it the smartest thing? I don't know," Kubiak said. "Maybe not. But with where we're headed with our football team, we have to send some messages with how we're going to play and what we're going to be about."
His players loved the call.
"That was the game right there," said quarterback Sage Rosenfels, who replaced an injured David Carr late in the game. "It was definitely a (gutsy) call by the head coach. But I think players like that. Players want to play for a guy that would go for it in that situation rather than a guy that would punt in that situation. When you put the game in the players' hands, and all we need is a foot or six inches, we'll take that every time and play all 16 games in that situation."
Even cornerback Dunta Robinson, who recorded one of the Texans' four picks, was happy the offense stayed on the field.
"Oh, man. I love coach Kubiak," Robinson said. "It takes a coach with guts to make a call like that. But what do we have to lose? We were 2-6. This is a team that was in the playoff race. Let's go all-out. Let's not settle. Let's not give them the ball back. They had been moving the ball pretty well on us as of late. We had a lot of guys on defense that were winded…You don't know what the coach is thinking at that time, but it was a big-time call and we got the first down."
The Texans started off the game strong. On Carr's second pass attempt, he caught wide receiver Andre Johnson open on a stop-and-go route for a 41-yard gain to the Jaguars' one-yard line. Running back Wali Lundy dove in two plays later for the second rushing touchdown of his career.
The Texans' offense returned to the field on the Jacksonville 41 with 9:10 left in the first quarter after linebacker DeMeco Ryans pressured quarterback David Garrard, forcing an errant pass that linebacker Morlon Greenwood caught for his first career interception.
Carr completed his first two passes for 21 yards before scrambling another 13 yards to move the offense inside the Jaguars' red zone. Kris Brown kicked a 24-yard field goal four plays later to give the Texans a 10-0 lead a little more than 10 minutes into the game.
Jacksonville responded with a 10-play, 54-yard drive. Garrard completed two passes for 37 yards. His 25-yard pass play to wide receiver Ernest Wilford moved the Jaguars into Houston territory. Josh Scobee entered the game with 14:53 left in the first half to attempt a 44-yard field goal, which cut the Texans' lead to 10-3.
In their fourth possession, the Texans began from their 20-yard line and went 67 yards on 16 plays. Carr passed for three first downs on completions totaling 38 yards. Later, he scrambled 14 yards for another set of downs on the Jacksonville 13. After Carr's pass to Eric Moulds fell incomplete on third down, Brown missed a 32-yard field goal attempt wide left with 4:41 left in the first half.
Minutes later, the Texans' defense notched its second takeaway of the game when cornerback Demarcus Faggins picked off a bobbled pass by wide receiver Matt Jones on the Houston 43.
Houston moved 18 yards on five plays. On third-and-four at the Jacksonville 39, Carr's pass intended for Johnson was deflected by defensive end Paul Spicer, leading to Chad Stanley's second punt of the game with 1:14 remaining before halftime.
Opening the second half on offense, Jacksonville was forced to punt, giving the Texans' offense possession near midfield. A 10-yard pass from Carr to tight end Jeb Putzier, followed by Gado's nine-yard gain, gave Houston a first down on the Jaguars' 31-yard line. On third-and-10, Carr rushed around the left end on a designed sweep. He broke three tackles for an 11-yard gain and a first down.
Carr finished the game with 48 rushing yards.
"I think he plays a little better when he gets out there in the mix a little bit," Kubiak said of Carr. "So we try to do a little bit of that stuff with him. I thought he did some really good stuff, and he'll be the first one to tell you that there's another step for (him) to take, and he's going to take that step for this franchise."
A four-yard loss on the next play, followed by an intentional grounding call and an incomplete pass, set up Brown's 52-yard field goal attempt, which hit the right upright and fell short.
The Texans' third interception followed shortly when defensive end Anthony Weaver picked up a pass deflection from Jones on the 50-yard line. Weaver rumbled 21 yards to the Jaguars' 31-yard line. After Carr's third down pass intended for Johnson sailed long in the end zone, Brown nailed a 28-yard field goal to give the Texans a 13-3 lead with 4:55 left in the third quarter.
Following Chris Hanson's third punt of the game, the Texans started from their 11-yard line. Carr completed a 14-yard pass to tight end Owen Daniels, but was hit on the play, bruising his right shoulder. Rosenfels replaced him behind center, and on his first snap, Gado rushed 13 yards on third-and-19 from the Houston 27. A late hit on cornerback Brian Williams gave the Texans a first down inside Jacksonville territory.
A halfback pass attempt by Lundy three plays later resulted in a nine-yard loss when Johnson was covered up by a double team and Lundy kept the ball. Stanley punted to the Jaguars' 18-yard line.
The Texans kept the momentum on their side when Robinson collected the Texans' fourth interception with 7:25 left in the contest by stepping in front of Wilford in the end zone.
"It was something we practiced all week," Robinson said. "Every time they come out in that formation--from the film study--in critical downs, they wanted to hit that slant by the No. 2 (receiver). I was playing inside. He gave me the stick outside, and I didn't go for the outside move. I turned right up under him and the ball was coming at that time. He tried to put his hands in there to knock the ball down.
"We needed to make a big play, and like a lot of people say, big-time players make big-time plays in big-time games. And I had to step up and make a play, and that's what I did."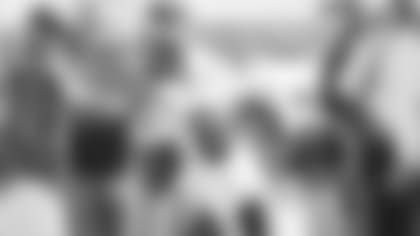 After another Stanley punt, Jacksonville scored on a five-play, 60-yard drive. After Garrard completed a 25-yard pass to Wilford, Fred Taylor's 24-yard run set up a three-yard touchdown by rookie Maurice Jones-Drew with 4:36 left in the game.
Holding a 13-10 lead, the Texans started from their 26-yard line. A 10-yard holding penalty on guard Fred Weary, combined with a six-yard gain by Lundy, led to third-and-14 from the 22-yard line. A nine-yard screen pass to Lundy led to Stanley's fifth punt with 2:42 left in the game.
A 37-yard pass from Garrard to wide receiver Cortez Hankton would have given the Jaguars a first down inside the Houston red zone on the ensuing series, but an offensive pass interference penalty on wide receiver Reggie Williams negated the play. On third-and-20, Garrard's pass to Wilford fell incomplete, leading to a punt from the Jaguars' 26-yard line with 2:05 left on the game clock.
From the 32-yard line, Gado rushed twice for nine yards. On third down, Rosenfels dove forward for a short gain, and Jacksonville used its last remaining timeout. That's when Kubiak decided to keep the offense on the field on fourth-and-inches. Gado dove off the right tackle for the first down after a measurement, and Rosenfels took a knee to run out the remainder of the game clock.