Specialists are everywhere in the NFL. Whether it is a place kicker, a nickel back, or a blocking tight end, rosters are filled with players who have defined roles for their teams. Probably the most overlooked of all these role players are longsnappers.
It's a small group, just 32 do it professionally and it's not glamorous by any stretch of the imagination. You won't hear the crowd roar after a successful snap to a punter or holder, it's expected. NFL longsnappers can play up to 15 years in the NFL and perfect their craft all while operating in the shadows of most NFL practices. Their craft takes minutes to learn but a lifetime to perfect.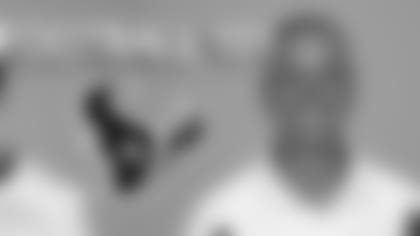 "The thing about longsnapping is that it's similar to an art form." Texans longsnapper Bryan Pittman said. "I've picked up my tips and techniques along the way from other snappers. I've never had a coach sit me down and tell me this is the way to do it. If you ask any pro snapper in the league, I'm pretty sure they would say the same thing."
While it may take a lifetime to master, make no mistake, longsnapping can be very lucrative for the lucky few that can do it well consistently. Children don't often dream of becoming NFL longsnappers, but as they get older, it's probably something they should consider. For Pittman, his NFL dreams shifted to snapping toward the end of his high school career.
"My senior year we had a new coach that came in and after he saw me snap the ball for the first time, he asked me if I knew what the minimum salary was in the NFL," Pittman said. "I actually didn't know at the time, but after that day I put it in my mind that one day (longsnapping) could be a possibility to make a living doing it."
It wasn't an easy road to the NFL for Pittman. While it became clear that longsnapping could become his meal ticket, he took a long and winding road to his pro career after high school.
"From (high school), I just took it on," Pittman said. "I went to junior college to improve my skills. I went from there to a major college (University of Washington) where all I was there was a specialist and then eventually worked my way through the ranks and finally got a break in (2003)."
Pittman was first signed by the Cleveland Browns in 2003, then released, then signed again only to find himself on the street following training camp. The Texans quickly signed him to the practice squad in September of 2003 and less than a week later he was the team's primary long snapper, a role that he has not relinquished over the past three seasons.
Pittman has teamed with place kicker Kris Brown and punter Chad Stanley during the past three years to provide a solid foundation for a Texans' special teams unit that has been the team's most consistent performers since the team's inception.
Even with years of experience under his belt, Pittman's work ethic on and off the field demonstrates that he takes nothing for granted. He knows even the most minor mistake by him can cost points or even a game so the only option is practicing to a point where thinking is removed from the equation.
"You don't want to think about (the snap)," Pittman said. "You practice it enough to a point where you don't have to think about is my grip proper? Is my stance good? Because once you go to kind of mentally evaluate something when you're in the process of a snap situation, then that's when something goes wrong."
Pittman can be called into action at a moment's notice. There can sometimes be little or no warning for when his duties are needed so you might find him doing some unusual things on the sideline this fall in order to stay loose.
"Stretching for me is important," he said. "Just staying warm. I use rubber bands a lot, just try and stay active, try not to stiffen up. I'll ride the stationary bike, jog on the sideline, almost anything."
The rubber bands Pittman speaks of are large enough to go under his feet and stretch over his head with his arms fully extended. Pittman said that's one of the few things that he uses more than the rest of the team. His workouts are similar to other linemen, though he does spend much of his time with special teams coach Joe Marciano during practice somewhat secluded from the other players. The duo, naturally, has a close bond.
That pair was kind enough to demonstrate the art of longsnapping after a Texans' mini-camp practice. You can view their installment of Football 101 here or click on the link at the top of the page. Check back to HoustonTexans.com for future installments of Football 101.