It is final cutdown week. There is nothing like this in real life.
This is the NFL. Some say it stands for Not For Long, and for 22 players after Thursday's final preseason game with Tampa Bay, it will mean the end of their journey with the Houston Texans.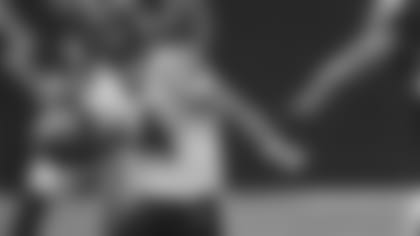 "It's scary," tight end Bennie Joppru said. "I've just got to keep on working like I've been doing. I'm fighting for my job. I've got to go out there and bust my butt. This is the most nervous I've been because I'm fighting for my life out there this week.
"I've just got to go out there and play mistake free and try to make some plays somehow. And hope that I have the opportunity, and if I do get the opportunity, I'll make a play."
That's the hope for many players on the bubble. And because the Texans have so many players in that position, head coach Gary Kubiak is doing something unusual against Tampa. He has announced that almost all of the veterans, including guys like quarterback David Carr and wide receivers Andre Johnson and Eric Moulds, won't play a down.
"There'll be a group of players that won't play at all," Kubiak said at the start of this week. "There's a group of guys that I know will be here playing for us on opening day and I'm not going to risk them getting injured with this short turnaround. I'm going to make sure they're healthy and ready to go against Philadelphia (in the regular season opener).
"We've got some tough decisions to make, and I want to make sure that those decisions are made on the field. I'm going to let some guys compete in this last game, some guys that are battling to be on this team as a backup or make it as a fourth or fifth receiver. I want that to be settled on the football field, so I'm going to give them a chance to play."
In drama you could cut with a knife, Kubiak is going to let this game be the final do-or-die for nearly two dozen players. There's nothing subtle about it. Thursday's game means everything.
"It's going to settle every issue that we have," Kubiak said. "I told the players this morning, (that) if there is any doubt in our minds as coaches about what we're going to do here or there, it's going to get settled here on Thursday night. You'll see those guys on the field Thursday night battling for positions that are very important. We'll let them play themselves out, out there."
That will be true for rookies and veterans alike. Even a player like running back Antowain Smith, who has two Super Bowl rings from his days in New England. No one is a sacred cow. No resume is bullet proof.
"I just have to go out there and do the things I'm capable of doing and show them I still can be productive," Smith said. "You have to show these guys you can still play so they can count on me. They can't carry everybody, so you just have to show them you can do the job.
"My thing is I'm still out here fighting for a spot on this team. So I have to go out and show them what I can do."
The former University of Houston standout knows it's a numbers game and that young players like Wali Lundy and Vernand Morency have looked the best so far this preseason. But he has no complaints with how Kubiak has used him.
"I can understand where he's coming from," Smith said. "He's got to see the young guys play. Myself, being a veteran guy in the league, I still have to go out and show I can get it done."
This is not veteran linebacker Troy Evans' first rodeo either. He has been through four cuts with the Texans the past four years and knows how important the final game of the preseason can be, especially this one.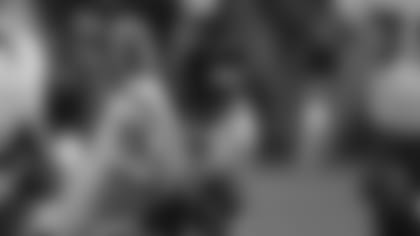 "It's big because a lot of the backups will be playing a lot," Evans said. "We'll be playing three out of the four quarters and sometimes be playing all the way after the first series.
"And any time you get a chance to put yourself out there, all 32 teams will see the film anyway. So even if you do get released from this team, you still have to put something out there for other teams to check you out."
It's the only way to approach such a cold, unforgiving deadline as the final cutdown.
"That's the way the NFL is," Evans said. "The reality is it's a lot harsher than the general public sees. The bottom line is, there's never any job security. I don't care who you are or how much money you make. It just makes it harder to move you if you make more money. It's just the way it is. You just take it day-by-day and do what you can on the field and let the rest play out on the field."
Wide receiver Derrick Lewis, caught in a position where at least one or two probably won't stay around, understands the simplicity of cutdown day. He has bounced around three teams and NFL Europe and knows nothing is certain, even though he has scored a team-high tying two touchdowns in this preseason.
"It always is like that on any NFL team," Lewis said. "Anybody's just a play away from being the next guy, and they've got to have the best guys out there. They brought in a bunch of good guys, and I just hope I can stay in the mix.
"We've all had good days and bad days. Just hopefully my good days outweigh the bad. And they saw some plays I made last week and kind of judge me from the good things I've done. You're going to make mistakes in this game. I just hope my mistakes haven't killed my chances."
Lewis knows it's too late to worry about mistakes now.
"I've been in this situation before," he said. "I've been cut in the first round and I've been released in the second round. I've been to Europe and they've kept me to the last cut. I can't press. I can't worry about what's going to happen. I can only worry about what I can control and that's getting open and making plays and that's about it.
"There's only so many numbers. There's only 53 roster spots that you can keep, and we have maybe six good receivers who could probably play anywhere else. So to still be in the mix is good for me. A lot of guys don't get this far. A lot of guys don't play one year in the league, and I've played four. I just want to get somewhere I can stick and make some plays and make a name for myself."
And Lewis knows his touchdown catches haven't nailed anything down for him, though they can't hurt.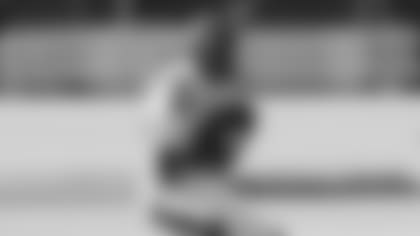 "It always helps," he said. "Once they say your name on the loudspeaker, it's a confidence builder. And it's a confidence booster for the offensive coordinator to know he has a guy who's going to make plays. It's no surprise for me. It's what I've always done."
Like many others, Lundy, the running back who has led the team in rushing this preseason, felt the drama keenly this week.
"I'm still here," Lundy said brightly before a practice. "I'm still breathing. You're thankful for every breath you have here."
EDITOR'S NOTE:Jim Carley is a veteran Houston sportswriter who has covered the NFL for more than 25 years. He has worked for such newspapers as the Fort Worth Star-Telegram, The Houston Post, the Los Angeles Herald-Examiner and the National Sports Daily covering such teams as the Dallas Cowboys, the Houston Oilers, the Los Angeles Rams and the Oakland Raiders.