The Denver Broncos have been one of the most prolific franchises in the NFL over the past decade, winning three AFC West division titles and two Super Bowl trophies.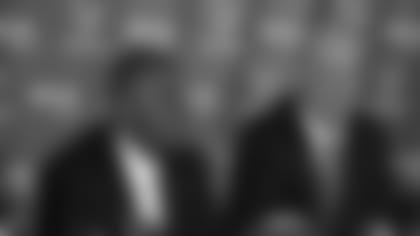 That fact hasn't gone unnoticed at Reliant Stadium, where owner Bob McNair solidified the Texans' football operations department Monday by hiring away Rick Smith from the Broncos to be the second general manager in team history.
Today's move, along with McNair's acquisition of head coach Gary Kubiak, a long-time offensive coordinator in the Mile High City, gives the Texans two of the Broncos' most influential front office leaders during an era of unprecedented success in Denver.
McNair has no doubt that the two former colleagues can work together in a way that will carry the Texans to the next stage in the development of the franchise.
"We have gone through a period in which we have built a foundation, we've made a start and we've had an introduction into the NFL," McNair said regarding the team's first four years. "And I feel like we're sort of like the situation with NASA, where we have liftoff and now we're ready for the ignition of the second stage. That is what this is all about."
Smith, the Broncos' former assistant general manager, becomes the second-youngest general manager in the NFL after joining the pro ranks in 1996 at age 26 to help coach the Broncos' defense.
He attended Monday's press conference along with his wife, Tiffany, and three-year old son, Robert Lamar. Smith's parents also were in the crowd to witness their son's introduction.
The promotion is the culmination of many years of hard work for the Petersburg, Va. native, who played strong safety at Purdue before before beginning a coaching career at his alma mater. A recommendation by current Denver Broncos running backs coach—and former Boilermakers coach—Bobby Turner led Smith to the Broncos, where he spent four years assisting the defense before joining the personnel department.
While his career began in 1992 after graduating college, Smith considers his first carry as a youngster to be his initial step toward his current profession.
"I have been preparing for this job since the day that I strapped that helmet on," Smith said. "I have been the youngest a lot of times and it's never been a problem for me. In fact, I've always looked at it as a challenge. I have never been complacent and I've always liked to push the envelope and I'm always trying to grow. I'm excited about this opportunity."
Asked about his move to scouting, Smith said it was a better fit for him because he enjoys putting rosters together and thinking about the "big picture" more than coaching. As far as what he looks for in players, Smith mentioned a combination of characteristics, both mental and physical, that he looks for in each prospect.
"It's physical attributes as well as passion and intelligence (and) character," Smith said. "We want to make sure that we put high-character players on our football field, because that right there, at the end of the day, in the fourth quarter, those are the guys that you're going to be able to count on."
The division of responsibilities in the Texans' football operations department was determined by McNair. He expects Smith to evaluate talent and lead the college and pro personnel departments. The negotiation of contracts and managing the salary cap will be handled by vice president of football administration Dan Ferens. Aside from his coaching duties, Kubiak will work with Smith during the draft and free agency periods.
Although they have worked together before and have a strong friendship in addition to their working relationship, Kubiak does not see Smith as a "yes" man. In fact, he thinks some healthy debate will be good for both of them, just as long as they take the time to listen to each others' points and those of other staff members inside the organization.
"You're not going to be successful in this business if you don't have people around you that are willing to give their opinion on players and on coaching staffs," Kubiak said. "That's one of the reasons that I feel so good about this guy right here because I've been with him. I've battled him and he's battled me in a lot of situations and made me a better football coach because sometimes I get a little bit of tunnel vision on some players and things, and he would help me see another side."
The prospect of Smith and Kubiak, who are both in their first years at their respective positions, play such crucial roles on the team doesn't concern McNair. For the first four years of the Texans' existence, McNair felt it was important to lean on experienced veterans, such as former head coach Dom Capers and former general manager Charley Casserly.
At this point in the team's development, though, McNair prefers some young blood. He has a better feel for how he likes things run, and appreciates the flexibility and youth of his two new hires.
"We have a lot more information today than we had 20 or 30 years ago, and we have to make sure that we're exploiting that, that we're using it properly," McNair said. "And these guys are ready to do that because they're young and they're still willing to reach out and do things that are different. They're not concerned about protecting their turf. They're willing to try things, and if it doesn't work, we'll change some of the things, some of the relationships."
Smith isn't wasting any time immersing himself in his new post. He plans to attend the team's mini-camp this Wednesday and begin his initial evaluations on the players.
Rather than copy the system used in Denver, Smith plans to take elements from the Broncos, Texans and other NFL teams to develop a unique approach tailor made for Houston.
Of course, there are no shortcuts to success, and Smith can't wait to begin what he hopes is a long and fruitful journey in his new adopted hometown.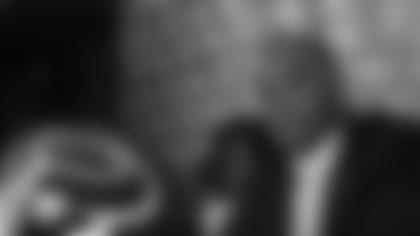 "There are no geniuses in the NFL," Smith said. "The only real genius that I know of is Albert Einstein. I think he was asked what genius is and he said it's one percent inspiration and 99 percent perspiration. That's what it takes. We're going to work and we're going to roll our sleeves up. I worked hard for this (Super Bowl) ring, but I'm looking forward to taking this ring off and rolling up our sleeves and getting after the job and going about the business of making this franchise a winner and bringing a winner to this organization."