has already set the franchise mark for touchdowns by tight ends in a season with four. The previous mark was three scores in 2002 and 2003, all of which were scored by Billy Miller.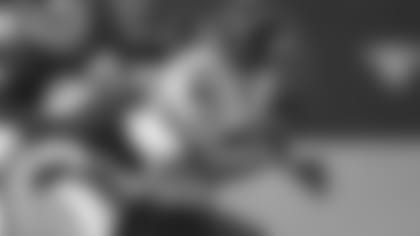 Today, the Texans have two ends within one of Miller's mark of three touchdown grabs in one year and 13 games still remain in this season. Both Mark Bruner and Owen Daniels have caught two touchdowns to date and enter Sunday's game with the Dolphins each looking for a scoring grab in a third consecutive game.
Not to be forgotten is Jeb Putzier, who has three grabs averaging a team-high 16 yards a reception. Both Putzier and Daniels are new to Houston this year with Putzier arriving via free agency and Daniels the draft, but this is Bruener's third season as a Texan and he had yet to score in his Houston career before catching a touchdown in
Indianapolis less than two weeks ago. The use of the tight end in
's revamped offense doesn't surprise Bruener.
"I expected the tight ends to be involved more in the offense," Bruener said. "Owen and Jeb have done an outstanding job since training camp to today showing that they can be a viable receiver for us. I'm very happy that I can be a viable receiver as well and I've been fortunate to have my number called on the goal line the past two games."
Bruener is known around the league as a blocking tight end and yet he's shown soft hands the last two games, but he thinks there may be good reason that he's been open at the goal line.
"I really think that if you look at my history I'm not a person that is typically looked at in those situations so defenses aren't really going to key on me in that aspect," Bruener said. "I think that is one of the reasons that I've been able to get so open these past two games because there really is nothing to show that they should cover me. That's a great job by our coaching staff to see that. Maybe defenses will start keying on me, I'm not quite sure, but I just want to contribute in anyway that I can and if it is catching the ball sporadically then let's do it and then let's hope they're all big plays for us."
Bruener isn't kidding about sneaking up on opponent defenses. Not only had he never scored a touchdown in a
uniform prior to this season, but he had just six receptions for the Texans entering 2006. His two scoring grabs have probably raised an eyebrow or two around the league, but Texans' offensive coordinator Troy Calhoun said that the Texans weren't looking to exploit Bruner's reputation as a blocker to grab some easy points early in the season.
"Not necessarily," Calhoun said when asked if Bruener's touchdowns were by design. "I think part of it is that's the way it's worked out and he is a superb blocker so from a defensive standpoint, that's probably where you begin with him. He's done a good job too of just getting off the line, that's not that easy to do down in that area of the field."
Whether it's by design or not, Bruner hasn't exactly been able to enjoy is scoring success this season thanks to a 0-3 start to the season. Bruner said that the only statistic that he cares about is winning.
"Everybody's done a great job of blocking their man and David (Carr)'s done a great job getting me the football a couple of times. I'm excited about that, but obviously, as I've said before, the touchdowns I've scored have been overshadowed by the outcome of the game. Great I scored, but the emotion of the game, the score of the game, is something I feel a great deal more strongly then compared to any individual accomplishment."
That's a sentiment shared by Daniels.
's rookie tight end has had instant success individually, but he would much rather trade that success for team success on the scoreboard.
"When I got in the endzone two weeks ago, there was nothing to celebrate really," Daniels said. "We were still down something like three touchdowns and same thing this past week so I haven't really had the opportunity to get real excited."
The proficiency of the tight end position is something that was to be expected in
's revamped offense. While Daniels and Putzier are not familiar with
offensive schemes of seasons gone by, Bruener can see the benefit of having another threat in the passing game.
"The role of the tight end last year, at least for me personally, they had me in pass protecting and blocking in the run game quite a bit,' Bruener said. "In this offense that we have, it's a very diversified offense especially with the number of players that are included in the passing game."
It should come as no surprise then that the success of the tight ends has equated to more opportunities for wide receivers Andre Johnson and Eric Moulds. It might not be a coincidence then that both are off to great starts with Johnson ranking among the league's elite in every major receiving category.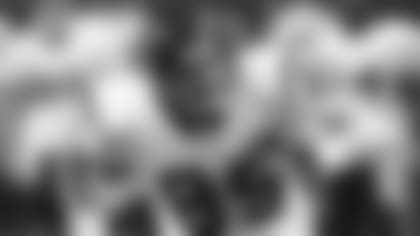 "Two years ago we had Billy Miller as a receiving threat and this year we have Jeb and Owen doing an outstanding job," Bruener said. "What that allows us to do is open up the middle of the field and keep teams from double-teaming Andre or Eric and  I think this approach is showing some signs of working and I think it will keep showing progress as well as we move forward."
Johnson and Moulds are not the only beneficiaries of strong tight end play. Quarterback David Carr enters this weekend as the NFL's highest rated passer. Calhoun acknowledges that a good tight end, or ends in
Houston's case, can be a nice asset for a passer.
"So often when you have a real solid tight end, especially as a route runner, there are some throws to be made when you can isolate them against backers or safeties," Calhoun said. "It's another segment of the field where you can operate and get some yards instead of working just outside the numbers. Now you work inside the hashes and often they are a bigger body, which means a bigger target. It gives you a chance to be a little more complete in what you're doing from an attack standpoint."
Although Bruner is known for blocking, Putzier for stretching the field and Daniels, a combination of both, look for the trio to contribute in every aspect of
's offense for the remainder of the season.[ ](http://store.houstontexans.com/family/index.jsp?categoryId=2237490&clickid=mainnavgeartxt)
"They have some strengths, certainly," Calhoun said of his tight ends. "I think they work together well. There's probably a fairly defined role for each and yet as you play through the course of an entire season, you play 16 games, they're all going to need to contribute in different ways. But you're always looking for mismatches that you can exploit."