INDIANAPOLIS -Is there enough room in the top 10 of April's NFL draft for three wide receivers? Calvin Johnson, Ted Ginn Jr. and Dwayne Jarrett hope so.
Johnson is a lock to be plucked well before the double-digits roll around. By running a 4.35 Sunday and weighing in at 239 pounds, the 6-5 Johnson can best be described as a physical freak.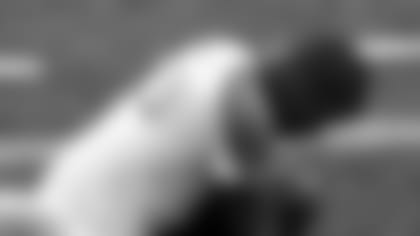 He probably didn't have to run on Sunday afternoon in the RCA Dome to cement a position in the top five, but that's what he did. Johnson didn't participate in any other drills, but for a player who claims to have a 45-inch vertical jump, does it really matter?
Johnson thinks he's the best player available this year and it's hard to argue with him. His 4.35 is even more impressive when you consider that he didn't exactly bust out of the blocks, meaning with some more coaching and practice, it doesn't seem ridiculous to think he could hover around 4.3.
"I feel like I'm the best athlete," Johnson said. "That's the attitude you have to have going into this thing, so that's the way I feel."
He's so confident in his ability that, although it was probably a slip of the tongue on his part, he appears to have turned the combine process on its head.
"I'm not saying anything about any particular teams right now," Johnson told the media Saturday. "I'm still in the process of interviewing all the teams right now. As the draft comes, I'll have a better idea of where I'll fit and who might take me."
Traditionally, the team interviews the player to gauge its interest, not the other way around. Johnson hasn't set his goal to be the number-one pick overall, but it doesn't look like he would mind too much if he was either.
"My goal is just to go out and help any team that picks me, get to the playoffs and go from there," he said. "But I'd love to be number one."
Johnson compares himself to Terrell Owens and Randy Moss on the field, but Marvin Harrison off of it.
"The combination of my size, speed and strength and my willingness to help out whatever team wants me, I think all of that will help me be an elite player at the next level," Johnson said.
, Johnson likely will enhance his status as the best receiver by completing a full workout at Georgia Tech's pro day. That leaves Jarrett and Ginn to try to play catch up. Johnson is well aware of his competition in the top 10.
"I've met Dwayne Jarrett several times and we're cool," Johnson said. "I met Ted Ginn for the first time out here. It's a good group out here. Everyone is real competitive."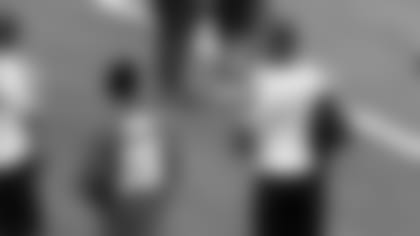 Jarrett and Ginn both elected not to work out this weekend. For Ginn, the decision was made for him when he suffered a foot sprain in the BCS Championship game. He hopes to be ready to run during
's pro day, but there is no official timetable to when he will be showcased. He just started jogging last week.
Jarrett chose not to perform in Indy. It might be a mistake. He'll strut his stuff March 28 in Southern California for scouts, but some in
are questioning his competitiveness.
If some doubt that Jarrett is ready for the NFL like Johnson and Ginn, Jarrett says they need to look no further than his resume while playing for the Trojans.
"Just look at my body of work," Jarrett said. "Three years as a starter at (USC), I won a national championship freshman year, sophomore year, we went back, and then the Rose Bowl win this last season.
"I've been an All-American two times, hold every record at USC, fourth in NCAA history in scoring touchdowns, I had 41, so that's why I say look at the film."
Ginn is probably the least polished of the three at receiver, but he offers an option as a dynamic return man. Those anxious to watch him run only want to confirm what is already known: He's very fast.
's Devin Hester demonstrated last season how beneficial it can be for a team to have a game-breaker as a kick returner. And make no mistake, Ginn is not a stiff at receiver, but this added dimension to his game only makes him that much more valuable.
"Well, I'm a fan of him," Ginn said when asked to compare himself to Hester. "I watched him through college and I think he helps me out just because he returns kicks well and I'm in that field as well."
Like Jarrett, Ginn believes that teams need to look no further than his college career for proof enough to select him in the top 10.
"I hope they just look at what I did during my three years in college," Ginn said when asked if he was worried his injury would hurt his draft stock. "I think if they do that they'll see that I'm a good player even though I haven't bounced back as quick as I wanted to after my injury."
No matter where the three end up, the trio will be making a lot of money in a few months. Ginn probably summed up best what Johnson, Jarrett and more than 300 other players are thinking this weekend.
"I really don't have much to do with what team wants me or where I'm going to get picked," Ginn said. "You just have to show you can perform in every aspect of the game."