One week away from his first mini-camp as head coach of the Houston Texans, Gary Kubiak strolled to the sideline to address the media. Despite the veterans displaying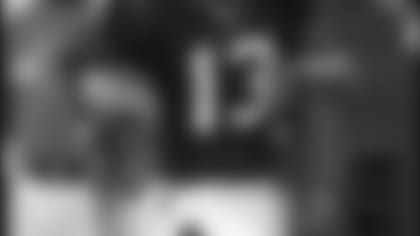 more and more confidence in new schemes and nearly every player displaying the type of discipline and enthusiasm often seen in training camp, the tone Wednesday was a bit somber. Kubiak confirmed what the team feared, a serious injury to Pro Bowl kick returner Jerome Mathis.
Mathis missed the Texans workout yesterday and when he wasn't on the field today, it was revealed that Mathis will likely miss the start of the 2006 regular season with a broken bone in his left foot.
"Since Jerome has come back from the Pro Bowl, he has struggled with his ankle," Kubiak said. "We took some time off, rehabbed it, did everything we could, it was making progress. Jerome had an accident along the way, but he came out to practice. It continued to bother him and we took an extensive look at it last week and unfortunately we found out what it was, a stress fracture."
Mathis will undergo surgery Friday at
to repair the venicular bone in his left foot, a small bone near the top of the foot.
The loss leaves a huge hole to fill in the return game. Wide receiver Jake Schifino and rookie running back Wali Lundy (below) saw quite a few reps as a kick returner Wednesday, and they among those who will fill in, at least for now.
This is just another problem in a series of setbacks for Mathis since being named to the Pro Bowl following a stellar rookie season. He was in a motorcycle accident a few months back as well, though Kubiak and the training staff said that the accident did not play a role in this latest injury. Mathis has completely healed from his injuries from the motorcycle accident.
"It's something that could fall into the chronic category," Texans head athletic trainer Kevin Bastin said. "But he might have done it at the Pro Bowl, too. He was running straight ahead in all the offseason stuff and doing fine, but when we started running and cutting and doing other stuff, it wasn't responding and that prompted us to do a further study of it."
Mathis will be operated on Friday by team orthopedist Tom Clanton and will then be asked to stay off his foot for about eight weeks, though Bastin said it might be sooner depending on how the foot responds.
In other injury news, defensive tackle Travis Johnson was helped from the field just a few minutes into practice today after suffering a strain in his right calf. It's unclear how serious the injury is, thought it's worth mentioning that Johnson left the field under his own power before being driven back to the training room.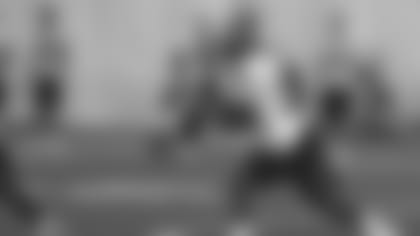 On top of all the injuries, departing general manager Charley Casserly said goodbye to the team Wednesday, his last official day on the job. He thanked the players for all their hard work in a short, but poignant address following the workout. Casserly is confident he is leaving the team pointed in the right direction.
"I leave on good terms and I feel like this team is in good shape," Casserly said after addressing the team. "Winning isn't far away. We have a good nucleus of players here and we had a terrific offseason. Winning is right around the corner."
He said that the only plans for his immediate future include driving back to
, but added he still has designs on a post in the league office. Casserly has no regrets and believes that ultimately the hard work he has put in since being named the first general manager in team history will pay off.
"You have to be patient," Casserly said. "Expansion teams are different than regular teams. I never lost confidence in the process. I never lost confidence in the people we had and I have no doubt that this team is going to win in the future."