 And then there were none: The Texans finished up their 2006 training camp a day ahead of schedule Monday. Head coach Gary Kubiak has said for some time that he is treating this Sunday's match-up with the Broncos like a regular season game.
The day off Tuesday is the same day of the week the Texans can expect to have off during a typical game week and came courtesy of hard working practice Monday.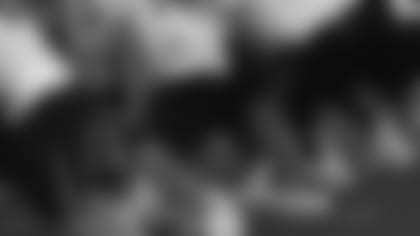 "We had great work today," Kubiak said. "I told them if we worked well today and if we were physical I'd give them tomorrow off and just start on
on Wednesday. I'm very impressed with our training camp, we've got a long way to go, but we have some guys paying the price."
Despite his positive feelings about the three weeks of work, Kubiak was hesitant to say how much the Texans had accomplished during training camp.
"I don't know. I think that you find that out in a couple of weeks," Kubiak said. "There's been some good things going on, there's been a lot of mistakes too. The work habits have been excellent and that's all you can ask for."
O-line in flux: The play of the offensive line in the Texans' two preseason wins has been solid, but Kubiak said Monday that not much has been decided on who the starting five will be other than center Mike Flanagan and right tackle Zach Wiegert.
"I think (Mike) Flanagan has had an excellent camp, there's no doubt he's our starting center," Kubiak said. "I think Zach (Wiegert) has had a good camp. He battled his shoulder a little bit and his elbow, but he's done a good job. I think we know who our starters are at guard, it's just that we've got three guys that we consider starters, so I wouldn't read too much into that. You all know the camp Fred (Weary)'s had, I think [
]()) back on the field, the left tackle thing will work itself out. Two kids are going at it, they both kind of stepped it up a notch last week in my opinion. We'll see what happens."
While the battle continues between Seth Wand and rookie Charles Spencer at left tackle, one player that might push for playing time at the position is rookie Eric Winston. Winston has played solely at right tackle during training camp, but could see some time at left in the near future to test his versatility.
"We didn't do that today, but we will start to look at that," Kubiak said of playing Winston at left tackle. "And the reason we're looking at that situation is because we have to decide who our swing tackle is this season. Who is going to be the third guy that can play on both sides. That's a very important decision on this team and we're looking at him to see if he can handle a little bit of both."
Surprise find: One player who has impressed the coaching staff in recent weeks is cornerback Dexter McCleon. McCleon, who wasn't even on the Texans roster to start training camp, has played his way into the staring lineup. Kubiak was pleased with his play Saturday, which included a blocked field goal. Kubiak credited the find to a phone call he received in the offseason from former Kanas City Chiefs head coach Dick Vermeil.
"It's really interesting how that works," Kubiak said of finding unsigned free agents. "Because when it works good everybody's says 'I was the one who found him', but to be honest with you Dick Vermeil called me throughout the off-season and said, 'If you're looking for a corner, give this kid a chance. He's a good kid, a good player.' When we had our problem that's the first name that popped up, so we want to thank Dick for giving us the call."
Injury report: Demarcus Faggins and Jerome Mathis remain out for the foreseeable future. Every other player should be available for Sunday's game with the Broncos other than Domanick Davis, who remains a question mark.
"He ran well last week," Kubiak said of his projected starter. "He stayed here for treatment this weekend. Everything's been good up to this point, when that day's coming that he comes back out here, I'd like to hope that it's before the week's out, but I don't want to put that burden on him or tell you guys that and be wrong. We're playing it day-to-day, but I know he's made a lot of progress. He's going to have to come out and practice and get the feel, get hit and get the pads on because that's a stage he hasn't been through in a long time. Hopefully that'll happen here at some point. As I said, and I'll continue to say, we're going to do what's best for him. When it's right, he'll be back out here. He won't be pushed to be back out there. It's got to be right, it's his knee and he'll know. We're just trying to do everything we can for him physically and as a player."