They are the Philadelphia Eagles and they've won more games than anyone in the NFL the last five years. And despite a 6-10 record last year, they still have a defense that is respected around the league.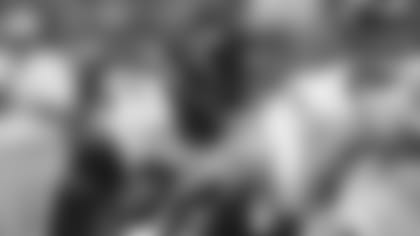 "Coach (Jim) Johnson is to me one of the most respected defensive coordinators in football," Texans head coach Gary Kubiak said. "I think their guys play hard and they get after you. You had better have your chinstrap buckled when you play them, because they are a very physical football team."
And they love to come after the quarterback. The Eagles have end Jevon Kearse, who has 62.5 sacks over the last eight seasons, and end Darren Howard, who was acquired in free agency and has 44.5 over the last six. And all four defensive backs registered at least one sack last season.
"They're definitely a good defensive line with Kearse and Howard," center Mike Flanagan said. "They've been proving it a long time. And (tackle Darwin) Walker has been around, too. They have a lot of experience and all of them have good motors. You don't want to have negative plays against them.
"You never want to have a situation when it's third-and-long, especially when you have a team that has a tendency to blitz like they do when they get you in those situations. It's real hard to win when you're in that third-and-16 or third-and-18 situation.
"If they get you in third-and-six to third-and-12 or more, they're going to bring it and you've got to keep your head on a swivel and hope you don't have a bulls-eye on your chest."
The offensive line has been a sore spot through much of the Texans' history as it has allowed a whopping total of 223 sacks over four seasons, including a league-high 68 last season. But hopes are high they'll turn that around with the arrival of assistant head coach Mike Sherman, who has a reputation as one of the league's best offensive line coaches, as well as offensive line coach John Benton.
The Texans looked much improved in the preseason, allowing only four sacks in four games. But with a mix of veterans like Flanagan, Chester Pitts, Fred Weary and Zach Wiegert and rookie left tackle Charles Spencer starting, no one is making bold predictions.
"It's a work in progress," Flanagan said. "But I like the way it's been going. Obviously, we've got a mesh of some old guys and some younger guys. No one's immune. Everyone gets their butts chewed.
"But we go out there and just play and it's come together week by week. Obviously, until now, it's kind of been make believe. So now we find out what we're really made of.
"The four of us have been around for a while and we know what it takes and I think Spencer has seen enough of it, he has a feel for it.  He's got a couple of preseason games under his belt, and you can see the transition. His play has gotten better dramatically since mini-camp."
Spencer knows he'll have many eyes on him in his first NFL start. And he doesn't mind that it is coming against as tough a defense as Philadelphia's.
"Not really because you know every week you're going to face somebody who's good," he said. "This is the NFL, and I'm willing to face anybody. This is my job. This is what I do.
"It's going to be a huge test for me to see where I stand. These guys have some very good pass rushers. We've watched a lot of film on them and they get to the quarterback. And our job is to protect the quarterback, so it's going to be a battle and our offensive line is excited."
Kearse is a three-time Pro Bowler who is known as "The Freak" for his irrepressible combination of size (6-4, 265), speed (4.4) and strength. He can take over games and Wiegert, who faced him when Kearse was at Tennessee and Wiegert was at Jacksonville, knows him well.
"He's a good player," Wiegert said. "All you've got to do is watch film and you'll see that he's an incredible athlete and a good football player. You have to be ready to play.
"Any time you have a player like that, he's always going to make some plays just on ability. You just have to know your assignments, try to read the defense as well as you can and take as good an angle as you can to block him.
"He's good. I've played against him a couple of times and I know you'll have your hands full against him because he's one of the better players in the league."
And Wiegert knows the Eagles' impressive reputation.
"Their reputation is deserved," he said. "They play hard. They're real fast and they do a lot of blitzing. They're one of the best defenses in the league the last five years.
"It's going to be quite a test. But we're trying to become a winning team around here and they've been the winningest team in the league the last five years, so if we could get a win against them, then hopefully we'll be on our way to being a winning team ourselves."
Guard Steve McKinney also knows what the Texans are facing.
"It's as good a front four as we'll play this season," McKinney said. "They've got some veterans who are proven pass rushers and some young defensive tackles that are very active and probably getting better every week. It'll definitely be a challenge right off the bat.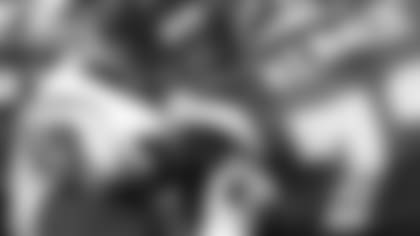 "The best thing we can do is keep it in third-and-short yardage situations and third-and-manageable situations, try not to get into those third-and-long situations where you take away the run element and allow them to tee off on us. If we can stay out of those by not having illegal procedures or lost yardage on the runs, we should be in good shape."
It will be a challenge, but the Texans won't go into it without a plan.
"We have things we plan on doing," Flanagan said. "Obviously, that's why coaches spend all the time upstairs breaking down film and beating their heads against the wall to find something that we can use as an advantage over whatever they show us."
EDITOR'S NOTE:Jim Carley is a veteran Houston sportswriter who has covered the NFL for more than 25 years. He has worked for such newspapers as the Fort Worth Star-Telegram, The Houston Post, the Los Angeles Herald-Examiner and the National Sports Daily covering such teams as the Dallas Cowboys, the Houston Oilers, the Los Angeles Rams and the Oakland Raiders.