EDITOR'S NOTE:Texans fan Alan J. Burge will be writing a "Voice of the Fan" column throughout the 2004 season. His latest installment is below. Alan's views do not necessarily reflect the views of the organization.
*
Battle Red Dead? Not!
* **

I was standing in front of my seat in Section 102 at Reliant on Sunday when I watched helplessly as right in front of my eyes, a sleeping Aaron Glenn allowed Derrick Mason to easily beat him on a quick hitch for the Titans third touchdown in four drives. I could hear Glenn pound the turf in frustration.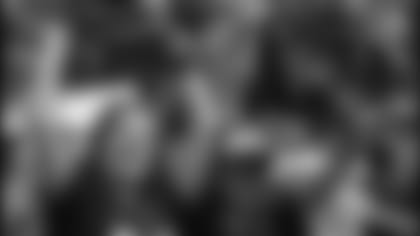 A full range of bad emotions was all over me like some cheap after-shave. There was frustration. There was bewilderment. There was despair. What in the heck had happened to this team?
Certainly, that score wasn't all Aaron's fault, but what I saw on that play was kind of a microcosm of the Denver and Indy games that started all this bad karma. The Texans were not ready to play. We were indeed in the midst of an ESPN Sunday Night Prime Time cheese hangover and the possibility of breaking the three-game losing streak didn't look good.
This was a bad Titans team that's been decimated by injuries and salary cap problems and even though Steve McNair was at the helm, there was no way the Texans should lose to a team who had players named Clauss, Nickey, Thompson, and McGarrahan starting or seeing significant playing time on what is now a shell of its former proud defense.
My early thoughts were "I thought the boo birds would be out for the offense, not the defense," and "Battle Red is Dead," but luckily the team woke up and gave us something to cheer about.
At least it wasn't the play calling. The Texans were down 14-0 before they ran their third play of the game. Note to self: Remind the fans that the team's problems are more complex than Chris Palmer and play calling.
Thankfully we were playing the old Oilers on Sunday and they obliged in Oileresque fashion by choking away an 18-point lead, allowing the Texans to score their most points in the short history of the franchise.
So in a span of three weeks, the Texans have set team records for points allowed (49 against Indy) and points scored (31 against the Oil….errr Titans). What are we supposed to make of that?
For starters, the Texans showed a lot of character coming back like they did. I don't know what happened in the locker room at halftime but one of the criticisms from fans recently has been the Texans' inability to make in-game adjustments. What I saw on Sunday was probably the best example of in-game adjustments by the Texans I've seen in a while, especially by the defense.
From the 10:38 mark of the second quarter until the end of the game, the Texans outscored the Titans 28-0.
The Texans defense forced turnovers on three of the last four Titans drives. Two of those turnovers resulted in Texans touchdowns. You have to love the effort by Antwan Peek, who in limited action had a sack and forced a critical fumble by McNair. He was so excited by his play that he couldn't hold down his pre-game meal, but it wasn't enough to keep him out of special teams kickoff coverage in the final minutes of the game. Marlon McCree had a clutch interception and even Petey Faggins' effort to keep a Titans wide receiver in-bounds to keep the clock running as the game wound down was evidence that this team hasn't quit.
David Carr and the offense were efficient and took advantage of the turnovers. Carr is very effective while throwing on the run and he proved that with nearly identical touchdown passes to Billy Miller and Andre Johnson. That said, it seemed like Carr scrambled into pursuit several times when he found his primary receivers covered. As most right-handers do, he almost always flushes right but he seems to rarely step up in the pocket which limits the possibilities down field. As a result, Carr had to throw away several balls. But, you can't really complain about the results since Carr used seven different receivers to keep the Titans defense off balance.
The offensive line looked very good Sunday and as I've written many times before, I think that is the key to Texans' success. But, I'm not getting too giddy over this one since as I stated earlier, this is a Titans team that has been wrecked by injury. The Jets will present a much bigger challenge.
Considering the poor start, the crowd was great on Sunday. After the Wells touchdown in the second quarter it was very loud and a lot of fans were standing at their seats more than they were sitting. That's the kind of fan involvement that really makes games at Reliant entertaining and fun. Unfortunately, there were a lot of late arrivals again and most of the Club section folks seem to prefer watching the game from the bars up in the concourses. That results in a lot of empty orange seats which doesn't exactly look good on TV but that's the way it is. Who cares if we win, right? Can you imagine how loud it would be if those people would actually sit in their seats and yell like the rest of us?
What's funny, or maybe sad depending on your perspective, is that as a former Oilers fan, I've been the victim of so many choke jobs that I don't allow myself to get comfy with even a 10-point lead with a minute left in the game. I look at the people streaming for the exits at the two-minute warning thinking, what in the heck do you know that I don't know? I think I need to learn how to relax. Nah, that would take all the fun out of it.
· Congratulations to Preston Chauvin of Cut and Shoot Texas who won the Texans Ultimate Fan competition. Preston attends just about every Texans event imaginable and is very deserving of the award. Congratulations as well to all the other contestants who participated in the contest. Your enthusiasm is contagious and your recognition is well deserved.
· Special recognition should also go out to all the out-of-town Texans fans that make the trek to Reliant for every game. Your dedication is amazing and very much appreciated. I'm fortunate to know fans that drive in from Austin, San Marcos, Beaumont, and Granbury (near Fort Worth) every week to attend Texans games. Hats off to you guys. We need more fans like you.