EDITOR'S NOTE:Texans fan Alan J. Burge will be writing a "Voice of the Fan" column throughout the 2004 season. His latest installment is below. Alan's views do not necessarily reflect the views of the organization.
* *
Win, place or show?

Like many of you, I watch the Texans religiously every week, either in person or on TV. Since we're now at the halfway point of the 2004 season we should know what to expect from week to week, right?
If you answered yes to that question, you are either not watching close enough, you're lying, or you are psychic. I must admit that I don't have a clue about what's going to happen on Sunday at Indy.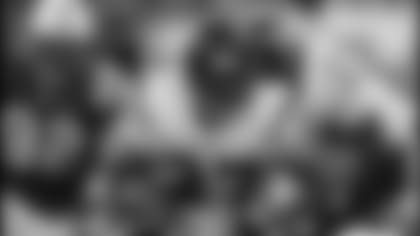 Which Texans team will show up on Sunday; the tough one that beat Jacksonville and Tennessee, the opportunistic one that beat Kansas City, or the confused one that got pounded into the Mile High turf last week at Denver?
Here's a suggestion for the Texans. On Sunday, do whatever you did last year at Reliant in Week 17 when you took a 17-3 lead into the fourth quarter – but this time hold on to the lead.
When I look down the starting lineups from that game last year, the thing that jumps out at me is just how decimated the Texans were because of injuries. The Texans started the game with one of those funky defensive alignments where Jerry DeLoach and Junior Ioane were the only defensive linemen, Steve Foley lined up at one linebacker with the other regulars, and the starters at defensive back were Faggins, Coleman, Brown, McCree, and Simmons. No Walker, no Payne, no Aaron Glenn. No Wiegert. Fred Weary and Greg Randall was the starting right side of the offensive line. Todd Washington started at left guard because Pitts was at left tackle. Seth Wand lined up at tight end. Gracious. And yet somehow, the Texans came up with one of their best efforts of the season. How did they do it?
Guts and determination. Execution and mistake free football (at least for a while). Tough and aggressive defense. Efficient offense. Good special teams. A sound game plan.
Yes it's all coach speak but that's how you do it. That's definitely what helped get them wins in two other tough roadies at Tennessee and Kansas City this season. We need to find that secret ingredient and use it again because it was certainly missing last week. We can play with these guys just like we should have been able to play with the Broncos last week. Now that our talent level is catching up with other teams, it's becoming more of a function of who's being out-coached and out-executed from week to week as opposed to not having players who can compete.
I won't bore you with stats this week. Most of you already know that both teams have better offenses than defenses. I was beginning to think the Texans' defense was turning the corner with solid performances against Tennessee and Jacksonville but they reverted to their old generous ways last week in Denver. That's not going to work in a Dome full of noisy Hoosiers. Memo to Indy: Before you bolt for L.A., at least get some FieldTurf before someone gets hurt.
The Texans' best shot at beating Indy is probably to use the Jacksonville model from a few weeks ago: Win the time-of-possession by nine minutes, hold Edgerrin James to under 100 yards, win the turnover battle, minimize penalties, and score on 60 percent of your possessions. Jacksonville did all that and still won despite allowing Manning to throw for 368 yards and 3 TDs. But it still took a last-second kick from a hot dog rookie kicker to get it done.
One of the keys for the Texans as always is getting the running game going. In games like this, you want to control clock to keep the defense off the field. Unfortunately, the Texans running game has been non-existent since Week 4 against the Raiders. Domanick Davis showed signs of re-emergence last week but he's still not back to last season's form. But it is notable that Domanick made his mark at Indy last season, rushing for 109 yards while subbing for an injured Stacey Mack. Tony Hollings is back on the injury list with a bad hammy. Jonathan Wells is another personal foul away from being back in somebody's doghouse – if he's not there already.
No, I don't know what to expect on Sunday but I do know that the Texans will have to play their best game of the year to win. And what a sweet win it could be.
A win would put the Texans at 5-4, tied with the Colts for at least second place in the AFC South.
A win would give the Texans a 3-0 division record and keep them right in the middle of the AFC South race going into Week 11.
A loss and we're probably tied with the Titans for last place.
Yes, these division games are huge so I hope the Texans sense the urgency and come out and play with a little more fire and venom than what we saw last week. Indy is the only division team we haven't beaten and now would be the perfect time to break that string.
· Colts defensive end Dwight Freeney is tied for fourth in the NFL with six QB sacks meaning Seth Wand will likely need help on Sunday, either from a tight end or from fullback Moran Norris. You may see more two wide receiver sets than usual on Sunday since Todd Wade is out at right tackle and Marcus Spears will get the start in his place. Indy will bring lots of pressure to try to throw Carr and his receivers off their game.
· The Colts have allowed only five QB sacks this season which is tied for the best in the league. The Texans have only 13 sacks and are near the bottom of the league in that category.
You can email the "Voice of the Fan" at: aj_texans@yahoo.com