EDITOR'S NOTE:Texans fan Alan J. Burge will be writing a "Voice of the Fan" column throughout the 2004 season. His latest installment is below. Alan's views do not necessarily reflect the views of the organization.
*
Turning Point II
* **

Clarification: Turning Point I was at Kansas City in September.
After two ugly-ugly games to start the season, the Texans surprised us all and went into Arrowhead and came out with a W. That unlikely win energized the team and propelled the Texans on a mini-streak where they won four out of five.
Now it's Turning Point II.
After two ugly-ugly games the Texans are once again faced with a crisis, and unlike the Kansas City game, a national audience will witness the outcome of this one. The Texans need to stop the bleeding now. The difference between a 4-6 and 5-5 record for this team at this point in the season is huge.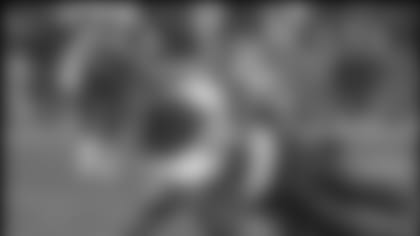 Not that you need any help getting fired up for this game but just for the heck of it, why not go back and pull out your DVD or VHS of the last time the Texans played on ESPN Sunday Night Football. Goose bumps. If you don't have a recording of that game, you might want to page through your copy of "Opening Night" which documents that remarkable evening in September of 2002. If you don't have it, I'd suggest getting a copy or dropping a Christmas hint to someone since it's a must have "coffee table" book for all Texans fans.
Speaking of that first game, the weather this weekend may keep the roof at Reliant closed much like that night when remnants of Tropical Storm Faye kept the roof at Reliant closed for opening night in 2002. Maybe it will be déjà vu all over again. I don't care so much about the weather – except for our tailgate – but I'd like to see a similar performance on the field by our guys.
But I have a sneaky suspicion that the Packers will be a little bit tougher competition than Dave Campo's "Hard Knocks" Boys.
Green Bay's offense is in high gear, averaging over 35 points per game during the team's four-game winning streak. As usual, Brett Favre is one of the reasons for the gaudy production, throwing nine TDs and only three interceptions in his last four games. Running back Ahman Green has averaged over 100 yards per game in his last four games.
But there is hope for the Texans. The Packers defense is continuing to struggle. Against Minnesota, Green Bay allowed two TDs in less than two minutes that allowed the Vikings to tie the game late. The Packers also have forced just eight turnovers and rank a poor minus-11 in that category. But then again Indy was supposed to have the worst defense in the league.
The Texans need to cure whatever is ailing them in a hurry, before this thing spirals into something really ugly.
The running game has been absent since Week 4 against Oakland (that's a copy and paste line I've used every week for the last six weeks by the way)
And then while a lot of fans continue to point to play calling or lack of downfield attack, David Carr says that the running game is the key to kick starting this team.
"We have to run the ball effectively and get some play action going so they can't use the extra safety to cover Andre (Johnson)," Carr recently told the Houston Chronicle. " We have to make them come down in the box and stop the run. If you don't have an effective running game, they can double everybody...and I'll be sitting back there like last week, looking for somebody to throw to and we've got no chance."
The comment about making the opponent come down in the box to stop the run is especially troubling because Denver and Indy were able to wreck the Texans offensive line by rushing only four and keeping seven back - so it didn't matter if Carr dropped back to pass on every down because no one was open and our five offensive linemen couldn't keep four defensive linemen out of Carr's face.
The Packers have their own strategy.
In a recent interview, Packers coach Mike Sherman said, "I think the No. 1 (thing) to handling crowd noise is to take a drive and score points. That seems to be in my history here in Green Bay. The best antidote is to have success on offense early. It's helped as at Minnesota. I thought it helped us at Indianapolis. Our record in a dome isn't nearly as bad as it used to be."
What that means is that it's imperative for the Texans to NOT fall behind early as they did in Denver and Indy. An early deficit will take the home crowd out of it and you can bet that's what the Packers will try to do. Expect long tosses to Walker, Driver, and Co. early and often to test the Texans' much maligned secondary. If that's not enough to concern you, Brett Favre has been sacked only five times this season, which is the fewest number allowed in the league. Ironically the three teams in the NFL with the fewest sacks allowed are Green Bay, Indy, and Denver, which happen to be the Texans' last three opponents.
Let's hope we see some different looks from the defense Sunday night that will keep Favre under pressure. The Packers have been prone to turnovers this season.
I'm more than a little nervous about this game. If the Texans had won at least one of their last two, the anxiety level wouldn't be so high. If the Texans drop this one, they will fall two games under .500 and hopes of an 8-8 record will become a stretch. If they win, they will have an excellent chance at recouping the season at 5-5 with the injury-riddled Titans scheduled to visit Reliant next week.
I hope the players don't press since they will be trying so hard to correct recent mistakes and impress the national audience. I really hope we score early and are able to hold the Packers to no more than ten points in the first half. If the Texans can maintain a lead or stay within a touchdown in the first half, I have a feeling it will be another exciting and special Prime Time event in Houston.
See you at the tailgate and at the game.
· Some of you may feel old when you find out that David Carr was 13 years old when Brett Favre took his first snap as a Packer in 1992.
· The Favre-led Packers last visit to Houston was in 1992 when they beat the Oilers 16-14 in a late season game. Not surprisingly, Favre is the only Packer remaining from that team. Forty-year-old punter Bryan Barker was in the league in '92 with the Chiefs.
· Packers wide receivers Donald Driver, Javon Walker and Robert Ferguson all hail from the Greater Houston area.
You can email the "Voice of the Fan" at: aj_texans@yahoo.com