EDITOR'S NOTE:Texans fan Alan J. Burge will be writing a "Voice of the Fan" column throughout the 2004 season. His latest installment is below. Alan's views do not necessarily reflect the views of the organization.
*
*Oh ye of little faith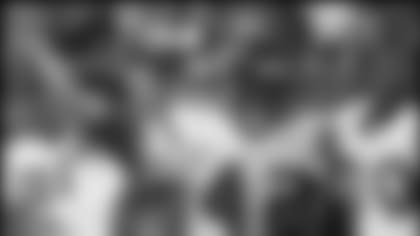 Raise your hands. How many of you out there thought the Texans were going to win at KC? I sure didn't. Look. I am about as die-hard as they come (remember, I was an Oilers season ticket holder forever) but I am also a realist. The thought of getting out of Arrowhead with a W was right up there with me matching five numbers and a bonus ball. OK, the odds weren't that bad but you get my drift.
Was that a big win or what? And how bad must the KC fans feel right about now? That could have easily been us at 0-3. What a difference a win makes. Exhale.
The ghosts of past road games at Miami, Pittsburgh, and Jacksonville were out in force at Arrowhead on Sunday as the Texans shocked the Chiefs 24-21. Talk about guts. Talk about fighting for a win in one of the most improbable places to win. Good gracious.
This week I'm not going to get into game analysis and pick on Carr's shaky start or the lack of pass protection or the defense's inability to do this or that. In fact, just before the Marcus Coleman's interception you could have fried an egg on my forehead but I'm going to set all that aside and revel in this victory. And I think you should too. The "Play Calling Posse" and "Fire X" crowd really needs to take a week off to let the homers enjoy this one.
I have two game balls to give out this week. The obvious one goes to Marcus Coleman whose 102-yard interception return was the turning point of the game, and maybe the season. The other goes to Andre Johnson who made two spectacular catches to help the Texans offense sustain drives. Honorable mention goes to Kris Brown for his icy veins and strong leg, Carr-Armstrong for a sweet late game connection, the fake punt call by the coaching staff when our backs were against the wall, and Antwan (where have you been) Peek who injected some energy into a weary Texans defense. By the way, has anyone else noticed how well Kailee Wong is playing on the right side?
The talk about the tide turning in the AFC South may be coming true. Jacksonville is off to a 3-0 start and the Titans have slipped out of the gate with two division losses at home in their first three games. The Texans finally drawing even in the turnover battle this week was certainly a big factor in the victory over the Chiefs and hopefully will propel them back into contention in the division.
I don't know about the rest of you but for me, winning changes everything. I'm totally relaxed as I sit here and watch the Colts and Packers put up 52 points or whatever it was in the first half. I find myself able to concentrate on things like reading the sports section for the fifth or sixth time and looking at the standings as they will read tomorrow. My dogs are even looking at me strange – one of those head cocked to the side things like what's gotten into you and why are you acting like this? My neighbors have been streaming to the door asking if everything is all right since they heard a lot of shouting at about 3:15 p.m. CDT.
Yes, what a difference a win makes heading into next week's game against the Raiders with a chance to even our record at 2-2. Here's a quote from last week's Voice of the Fan heading into the KC game: "Will the Texans surprise us when we least expect it? There's a simple solution to all of this and Al Davis said it the best: "just win baby." Since Al's team is coming to town next week, I'll second that motion. Bring on Raider Nation. It looks like the Texans are finally ready to play some ball.
You can email the "Voice of the Fan" at: aj_texans@yahoo.com* *