EDITOR'S NOTE:Texans fan Alan J. Burge will be writing a "Voice of the Fan" column throughout the 2004 season. His second installment is below. Alan's views do not necessarily reflect the views of the organization.

As the Texans enter their third season, expectations are at an all time high. Following two respectable seasons in 2002 and 2003, this is the year that the Texans should finally shed what's left of the expansion label. The Texans roster is now stocked with more talent and depth than at any time in its history and barring a repeat of last season's injury bug, this team appears to be on track to improve on its 5-11 record from a year ago.

With improving talent and depth, position battles become more significant. Players who may have started for the Texans two years ago now find themselves pushed down the depth chart or out the door. That's the harsh reality of the NFL, but it's good news for the Texans who are finally catching up with the rest of the league in terms of talent and depth. Let's take a look at a few of the position battles that will take place on the offensive side of the ball between now through training camp.

**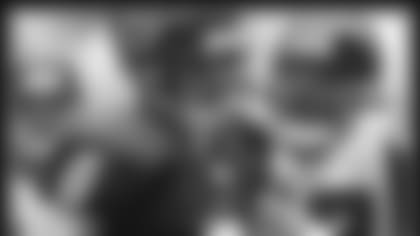 Quarterback
* *
There's no controversy here. Entering his third year in the league,David Carris the undisputed starter at quarterback. Carr made good progress in his first two years, behind an improving offensive line that significantly reduced the number of sacks last season. Carr appears to have the necessary tools, leadership skills and mental makeup to take the team to the next level, however, despite his solid status as the starter, he must improve his production, avoid mistakes, and avoid injury if the Texans plan to climb the AFC South standings. Carr's touchdown to interception ratio has been upside-down in his first two seasons and his completion percentage and third down conversion rate are near the bottom of the league. Many quarterbacks struggle early in their careers but with two seasons under his belt and improved talent around him, it's time for Carr to demonstrate over the course of a full season why he was selected as the #1 overall pick in the draft.

*Tony Bankshas proven to be a valuable asset off the bench as backup QB. Banks was impressive last season in wins over Carolina and Buffalo, and in an overtime loss to the Super Bowl Champion Patriots. He will likely hold down the #2 QB spot once again.  Dave Ragoneshould enter the season as the #3 QB. The Texans want to see improvement from Ragone this season, but barring injury to Carr or Banks, Ragone's only significant action may be limited to preseason. Ragone could become the #2 QB next season since Banks' contract expires at the end of this season and he may not be re-signed. Maintaining their tradition of drafting a quarterback every year, the Texans draftedB.J. Symonsin the seventh round of the draft. Symons lacks ideal size for a NFL quarterback but he has game. He produced huge numbers at Texas Tech, playing almost the entire season with a torn ACL. Don't expect him to make the final roster but Symons will be a good candidate for the practice squad which has been expanded to eight players this season.

Running Back/Fullback
* *
*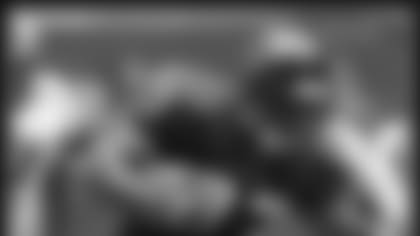 Domanick Davis enters the 2004 season as the Texans #1 running back. Davis is coming off an outstanding year in 2003 that earned him Pepsi Rookie of the Year honors, despite missing several games due to injury. Davis' durability may be a question over the long haul of the season so it is critical that the Texans have a capable #2 running back. At this point in time it appears that job will go to Tony Hollings. Hollings was slowed last year due to his recovery from knee surgery, but he will be needed this year as a situational back and to periodically spell Davis. The running lanes will look a little different to Davis and Hollings this season because of the new zone-blocking scheme that will be employed by the Texans. Instead of predetermined holes, the zone-blocking scheme offers more cut back options to the running backs when running inside the tackles. Both backs will need to read and adjust more quickly to blocks as the offensive linemen react to the pressure of the defensive linemen. The zone-blocking scheme is ideally suited for a running back like Davis who hits the hole quickly and can cut on a dime and accelerate quickly.

The front runner at #3 running back isJonathan Wells, however Wells has been less than spectacular in his first two seasons and this could very well be a make or break season for him. At fullback,Moran Norrisis coming off a solid year, filling in forJarrod Baxter who spent the season on injured reserve. Norris is a better blocker than Baxter who is the better runner and receiver. If Baxter fully recovers from his injury, he could emerge as the short yardage back, filling Stacey Mack's role around the goal line and in short yardage situations. Baxter, a running back in college, could displace Wells as the #3 running back ifEd Stansbury(currently with the Thunder in NFLE) plays well enough on special teams and at back up fullback to make the 53 man roster. NFLE allocationsTravis StephensandJason Anderson **are currently on injured reserve and neither should seriously challenge for a 53 man roster spot, however, both are possible candidates for the practice squad.


Wide Receiver/Tight End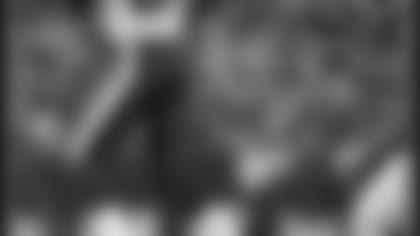 Without question,Andre Johnson is the #1 wide receiver on the Texans roster. The runner up NFL Rookie of the Year established himself as a force last year with a rare combination of size and speed. He is a legitimate big play threat whose rookie numbers ranked among the best in the NFL over the last several years. Corey Bradford and Jabar Gaffney will share the #2/3 WR duties again this season. Bradford, who is in the final year of his contract, is more of a home run threat while Gaffney has settled into more of a possession receiver role as opposed to a downfield threat. Working out of the slot, Gaffney has shown good hands and is not afraid to go across the middle on mid-range slants.

Derrick Armstrong and J.J. Moses are currently penciled in at the #4 and #5 wide receiver positions but with a bevy of talented wide receivers in camp, both slots may be up for grabs. The #4 slot appears to be Armstrong's to lose. He impressed last season and seems to have made the transition from the CFL with little problem. He does not have sprinter's speed but he has good size, great hands, and is capable of tough catches in traffic. Moses' is a sure handed and exciting return man who currently fills the #5 WR slot even though he is not a legitimate option at WR. Whether Moses retains his WR slot will be largely dependent on competition at kickoff and punt returner with the likes of CB Vontez Duff and possibly WRs Sloan Thomas, and Chris Taylor. Thomas is an intriguing seventh-round draft choice out of Texas and Taylor, an Aggie, is a small but fast WR who is currently leading the NFLE Admirals in receiving with 32 catches for nearly 400 yards and 3 touchdowns in seven games. Also in the competition for one of the last WR slots will be Ron Dugans, a three year NFL veteran who sat out last season because of injury; Kendrick Starlingwho*is raw as a receiver but teams see him as a potentially explosive kickoff returner; Albert Johnson, a smallish WR/kickoff returner for the NFLE Centurions;Jermaine Lewisa big WR who was Jason Babin's teammate at Western Michigan but who is not getting much playing time for the NFLE Galaxy; andTerry Charleswho has been on injured reserve with the NFLE Claymores and whose best chance to make the Texans will be as a practice squad player.

At tight end, it appears thatMark Bruenerwill assume the #1 blocking tight end position whileBilly Millerwill be the primary receiving tight end.  If Bennie Jopprufully recovers from last year's groin surgery, he could cut into Miller's playing time since Joppru (at least as advertised) is a decent receiver and a better blocker than Miller. That said, Miller who is a converted wide receiver, creates matchup problems with linebackers with his unique size/speed combination at TE. If the Texans keep only three tight ends as they did last season,Jabari Hollowaycould be the odd man out. Holloway is a good blocker but if Joppru returns healthy and effective, then Holloway's chances of making the team are greatly reduced. Matt Murphy* is a long shot at best to make the team.


Offensive Line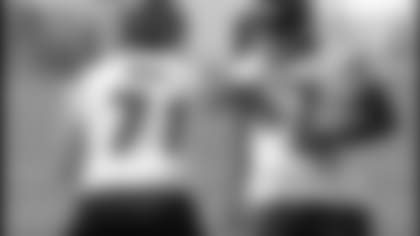 On the first day of 2004 free agency, the Texans wasted no time making Todd Wade one of the highest paid right tackles in the NFL. The Texans hope Wade will become an elite tackle as he is just now entering his prime. Wade will be a major improvement over Greg Randall and he will give the Texans a very strong right side when lined up between RG Zach Wiegert and TE Mark Bruener. Wiegert had an excellent year at RG last season and will be the starter again this season. On the left side, Chester Pitts is still the likely starter at LT, however Seth Wandhas been getting some exposure there during recent coaching sessions. If Wand shows that he can handle the position, Pitts will move inside to LG and push Milford Brown, Todd Washington, and Fred Wearyfrom what was to be a competition for the starting LG position*into full time back up roles. The Wand at LT scenario would give the Texans two-deep quality at the interior line positions but weaken the depth somewhat at tackle. However, Pitts has proven that he can play tackle so he could move back outside if needed. If Pitts stays at LT, Wand would remain the primary backup at both tackle positions and then LG would become the most hotly contested position on the offensive line. In that scenario, Brown is the likely starter heading into camp but Washington and Weary would push him hard. Washington was the starter at LG last season after Brown's injury and he also filled in capably for an injured McKinney during the preseason. Weary spent more time on the right side but is flexible enough (like Washington and Brown) to play both guard positions or center if needed. Regardless of which scenario actually plays out for the regular season, I think we will see a lot of Seth Wand at LT during camp and entering preseason. He should eventually take over the position full time; it's just a matter of when. Most people thought it would be in his third year but the future may be now for Seth. At center,Steve McKinney* is the incumbent and is the likely starter barring injury. 


Last season, the Texans started the season with nine offensive linemen on their 53-man roster. Pitts, Brown, McKinney, Wiegert, Wade, Wand, Washington, and Weary are either locks or favorites to make the squad. That leaves one slot for Jamal Powell, Curry Dawson, Elliot Silvers, Garrick Jones, Brandon Evans, Andrew Martin, Brad Lekkerkerker and Ryan Bachman. Since the Texans have less depth at the tackle position, players like Silvers, who is currently playing for the Centurions of NFLE, and Jones should be the favorites to claim one of the final roster spots come late August.