With the Super Bowl being held in South Florida this week, Texans defensive end Anthony Weaver probably wouldn't mind basking in the sun on
while reconnecting with friends throughout the NFL.
This time a year ago, Weaver was starting the process of deciding where he would play the 2006 season. As an unrestricted free agent, Weaver signed with the Texans after spending his first four seasons with the Baltimore Ravens.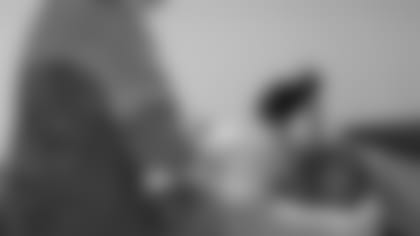 Today, Weaver finds himself in a training room, not on a beach or dreaming of how much his services will fetch him in free agency.
Ironically, Weaver's worst moment of the 2006 season happened during the Texans' finest one.
In the fourth quarter, with the Texans leading division rival
, and on their way to the first win over the Colts in franchise history, Weaver's season came to an abrupt end, though he didn't know it at the time.
On a third-and-short play, Weaver hit Colts running back Joseph Addai in the backfield. He narrowly missed the tackle and that's when the pain started.
"I didn't know what it was, but I felt a pain in my shoulder immediately," Weaver says.
Tests would reveal that Weaver had torn the rotator cuff in his right shoulder. With
already eliminated from postseason play, Weaver sat out the last game of the season against the Cleveland Browns.
"I couldn't really lift up my arm at all, but don't get me wrong if it was a playoff game or something there's no doubt I would have played," Weaver said. "I think the biggest thing is that no one wanted the tear to get any bigger than it already was, that was the biggest fear."
Weaver was operated on by Texans team physician Dr. Walter Lowe on Jan.3 to repair the tear. He did want some time off from football before surgery.
"I was in no hurry," Weaver said. "Its' going to be a long rehab process and I just wanted to relax and enjoy the holidays as best I could."
Weaver also had his right knee scoped recently.
"The knee will be fine," says Weaver. "Just wear and tear over time, some bone spurs they had to clean up."
So while many Texans are enjoying some time away from Reliant Stadium, Weaver is not. Everyday, Monday through Friday, Weaver spends his mornings in the Texans training room with assistant athletic trainer Tom Colt.
He first spends about 90 minutes rehabbing his knee and then about another hour working on his shoulder.
"The knee is to get strength back in it and the shoulder, right now, is to get my motion back," Weaver said. "I'm hearing 4-6 months is when I can get back to strength training. June or July, about then."
That timetable would put Weaver back on the field just in time for training camp. That's a relief for Texans fans everywhere, but for Weaver, it means a busy offseason of rehab and one devoid of a break from football.
The knee scope and shoulder repair were the first major injuries for Weaver during his football career. He said that his ordeal has been more taxing on his mind than his body.
"I guess physiologically has been the hardest thing," Weaver said. "Right after the season, because the season is so taxing, I try to get away from it. Where as now, it's like I never left, I never got that break. Mentally, it's been a bit of a challenge, but also I know this is my job and I have to take it seriously."
Weaver must be dealing okay. Colt said that Weaver is an excellent patient.
"He's outstanding," says Colt. "He does everything you ask of him and more, just like he is as a player."
Weaver was voted as a captain by his new teammates before start of the 2006 season. That speaks to his character, which has never been in question since he first walked through the doors at Reliant Stadium.
Clearly his work ethic on the field has translated well to the training room as he works to rehab his shoulder.
"He's on schedule," Colt says of Weaver's progress. "He's still in a phase now where's he working on his motion. The goal right now is to get his motion back to normal.
"First you have to get a full range of motion in the shoulder. After that happens, you can progress into strengthening activities and after that you get into more football related activities." ](http://store.houstontexans.com/family/index.jsp?categoryId=2238160&cp=2237490)If you're thinking that a torn rotator cuff is an odd injury for a defensive lineman, you would be right. After all, it's not as if Weaver is throwing seven innings every five days.
"It's not a common injury for a defensive lineman," Colt says. "At least compared to the general public or other sports. You see it more in overhead sports or an elderly person whose shoulder breaks down over time."
It's odd that Weaver's first severe injury would be one so rare among his peers, but he knew it was only a matter of time before he would get bit by the injury bug.
"Oh yeah, there's a saying in the NFL, it's not a matter of if you will get hurt, it's when you will get hurt so this was my time," Weaver said.
Don't' expect Weaver to suddenly become injury prone. While he's working hard, he doesn't want to make a habit of visiting the training room. He'd rather return to his usual offseason activities.
I'd rather be on the beach somewhere in