 THE MAGIC FORMULA:Behind every winning team is a calculated blueprint for success. In Houston, head coach Dom Capers has his players on a strict schedule. Every minute of the day is accounted for. Over the one-month span of training camp, players spent 24 hours eating, sleeping and breathing football, now it's up to them to continue their commitment to winning while spending less hours under a watchful eye at Texans headquarters.
"These guys now have to learn how to manage their time," Capers explained about the conclusion of camp. "All of their time has been spoken for; curfew, bed check and so on. So I think a big part of our improvement in our team is making sure each guy has a plan in terms of taking care of himself in the weight room, getting enough sleep and watching what he eats."
While Capers expects each individual to report to work every morning from their respective residences with enthusiasm to perform, he also expects the dedication to translate onto the field. Stepping up the running game, utilizing more play action and putting the ball into the hands of the Houston receivers has been a focal point in preseason play. Coupled with solid execution from the offensive line and offensive production is expected to increase.
"I feel comfortable out that with what we are doing on offense," quarterback David Carr said about the offense's strides in scoring. "We just need to try and complete more passes. We have done a good job at catching the ball. If we can limit the sacks, that's another big thing. I want to get the ball out of my hands as fast as possible because that gives you offensive line confidence."
WELCOME MAT: Starting left cornerback Aaron Glenn returned to practice this week not missing a beat after sitting out while nursing a hamstring. Glenn made multiple interceptions this afternoon in the red zone and end zone, including an acrobatic, in-between-the-knees catch.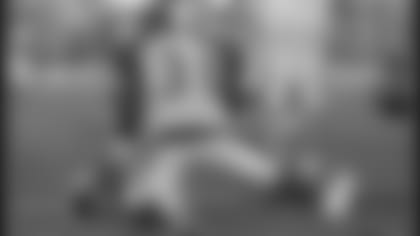 CB Aaron Glenn has returned from resting a sore hamstring and is just as dangerous.
"The last two days of practice, he's practiced like a Pro Bowl corner," Capers said about Glenn. "He's had the ball in his hands a bunch. Sometimes you don't realize how much you miss a guy like that until you see him out here on the field and he influences your aggressiveness and ability to make plays."
While practicing against the Texans talented receiving corps poses its challenges, Glenn is getting pumped for his meeting with Chargers' big-play receiver David Boston. While the two share the same Humble, Texas roots, it's mutual talent that will make the match up extra exciting.
"It's going to be great," Glenn said about playing across from Boston. "I'm really looking forward to the opportunity to get on the field and get some work done. To go against a quality receiver like that will be a good test."
SECOND TIME AROUND: The Texans hope to improve drastically during their second bout with San Diego. The two met at Qualcomm Stadium during Week 2 of the regular season in 2002 when the Texans returned back to Houston with only three points to the Chargers 24.
On home turf this time around, the team looks to increase their total net yards, which were just 118 last year, as well as shut down the San Diego defense who took quarterback Carr down nine times.
"They got after us," Capers said about last season's loss to the Chargers. "We went out there, they had a lot of sacks against us, they're a physical football team. They've got a running back in (LaDainian) Tomlinson that was one of the best in the league last year, he's awful hard to tackle. They have a heady, instinctive quarterback in (Drew) Brees and a guy in (Doug) Flutie, who we'll probably see a lot of."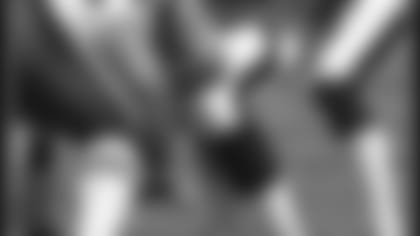 QB David Carr and the Houston offense will look to put more points on the board against Sand Diego the second time around.
The Texans defense looks forward to seeing a powerhouse at the running back post like Tomlinson, who notched 84 yards on the ground last September.
"This will be a real good test for us," defensive tackle Seth Payne said about the Chargers' running game. "Tomlinson is a hard guy to play against, very fast and can break out of tackles. If you make the kind of mental errors that we made against Dallas then you know you're not going to do real well against him."
Though the Chargers have many new faces in their secondary, the Texans expect to see just the same caliber of insistent play while throwing in more man coverage.
"Just watching them (Chargers defense) the first two preseason games and watching the game last year, they basically do the same thing," Carr said. "They don't have that A-gap pressure they used to with (Junior) Seau but they may have some new wrinkles for us. So you've got to be ready."
SATURDAY DRESS REHEARSAL: Whether it counts towards a playoff birth or not, every game is important for a football team. With that said, though preseason contests provide essential practice opportunity and coaching evaluation, teams are cautious when delegating starters' repetition numbers.
The entire Texans starting defensive unit was held from the Dallas scrimmage at the beginning of August and saw action at about 15 or so plays during the first two preseason contests against Denver and in Dallas.
Capers plans to give the starters on both offense and defense a little more time to clash pads this week before playing it cautious against Tampa Bay in the final exhibition game.
"Coach Capers said I was going to play more in this game than the first two," Carr. "We'll see what that means, maybe start the fist series of the third quarter."
Though Carr may not just be limited to first quarter action when the Texans host San Diego on Saturday, Capers will still be careful not to overload any one player and avoid injuries at all cost.
Though starting fullback Jarrod Baxter (foot) and starting defensive end Gary Walker fell victim to injury in Dallas, Capers can't completely shield the team from football mishaps, even during the regular 16-game schedule.
"I don't think you can ever play scared," Capers said. "We've got to get ready and we try and manage our starters' repetitions as much as we can. We place more of a priority on getting ready for that Miami game than we have winning these games. You'd like to win the games, but you have to be smart."
INJURY UPDATE:Time stops for nothing, even injured players. When it was announced this week that the Texans lost Baxter with a season-ending foot injury, the team turned to Moran Norris to take over the reigns. Norris will lead the blocking path on Saturday night and has already shown that he's ready to handle the responsibility.
"I think he's picked it up and he's played aggressively on the practice field today," Capers said about Norris' performance Wednesday. "He's going to have a lot of opportunities on Saturday night."
The team also made a trade yesterday for former Dolphins fullback Deon Dyer in exchange for a conditional draft choice in the 2004 NFL Draft to provide more depth at the position.
Dryer received the notification around 1 a.m. Tuesday morning and immediately hopped on a plane to resume fullback duties in Houston.
"It's and good deal and a good opportunity for me and I'm excited," Dyer said. "It won't be that hard for me to adjust and get the plays down. I just have to study my playbook."
"My role is to come in blocking and if I get an opportunity to catch a pass that's fine."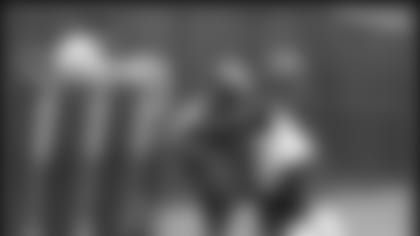 DE Corey Sears will spend a lot of time along the Texans defensive line Saturday night.
Also making a bigger contribution will be defensive lineman Corey Sears, who will begin where Walker left off before sustaining a shoulder injury during the Dallas game that will sideline him indefinitely.
Capers has been pleased with Sears' effort and believes without a doubt that the defense will remain just as attacking with him lining up at left end.
"He's been somewhat of a guy that came out of nowhere and because he has such a great work ethic, you know you're going to get everything he has when he's out there," Capers said about Sears. "He's a tough guy, has good explosion and I would expect him to play well this weekend because Gary won't play."
The Texans will continue to monitor Walker's shoulder and will determine his return date based on the progression of his rehab. So far, Walker has felt better with each day.
"Gary's shoulder was sore yesterday and it felt better when he came in this morning," Capers said. "I told him I want good news every morning. Gary's extremely important for us so we'll just have to continue through this rehab."
         Texans
         who did not practice today include: RB [Domanick
         Davis]() (hand), C [Steve
         McKinney]() (knee), DE [Gary
         Walker]() (shoulder), FB Jarrod Baxter (foot), DT [Howard
         Green](), WR [Atnaf
         Harris]() (hamstring), TE  [Bennie
         Joppru]() (groin) , G  [Ed
         Ta'amu]() (PUP-knee), S [Travares
         Tillman]() (forearm), CB [Darrick
         Vaughn]() (shoulder), RB  [Jonathan
         Wells]() (turf toe).