Few expected the Texans to win their inaugural game against the Dallas Cowboys.

Even fewer expected the team to make it two season openers in a row and beat the Dolphins in Miami last September.
When the San Diego Chargers visit Reliant Stadium Sunday to open the Texans' third season, expect plenty of fireworks and excitement. The team already has a record – the only expansion team to win its first two season openers.
Everyone has no reservations about making it three in a row and it starts with getting pumped up for the hometown fans.
Expectations have also changed a little.
"Playing hard does everything for you," Texans outside linebacker Antwan Peek said. "It gets the crowd pumped, it gets the players pumped. Playing hard is the key to everything. It's been a long camp. It's finally time for everything to count."
The Chargers' may have all-world running back LaDanian Tomlinson in their arsenal, but heading into opening day the Texans have the same focus that led them to previous Week One success.
A quick glance around the locker room and a few questions and its easy to see the fans aren't the only ones who can't wait for Sunday.
THE SERIES:Texans quarterback David Carr would prefer to forget the last time the two teams met in the regular season. The Chargers jumped out to a 14-0 lead and never looked back, man handling the Texans for a 24-3 win at Qualcomm Stadium.
Brees threw for 163 yards and a touchdown while Carr had one of the worst outings of his career, tossing two interceptions and only completing six passes.
The Texans lost to the Chargers 19-17 in the 2003 preseason.
TEXANS ON DEFENSE:Easy enough. Stop Tomlinson. Then, stop him again. And again.
"We know he's their number one guy," Texans cornerback Aaron Glenn said. "He's the guy that they try to put the ball in his hands alot. We've got to pay special attention to the guy and try to stop him, try to limit the amount of yards he gets when ever he catches the ball or gets the ball in the backfield."
The Chargers have rode the former TCU star for three straight years and show no signs of stopping. Tomlinson has rushed for 4,564 yards in his brief career. He also led the team with 100 receptions last season.
He accounted for 43 percent of San Diego's offense in 2003.
"I just have a lot of confidence in my abilities," Tomlinson said. "I don't know if I have a true weakness at this point and time in my career. I don't think there is anyone else in the game who can do the things I can do on the field."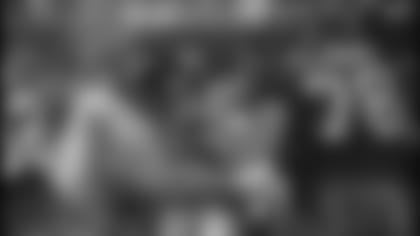 Few defenses have been able to contain Tomlinson, but the Texans defense has some advantages. For one, the unit will be at full strength for the first time since the start of the 2003 season. Nose tackle Seth Payne returned to action last week, although he'll probably still play behind Jerry Deloach. Gary Walker returns at left end from his groin injury.
The Texans held Tomlinson to 84 yards and a 3.1 yards per carry average in 2002.
The Chargers have also dealt with a quarterback issue earlier in the week. Head coach Marty Schottenheimer named Brees the starter over first-round draft pick Phillip Rivers. 11-year veteran Doug Flutie will be the backup. The Chargers also kept Cleo Lemon as a fourth quarterback.
"I don't care, doesn't matter to me," Texans linebacker Jamie Sharper said of the quarterback quandary. "If LaDainian Tomlinson is in the game, that's all I'm worried about, take him out and make sure he doesn't get a lot of yards. He's the main guy to worry about."
Rivers held out for most of training camp and is behind in learning the offense.
Schottenheimer said Brees is "more prepared" to play and was not sure if Rivers would be the starter if he had more practice in training camp. For now, Brees is the starter with little dispute.
There are questions when it comes to who Brees, who had a preseason quarterback rating over 100, will throw to however.
The Chargers released one of the few recognizable receivers – Kevin Dyson – in the final roster cutdown. Eric Parker and Reche Caldwell will start on the outside. Each have three years experience and are coming off mediocre seasons.
Parker injured his shoulder last season. Caldwell missed most of the year with a broken wrist.
Texans fans may remember Parker for the time he spent in Houston before 2002 training camp. He parted ways with the team and returned to Knoxville, Tenn., where he attended college before the Chargers invited him to camp.
Parker played in eight games in 2003 finishing with 244 receiving yards and four touchdowns. Caldwell had only eight catches and no touchdowns.
Wide receivers Tim Dwight, Kassim Osgood and Micha Ross are listed behind them on the depth chart.
TEXANS ON OFFENSE:A youth movement has overtaken the Chargers in recent years.
Schottenheimer will start 15 players under the age of 25, with three players in the defensive secondary with under three years experience.
"You know we've got a number of young players and this is the second year in a row we've had a number of these young players," he said. "You're never sure how they're going to respond as events unfold but I really like the character of this football team."
Cornerbacks Quentin Jammer and Sammy Davis (both Texas natives) were first-round draft picks but got considerable playing time as rookies.
Jammer led the team with four interceptions last season.
To the Texans advantage, the Chargers switched to a 3-4 defense in the off season. The Texans run a similar defense, which the offense practiced against throughout training camp.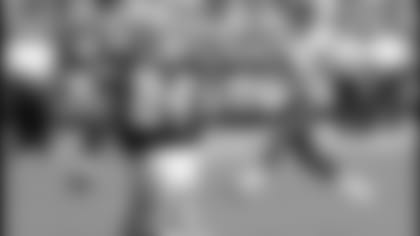 "They don't make a lot of mistakes," Carr said of the Chargers' defense. "They're going to be in the right spots. They're going to play hard. I think they're really well coached. They've got some good players in the secondary. I think their linebackers are one of their strengths. They're going to be a good match for us."
The linebackers and linemen are older than the secondary.
Texans fans will recognize linebacker Steve Foley, who played in Houston last season finishing the year with one sack. He is joined by nine-year veteran Randall Godfrey, Ben Leber and Donnie Edwards.
Edwards led the team with 124 tackles last season.
The defensive line is led by six-year veteran Adrian Dingle and second round draft pick Igor Olshansky.
The Chargers' defense was 27 th in the league in points allowed last season. Only the Arizona Cardinals were worse.
But they embraced the new system in the preseason totaling 13 quarterback sacks.
"They've got a young, talented secondary," Texans head coach Dom Capers said. "They've invested a lot of high draft picks on their secondary. They have good players there. Their defense has played very aggressive through the preseason.
"It looks to me like they've improve their defense and they've made some big plays."
Schottenheimer said the defense has some vulnerability, and he is particularly concerned with Davis and Carr's continued improvement.
"Well I think (Davis has) the ability to change direction very quickly, and of course not withstanding the fact that he's not regarded by some as being a real big back, he is a guy that's got terrific power," he said. "He finishes his runs. He doesn't get knocked back very often. He's got the ability to finish those runs."
CONNECTIONS:San Diego defensive backs coach Brian Stewart coached with the Texans in 2002.
Foley played for the Texans in 2003.
Brees (Austin), wide receiver Wes Welker (Lubbock), Tomlinson (Waco), Davis (Humble), Jammer (Houston), safety Hanik Milligan (Houston), safety Terrence Kiel (Lufkin) and Godfrey (Dallas) are from Texas.