For Texans owner Bob McNair, draft week is not only one of the most exciting seven days of the year, but it's also the busiest.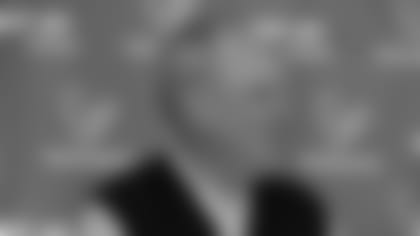 McNair travels to New York City today along with several family members and other Texans officials for three days of appearances, interviews and meetings leading up to the 2006 NFL Draft.
Tonight, McNair will attend an NFL Network event hosted by Rich Eisen featuring special guest appearances from USC running back Reggie Bush and quarterback Matt Leinart, Kansas City Chiefs tight end Tony Gonzalez, Denver Broncos safety John Lynch, Oakland Raiders defensive tackle Warren Sapp and New York Giants defensive end Michael Strahan.
Beginning at 10 a.m. EST on Thursday, McNair will appear live on ESPN2's morning show, "Cold Pizza." Two hours later, he'll attend the NFL Draft Media Luncheon at the Lighthouse at Chelsea Piers, where he'll have another chance to speak with top prospects like Bush, Leinart, Texas quarterback Vince Young, Virginia offensive tackle D'Brickashaw Ferguson, North Carolina State defensive end Mario Williams and Maryland tight end Vernon Davis.
Later in the afternoon, McNair will sit down with the New York Times before his live interview on Sirius NFL Radio at 5:30 p.m. EST.
The day before the draft, McNair is schedule for taped interviews with CNBC's "On the Money" show and NFL Network's Total Access show, respectively. In between, he'll have lunch with Sports Illustrated. His final public appearance before the Texans submit their first pick will be on ESPN's Quite Frankly with Stephen A. Smith at 5:30 p.m. EST.
The draft begins Saturday at 12 p.m. EST. Once the Texans turn in their choice, McNair will spend the next couple hours speaking with various national media before returning to Houston on his private jet with the top pick at 2:30 p.m. EST. The plane is expected to arrive at approximately 5:30 p.m. CST, with a press conference announcing the player to Houston media one-hour later inside Reliant Stadium.
Of course, if that schedule doesn't keep McNair busy, there's always next weekend. The media circus will start anew when McNair's horse, Bob and John, will race in the Kentucky Derby on May 6.