Mario Williams gave all the right answers when he faced the media on the first day of practice this week. The big rookie was not about to give in to the writers and broadcasters who wanted him to say that this game was special because of Tennessee Titans quarterback Vince Young.**
**The media wasn't about to give in either.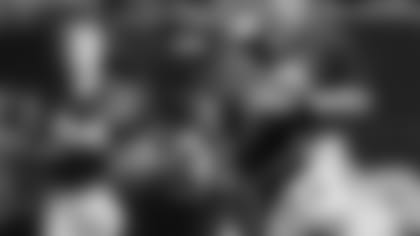 It's the first ever meeting between two of the top three players in last April's draft. And they aren't just any two random players. Williams, of course, went to the Texans with the first pick, while Young is from Houston and was the object of a fan uproar that tried to sway Texans' brass at the last minute.
Two local businessmen even bought full-page advertisements in the local paper begging the Texans to take Young. Fans inundated local talk shows saying the team had to take the city's favorite son, who had vaulted to the top of the draft after leading the University of Texas to the national championship and a dramatic Rose Bowl win.
Instead, the Texans went their own way and chose Williams over both Young and USC Heisman Trophy winner Reggie Bush.
To say there was a little bit of a local uproar is to call the Titanic a scuttled boat.
So the media wasn't about to let Williams off the hook on Wednesday, and the affable giant knew it was coming.
"I expect that from the media," Williams said with his big smile. "It's not a shock. I figured you guys would make a big deal out of it."
So did a few others. Just a handful of lockers down from Williams, defensive end Antwan Peek shook his head and laughed.
"It's going to be a big deal to take care of this guy," Peek said of Young. "If we don't, I'm sure we'll hear about it."
The man who drew the most attention, though, would not give in. Vince who? Oh, yeah, that guy.
"Obviously, he's a tough quarterback, but he has a lot of potential," Williams pronounced in his best diplomatic tones. "We really don't know what to expect come Sunday. He can move, which is a very dangerous thing especially when you think you have him wrapped up, he just takes off and runs 60 yards for a touchdown.
"So we just have to be really disciplined in what we do and play smart football."
The inference was that Young is just another quarterback and Williams is seeking nothing but another win.
"Not taking away from him or anybody else who plays, but it is a football game," Williams said matter of factly. "We're not going to sit here and focus on one thing and get carried away and get distracted by it because we're playing Vince Young.
"He is a great quarterback, but at the same time we have to go out and we have to execute our football and play smart."
Williams barely conceded that the fans would be watching this matchup, that Vince Young-lovers will be focusing every down on what the No. 3 overall draft pick does with the No. 1 pick. Or how every sack Williams could make on Young would quiet so many critics 10 times over.
"Yeah, I guess it would," Williams said. "But basically the only thing I'm focusing on is getting this team going the right direction, especially since this week would be a division win, and we had the win last week.  So it's important to get another win this week."
On the other side of the debate, Young talked with Houston media via telephone and admitted there is some history there. Young had come back to Houston on the Titans' bye week just five days before and visited his old high school, Madison, to speak and give out athletic equipment.
The city is not lost on him. Young himself had campaigned to be drafted by the Texans in the days leading up to the April 29 draft. And when he knew the team would not take him, he sat with Williams before the draft in New York and joked about it.
"Me and Mario, we're friends," Young said. "I'm excited about playing (him). We've been talking about it for a long time, so I'll keep an eye out on that edge."
And should Young meet Williams face-to-face out on the field, what would happen?
"I got him," Young laughed, "using my speed trying to make something happen and then after the play I'm going to slap him on the butt and say, 'Hey good play!'"
It's a scenario even Williams admits has been discussed. Williams told Young in that draft-day meeting that he would sack him some day.
"We were just kind of joking around on draft day," Williams said. "That's what you'd want me to say. I say I'll sack everybody. You want me to say I'm not going to sack you?"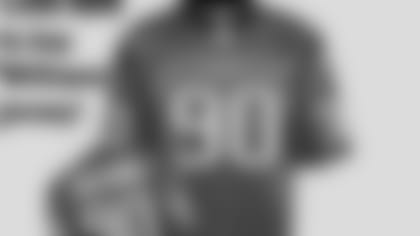 ](http://store.houstontexans.com/product/index.jsp?productId=2273850&cp=2237490&page=2&doVSearch=no&clickid=mainnavgeartxt&pageBucket=0&parentPage=family)
Young, for his part, admits he has something to prove to the Texans and Houston.
"In some ways, but not much," Young said. "I just want to show that I'm making a lot of progress this week for my coaches and teammates and try to go out there and get another victory. That's all that matters to me right now.
"It'd feel good (to get a win). I'd probably jump into the stands and get excited with the fans, so I'm looking forward to that this whole weekend against your hometown team."
The stoic Williams was still having none of it, though.
"I look forward to every week," Williams said. "Obviously, because it is a division game it counts more, but I look forward to every week."
Thousands of Williams and Young fans, though, will find it much more interesting than just another game.
EDITOR'S NOTE:Jim Carley is a veteran Houston sportswriter who has covered the NFL for more than 25 years. He has worked for such newspapers as the Fort Worth Star-Telegram, The Houston Post, the Los Angeles Herald-Examiner and the National Sports Daily covering such teams as the Dallas Cowboys, the Houston Oilers, the Los Angeles Rams and the Oakland Raiders.