It's no secret that in head coach Gary Kubiak's first season, the Houston Texans have relied heavily on rookies.
Five started the first game, and since then, three have been an integral part of what the team is trying to do.
There's No. 1 pick Mario Williams starting at defensive end. And No. 2 pick DeMeco Ryans has had the heavy responsibilities of being the starting middle linebacker thrust on him.
Owen Daniels was a surprise starter at tight end over some proven veterans, and running back Wali Lundy has started a couple of games and contributed.
But Kubiak took some observers aback when he was talking about the development of the offensive line this week. The Texans suffered a blow when rookie left tackle Charles Spencer broke his leg two weeks ago and was lost for the season.
But few have heard much about the team's other third-round pick, Eric Winston. The highly rated tackle out of Miami has been a non-entity so far, landing on the inactive list for all four games.
But he was selected just one pick after Spencer in the third round, and the Texans' brain trust think he's not that far behind their former starting left tackle.
"The key for us really in the last 12 games to me is how far Eric Winston comes," Kubiak said. "He needs to play. We haven't felt like he's quite ready to take on the role of swing tackle. We'll get some extra work with him this week and then next week. He needs to take on that role for this team."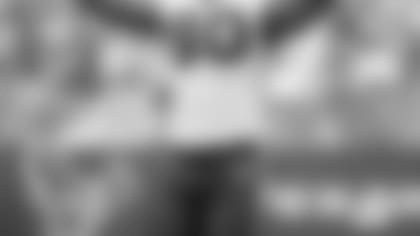 In all, Kubiak gives the freshman class a strong grade. He knows the Texans are expecting much out of the group.
"They have performed well," Kubiak said of the rookies. "But we're asking them to perform above and beyond the call of duty for this team. We're asking those young guys to grow up real fast. That's a big key for this team as it moves forward.
"When you talk about DeMeco and Mario and Owen and Wali and Eric. Those guys have to become third- and fourth-year players."
Third- and fourth-year players? Some of these guys still haven't shaven. There's enough wet behind their ears to fill a bucket.
But none of them are shrinking from the challenge.
"No," Williams said matter of factly, "when the organization is expecting a lot of us, we've got to come out and play well."
"That's not asking a lot," Ryans said when told of Kubiak's third- and fourth-year expectations. "That's just asking you to do your job and be accountable to your team and not make rookie mistakes.
"People talk about rookie mistakes that some guys make. But it's time to step up and be mature about. It's time to just go out and play ball just like everybody else.
"Oh yeah, I've been here long enough to do that. There's not any more rookie this, rookie that. I feel like I've been here a long time."
Daniels, like Williams and Ryans, has been the starter from the beginning of the season. He has blocked well and caught five passes for 47 yards and two touchdowns, including a 33-yarder against Indianapolis.
He too thinks Kubiak is not asking too much.
"We've been around this system with him," Daniels said. "We've had four games in preseason and four games of this. Eight games into it we should be up to speed. I don't think it's too much to ask of us.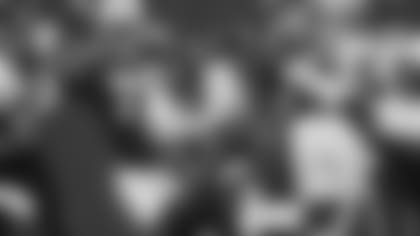 "I think for the most part, I've played really well. Obviously, we haven't won as many games as we would have liked. I'm just going to try to keep working and keep learning and everyone's going to do the same."
The biggest spotlight, of course, has been on Williams. He didn't have a sack the first three games and Kubiak made it known he wasn't happy with the 6-7, 300-pounder's play.
But he had 1.5 sacks against the Dolphins and seemed to come alive. His most important play might have been tipping the pass on the two-point conversion that preserved Houston's two-point win late in the game.
"The kid, he did do a few different things that we asked him to do during the game," Kubiak said of Williams' performance Sunday. "We kind of scripted some things for Mario, and I think it helped him.
"I think it gave him a little confidence in what was going on and there was some pressure around him to help him do his job. But I liked the way he chased the ball. He made some plays downfield, the two-point play, his effort just to put that hand out to tip that ball is a difference from us having to go to overtime or not. He did some good stuff."
Williams did enough that he was finally getting some notice from around the country.
"That's exciting for him," Kubiak said Tuesday. "Hopefully as the season goes forward, he's mentioned a bunch. I see a bounce in his step in practice today just confidence-wise.
"He's no different than any other player. Whether you're the first pick or a rookie free agent who made the team, when you get a little confidence in what you're doing, you're going to play better. So hopefully that will continue for him."
The Texans hope that continues for all the rookies.
EDITOR'S NOTE:Jim Carley is a veteran Houston sportswriter who has covered the NFL for more than 25 years. He has worked for such newspapers as the Fort Worth Star-Telegram, The Houston Post, the Los Angeles Herald-Examiner and the National Sports Daily covering such teams as the Dallas Cowboys, the Houston Oilers, the Los Angeles Rams and the Oakland Raiders.