The defensive game plan was simple. And for the most part, the Texans executed it quite well.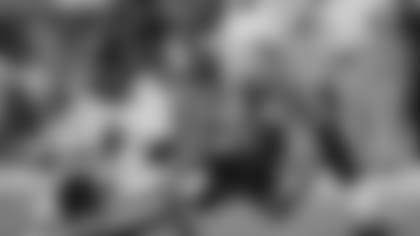 "It was just a nightmarish play," Texans cornerback Dunta Robinson said. "Just awful. Most of the game we did a good job on the guy. We contained him and frustrated him. To lose this way, I don't know. This is just the worst.
"We thought Buffalo (a 24-21 loss in the last nine seconds of the game) was the worst. But losing this one on that play in overtime. This is the worst."
The "guy" Robinson and everyone in the Texans locker room was talking about was hometown product Vince Young, the Tennessee Titans quarterback who ran a third-and-14 play in overtime for a 39-yard touchdown to beat the Texans 26-20.
The nightmare play was unbelievable to Robinson.
"It felt like it was in slow motion," Robinson said. "It took forever to unfold, like a bad dream. It was a sick feeling. It was a bitter feeling and we will probably think about this until we see them next year.
"I came on the blitz and one of the offensive linemen picked me up. I just saw (Young) take off through the middle of the field and I was praying that someone would come across and tackle him to force a field goal."
What the Texans had the most difficult time accepting was that Young's scrambling play was no surprise.
"That was our main focus all week in practice," defensive end Antwan Peek said. "To keep Vince from running and scrambling. We wanted to contain him on third downs. And we did it most of the day.
"But then he scrambled and he made a play and he ended the game on the thing we were trying to keep him from doing the whole day. You've got to give him credit. He made it happen."
The Texans' defense had performed admirably all day long, limiting the Titans to only four successful third down conversion in 12 tries. Young had only 46 yards scrambling during the game and had been successful converting third downs only three times in six chances, and two of those by one yard apiece.
"We did fairly well on him today," said middle linebacker DeMeco Ryans, whose 14 tackles Sunday moved him into the NFL lead for tackles this season with 128. "They did a great job of running the ball, but then they get that one play.
"This is just devastating. For the last play to break down the way it did. The guy just came in and made a great play.
"But to lose the game in this fashion. This hurts."
Young had failed on three other third downs passing, including once being intercepted by cornerback Demarcus Faggins. But Young made the play when the Titans needed it the most.
"It was just him making a play and us not being in the right position to make one," end N.D. Kalu said. "The gap was there. Props to him for seeing it and taking advantage of it. He's a special player and special players make special plays.
"But still, we should have been there."
"It's extra frustrating to lose like this," Weaver said. "To lose on a third-and-14 play is hard to take. I think we make that play nine times out of 10.

"But great players make great plays and there's no doubt that Vince Young is a great player."
Most of the Texans agreed with that.
"He just does a heckuva job running the ball," Ryans said. "You have to respect the passing game with him, too. He drops back and he gets his hands up with the ball and then he pumps it. And then he takes off."
The Texans admitted that this wasn't just another game. This was the old Oilers franchise returning to town. And it was the rookie Young, who the Titans selected two spots after the Texans drafted defensive end Mario Williams.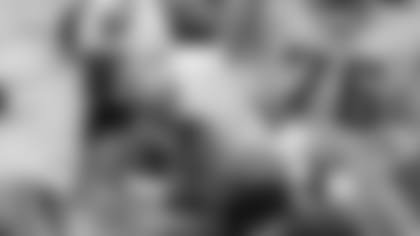 "You play every game to win," wide receiver Andre Johnson said. "But this game was pretty much hyped up more. It was Tennessee, the team that had been here.
"It was like a rivalry. They were here and we're here now."
And the Texans came so close to sealing the victory.
"He was bottled up all game," Williams said of Young. "It just so happened that the call we had at the end, there was a gap that was there and he saw it. Actually, we made the same call twice and I guess he just realized it. He just took off."
EDITOR'S NOTE:Jim Carley is a veteran Houston sportswriter who has covered the NFL for more than 25 years. He has worked for such newspapers as the Fort Worth Star-Telegram, The Houston Post, the Los Angeles Herald-Examiner and the National Sports Daily covering such teams as the Dallas Cowboys, the Houston Oilers, the Los Angeles Rams and the Oakland Raiders.