 Since their inception, the Texans have put an emphasis on reaching out to the community. Their dedication to their youth football program is evidence of that initiative.
"There are several reasons why the Texans have chosen to put such an emphasis on our youth outreach and programming," said Texans' fan development manager Ben Rose. "Not only are we trying to help children develop as football players and individuals, but we are integrating our team into the community and cultivating the first generation of Texans fans."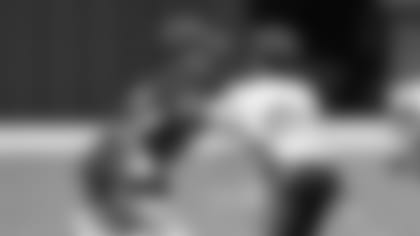 Widely recognized as one of the premiere youth football programs in the NFL, this year the Texans have hosted thousands of young football players ranging from eight-years old through high school in a total of six camps.
This week's Youth Football Camp began Monday and runs through Friday. The camp is for children ages 8-14 with the younger campers participating in flag football, while their older counterparts take on tackle football.
Children from nine states and three countries have descended on the Texans' Practice Facility this week. Other than
over a week ago so that his son, Jacabo, could attend the camp for the fourth straight year.
The Tefels stumbled onto the first Texans Youth Football camp by accident, but have been to every camp since.
"First we registered (Jacabo) in a camp at the
, but after we arrived here, they cancelled it," Tefel said. "He was very disappointed. We were driving bye Reliant Stadium, just passing bye and we saw the sign so we came in and registered and since then we've been every year and we'll continue to until he can't participate anymore."
The bad news is that Jacabo is 13 this summer so next year will be his last year of eligibility. For most kids, that's not a problem. They find other camps or start playing school ball, but for Jacabo, it's a different story. They don't have American football in
, anywhere. The Texans' Youth Football Camp is Jacabo's only opportunity to play the sport he loves. After next year, he may never play football again.
"My son loves American football because I'm a Notre Dame alum so I watch a lot of football," the elder Tefel said. "We always watch the games together. He loves it, but he doesn't have the opportunity to play in
Thursday, Federico as well as nine-year old Gabriela and two-year old Esteban were in-tow to watch their older brother in action. It's truly a family vacation each year as Gabriela takes ice skating lessons many of the same mornings that Jacabo has football practice.
very well, we come once a year and it's a family vacation."
The kids are not the only people that reap the rewards of camp. This year is the third year that Pat Reinecke has headed up the Texans Youth Football Camps. Reinecke, an assistant coach at
"You get to deal with more of the administrative stuff and I like that because my goal is to one day be a head coach," Reinecke said. "It puts you in a situation where you have to deal with circumstances that sometimes you don't want to deal with, but you have to get comfortable with it. You know all the coaches here and we're all friends, but you still need to rise up sometimes whether it be with a parent or child, there's a conflict and you need to be the one to deal with it."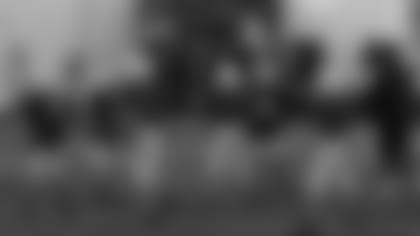 Reinecke, who was recently recognized as the Houston Coaches Association "Man of the Year", said that he also enjoys watching the players develop not only over a week, but years.
"It's just fun looking at the different levels of kids. The talent level, watching them play, see how they develop even over just a week. There are kids who have done this for several years and when they started, they could hardly get in a stance. By the time they leave here they're getting into a stance, tackling, they look like a real football player."
Reineke is just one of many skilled coaches that come from all over the
area to participate in all of the Texans' camps. Many coaches not only have impressive coaching resumes, but also played at the collegiate level which only enhances their credibility.
On top of outstanding instruction, campers also get a visit from a Houston Texans player daily and take home an autograph from each player as well as their jersey when camp concludes.
"This is the best camp I've been to," 11-year old Dallas Robinson said. "It's a lot of fun. A lot of my friends are here. I look forward to it every year."
Camp ends Friday with two more practice sessions and two hundred more memories to last a lifetime.