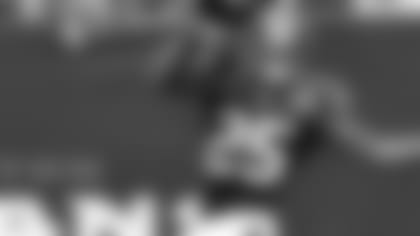 ]( "CB Kareem Jackson")

Continuing a position-by-position look back at the Texans' 2012 season:
Johnathan Joseph made the Pro Bowl for the second consecutive season and Kareem Jackson had the best year of his career in 2012. The Texans' cornerback group suffered a big blow with the loss of Brice McCain to a foot injury in early December, as the team finished the season ranked 16th in passing defense (225.8 yards/game).
Joseph dealt with groin and hamstring injuries for much of the season, beginning in Week 6 against Green Bay. He missed two games late in the year before making it back to 100 percent by the playoffs. He had 57 tackles, two interceptions, one touchdown and 12 passes defensed in his second season in Houston and seventh in the NFL.
Jackson led the team with a career-high four interceptions and 17 passes defensed in his third season out of Alabama. After struggling mightily as a rookie first-round draft pick in 2010, he emerged as one of the Texans' most improved players. The hard-hitting corner had 53 tackles and returned one interception for a touchdown.
McCain,  a fourth-year pro out of Utah, played in 12 games with two starts before breaking his foot at Tennessee on Dec. 2. He had 19 tackles, 0.5 sacks, one interception and eight passes defensed. He was placed on the Injured Reserve/Designated for Return list, meaning he could have come back for the Super Bowl, but the Texans' secondary struggled without him in December and January.
Alan Ball, a sixth-year veteran free agent addition from the Dallas Cowboys, was the Texans' fourth cornerback for much of the season. He moved into the starting lineup when Joseph sat out at Detroit on Thanksgiving but injured his foot in the game and did not return until the playoffs. Ball had eight tackles, three passes defensed, one forced fumble and 13 special teams tackles.
Brandon Harris, a second-round pick out of Miami in 2011, got significant playing time on defense in Week 12 at Tennessee, when Joseph and Ball were out and McCain was injured early in the game. He then became the Texans' nickel corner with McCain on IR. Harris struggled against Wes Welker and the Patriots in Week 13 but started to settle into his role by the playoffs, breaking up a crucial pass in the Wild Card victory against Cincinnati. .
Roc Carmichael, a 2011 fourth-round pick from Virginia Tech, played sparingly after missing his rookie season with a shoulder injury. In six games, He had four tackles and one pass defensed. Eighth-year veteran Stanford Routt, signed as a street free agent after McCain's injury, appeared in two games.
2012 Cornerbacks in Review - Quick Hits
Starters: Jackson (15 games plus 2 in playoffs), Joseph (14 games plus 2 in playoffs), McCain (2 games), Ball (1 game)
Injuries:** McCain (foot, Week 12), Joseph (groin/hamstring, Weeks 11-12)
Notable number: 19: Number of interceptions (3) and passes defensed (16) for Jackson in his first two seasons combined. He had 20 combined in 2012, eclipsing his previous career totals in interceptions (4 in 2012) and passes defensed (17).
Best game: Week 1 vs. Miami – Joseph and Jackson both had interceptions in the Texans' season-opening 30-10 victory at Reliant Stadium. Jackson had two passes defensed and Joseph had one. Both corners had five tackles and McCain had four as the Texans limited rookie Ryan Tannehill to a 39.0 passer rating.
Quotable: "Kareem Jackson has played outstanding. He's in the top of the league in interceptions. His man doesn't catch the ball very often. The things that we expect from J-Joe (Joseph), he's done the same thing on the other side. We know he's going to be targeted a little bit more, though they've kind of gone away from that. They keep throwing it over there, and he keeps making plays." – Texans defensive coordinator Wade Phillips on Jackson in early October
"Brice has become a much better player over the course of the last two years... He's playing a lot of plays, plays inside, plays outside, plays special teams… It's time for him to start to have these opportunities like he's fixing to have this Sunday." – Texans coach Gary Kubiak on McCain on Nov. 30, a few days before McCain fractured his foot at Tennessee
"Brandon's practiced very well. He's kind of been the guy every week when you get to the 46 (active) guys, is Brandon up; is he down? I can remember a couple weeks ago I sat him down on Sunday morning and he was so dang mad. I loved it, because I know he's arriving because it's that important to him." – Kubiak on Harris on Dec. 6,, before Harris got extensive playing time against the Patriots in Week 13
"He showed why he's in the Pro Bowl. He made a big play. We needed a play there, we had them backed up, and he picked it off. He's that kind of player. He makes big plays." – Phillips on Joseph on Jan. 5, after Joseph had an interception and two passes defensed against the Bengals
Twitter.com/NickScurfield