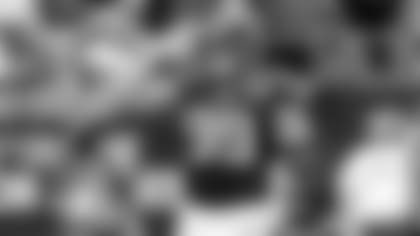 Continuing a position-by-position look back at the Texans' 2012 season:
Any discussion of the 2012 Texans, let alone their defense or defensive line, has to start with J.J. Watt.
Watt had a season for the ages en route to his first Pro Bowl, unanimous All-Pro honors and a near-unanimous selection as the NFL Defensive Player of the Year. The second-year defensive end from Wisconsin led the NFL with 20.5 sacks, tied for the sixth-highest total in league history, and set an NFL record for a defensive lineman with 16 passes defensed.
Watt also led the Texans with 39 tackles for loss, 42 quarterback hits, four forced fumbles and 107 tackles according to coaches' statistics. He contributed to 95 plays that resulted in no gain or a loss of yards. Watt was named a team captain at midseason and the Texans' 2012 MVP.
Defensive end Antonio Smith had a career-high 7.0 sacks after a Pro Bowl season in 2011. The "Ninja Assassin," a ninth-year veteran, was a team captain for the second consecutive season. He had 30 tackles, three passes defensed and two forced fumbles while serving as the emotional leader of the Texans' defense.
Shaun Cody started at nose tackle for the Texans for the third consecutive season. The eighth-year pro had 17 tackles and two passes defensed while rotating with third-year pro Earl Mitchell, who played in every game with three starts. Mitchell had 31 tackles, three passes defensed and one forced fumble.
Rookie defensive end Jared Crick, a fourth-round draft pick from Nebraska, played in 15 games with 22 tackles and two passes defensed. Nose tackle Terrell McClain appeared in three games as a reserve after signing with the Texans in late October.
2012 Defensive Line in Review - Quick Hits
Starters: DE: Watt (16 games, plus 2 in playoffs), Smith (16 games, plus 2 in playoffs); NT: Cody (12 games, plus 1 in playoffs), Mitchell (3 games)
Injuries: Cody (ribs/back, Weeks 10-12), DE Tim Jamison (torn Achilles, Week 6), Hunter (broken toe, Week 7), Watt (elbow sprain, preseason), NT Sonny Harris (torn triceps, preseason)
Notable number:** 23: Watt's age in 2012. He was the second-youngest ever to win NFL Defensive Player of the Year honors, behind New York Giants Hall of Fame linebacker Lawrence Taylor, who won it as a 22-year-old rookie in 1981.
Best game: Week 15 vs. Indianapolis – Watt had the best game of his career as the Texans beat the Indianapolis Colts 29-17 to clinch the AFC South title at Reliant Stadium. Watt had a career-high 10 solo tackles, all solo, along with three sacks, three other tackles for loss, four quarterback hits and one forced fumble at the goal line. Smith chipped in with a sack and three quarterback hits.
Quotable: "He's almost like having a great quarterback. When the game really, really is on the line, he's gonna play his best." -- Texans coach Gary Kubiak on Watt on Nov. 23, a day after Watt had three sacks at Detroit on Thanksgiving
"I think I was robbed, because that would've been the greatest play ever, in my life. It felt good getting in the end zone, especially when I was making those Chris Johnson-type cuts, stiff-arming, then I pull out the 4.5 (speed). It wasn't 4.2 today. It was just 4.5." – Smith on Dec. 2, after a would-be fumble return for a touchdown at Tennessee was nullified by an inadvertent whistle
"What he's doing is amazing. If he keeps going at the rate he's going, I think he'll probably be the greatest Texan to come through here. He's a hell of a player, and I enjoy watching him." – Andre Johnson on Watt on Dec. 16, after the Texans' Week 15 victory over the Colts
"Just wait 'til next year. I'm 23 years old. I'm two years into the league. I'm still learning what I'm doing out there. I'm just trying to have some fun… My second year is not going to be my best year in the NFL, I can promise you that." Watt on Jan. 14, a day after the Texans were eliminated from the playoffs at New England
Twitter.com/NickScurfield