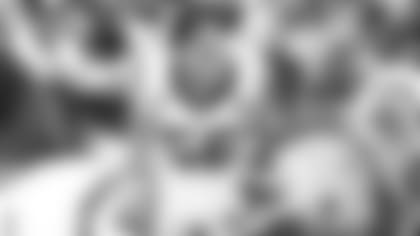 ]( "Texans ILB Brian Cushing")

Continuing a position-by-position look back at the Texans' 2012 season:
The Texans were decimated by injuries at inside linebacker in 2012, much like their quarterback position in 2011.
Four inside linebackers, including 2011 team MVP Brian Cushing, ended the regular season on injured reserve. So did two players who became starters after Cushing's injury, Darryl Sharpton and Tim Dobbins, as well as veteran free agent addition Keyaron Fox, who was injured in the preseason.
In 2011, many observers felt that the Texans would have been a Super Bowl team had they not lost quarterback Matt Schaub to a season-ending injury. Not nearly as much was made of Cushing's season-ending Week 5 knee injury in 2012 – probably because the Texans kept winning and started the season 11-1 – but the Texans' defense regressed sharply without its signal-caller and two-time captain.
Cushing finished the season with 30 tackles, one forced fumble, two passes defensed and one interception. He had a season-high 13 tackles against Tennessee in Week 4. He had five tackles in less than two quarters of play when he went down against New York.
Bradie James, a 10th-year veteran who signed as a free agent from the Dallas Cowboys, started 15 games at Mike linebacker. He tied for third on the team with 77 tackles and had 0.5 sacks, two passes defensed and two fumble recoveries.
Dobbins, a seventh-year veteran and special teams captain, moved into the starting lineup at Mo linebacker after Cushing was injured. He started six games and had 35 tackles and four passes defensed. He tied for the NFL lead with a franchise-record four fumble recoveries, all of which came in the last six weeks of the season. Dobbins played through a shoulder injury late in the season before suffering a season-ending ankle injury in Week 17.
Sharpton, a third-year veteran, was active from the Physically Unable to Perform list against Jacksonville in Week 11. He had a career-high seven tackles, then started five days later at Detroit on Thanksgiving and had six tackles. In seven games with five starts, Sharpton had 27 tackles, two passes defensed, an interception and a fumble recovery. He suffered a season-ending hip injury in Week 17.
Barrett Ruud , an eighth-year veteran, was signed in October when Cushing landed on IR. Ruud played in nine games with one start, 12 tackles, one sack and one pass defensed. He also started a game in the playoffs with Sharpton and Dobbins on IR. Second-year pro Mister Alexander and undrafted rookie Cameron Collins also provided depth at inside linebacker late in the season.
2012 Inside Linebackers in Review - Quick Hits
Starters: MLB: Cushing (5 games), Sharpton (5 games), Dobbins (6 games); MO: James (15 games, plus 2 in playoffs), Ruud (1 game plus 1 in playoffs)
Injuries:** Cushing (torn ACL, Week 5), Sharpton (hip/PUP, Weeks 1-10; hip, Week 17), Dobbins (ankle, Week 17), Fox (knee, preseason), James (hamstring, Week 14), Fox (knee, presesason)
Notable number: 1: Ranking of the Texans defense in points (14.0) and yards (273.0) allowed through four games, when Cushing led the team with 25 tackles. From Week 5, when Cushing tore his ACL on an illegal low block by Jets guard Matt Slauson, through the end of the season, they ranked 18th (22.9) and 13th (340.0). In 2011, when Cushing had a team-high 114 tackles, the Texans' defense ranked fourth in the NFL in scoring (17.4) and second in yards (285.7).
Best game: Week 1 vs. Miami – Cushing was all over the field in the Texans' 30-10 season-opening victory at Reliant Stadium, racking up seven tackles (six solo), an interception, one forced fumble and one pass defensed. James had four tackles (two solo) in his Texans debut.
Quotable: "He's our leader. He's crazy, and so of course we feed off of that. He's flying all over the field. He's so reactive. He's a football player in every sense of the word." J.J. Watt on Cushing on Oct. 3
"I thought it was unnecessary. Whether it was legal or not, all that stuff, I think it's just unnecessary to hit a defensive player when he can't see you, when he doesn't see you." – Texans defensive coordinator Wade Phillips on Oct. 11 on the hit that knocked Cushing out for the season
"I'll never forget the pain I was going through, more mentally than anything else, in just having to sit out. When rehab gets stuff and the offseason's long, I'll remember those moments, (and think about) just how sweet it will be to come back and play football again." – Cushing on Oct. 12
"It's very impressive. Any time you take a significant amount of time off like he has, you're obviously a little bit rusty. I think he's done it because he's played hard. He's played emotionally. He's done a great job." – Kubiak on Nov. 30 on Sharpton's return from the PUP
"He's the guy who is basically an expert on Wade's scheme. There's been a little bit of a revolving door there with Sharp coming off of injury and with Dobbins being beat up a great deal of the time, and he's played with Cush for a while and now he plays with Barrett. He's kind of been a rock. He's been the one guy who has been consistent and been there all year long." – Kubiak on James on Jan. 2
Twitter.com/NickScurfield