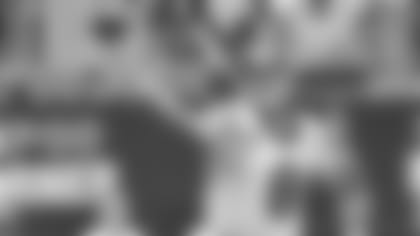 ]( "QB Matt Schaub")

Kicking off a position-by-position look at the Texans' 2012 season:
After losing two starting quarterbacks to season-ending injuries in 2011, the Texans were healthy at signal-caller throughout 2012.
Matt Schaub, who suffered a season-ending foot injury in Week 10 of the 2011 season, started all 16 games. In his ninth NFL season and sixth in Houston, Schaub led the Texans to a 12-4 record, their second consecutive AFC South division title and a playoff victory in the Wild Card round. He was selected to the Pro Bowl for the second time in four seasons.
The Texans were eliminated from the playoffs in the Divisional Round at New England, for which Schaub has absorbed much of the blame from media and fans. Schaub threw three touchdowns and five interceptions during the Texans' 2-4 season-ending skid, completing 66.8 percent of his passes with a rating of 82.2.
During the Texans' 11-1 start, Schaub threw 21 touchdowns with nine interceptions, completed 64.4 percent of his passes and had a passer rating of 94.5. He finished the season with 4,008 yards, 22 touchdowns, 12 interceptions and a passer rating of 90.7, which ranked ninth in the NFL and fourth in the AFC.
Backing up Schaub in 2012 were T.J. Yates, a second-year pro from North Carolina, and John Beck, a 31-year-old veteran who was released in early October. Yates was limited to mop-up duty after starting seven games, including two in the playoffs, as a rookie in 2011. Case Keenum, an undrafted rookie from Houston, spent the year on the Texans' practice squad.
2012 Quarterbacks in Review --- Quick Hits
Starter: Schaub (16 games 2 playoffs)
Newcomers: Beck (free agent), Keenum (undrafted rookie free agent)
Significant injuries: None
Notable number: 64.3 – Schaub's 2012 completion percentage, which ranked sixth in the NFL and second in the AFC behind Peyton Manning
Season highlight: Week 11 vs. Jacksonville – Schaub threw for 527 yards and a team-record five touchdowns as the Texans beat the Jacksonville Jaguars 43-37 in overtime at Reliant Stadium to improve to 9-1. Schaub tied Houston Oilers Hall of Famer Warren Moon for the second-most passing yards in a game in NFL history. He was 43-of-55 passing, setting the NFL record for completion percentage (78.2) with at least 50 passes in a game. He had 17 consecutive completions from the fourth quarter to the beginning of overtime, led the Texans back from a 14-point fourth-quarter deficit with two touchdown passes in the final 5:39 of regulation and threw a 48-yard touchdown pass to Andre Johnson to win the game.
Quotable: "I wish we were still out here for another hour-and-a-half, two hours. The countdown started in May – for me, anyway. I was probably here at 6:30, taped and ready to go, looking in my locker wondering where everyone was. It was exciting to get back out, get back in the huddle with my guys." – Schaub on July 28, after the first practice of training camp, his first practice since November 2011
"I think he really deserves it. I think a lot of the time, he doesn't get the credit that he deserves. I'm just excited that all of us are back out on the field together. Me, him and Arian (Foster), and we have everybody healthy. I think the sky is the limit for this team." – Johnson on Sept. 9, after the Texans announced a contract extension for Schaub following their Week 1 victory over Miami at Reliant Stadium
"It was a tough win; took everybody. Those type of numbers, that's for everybody. That's just something that we had to do to win." – Schaub on Nov. 18, after his record-setting passing performance against Jacksonville
"Something about him, he just has a look in his eye on gameday. I don't know what it is. He just has this focus." – Johnson on Nov. 18
"It's what drives me every day. To know where we got to as a football team last year and to not be a part of it, all offseason and throughout the season so far, that's what keeps me going and drives me to want to be a part of that and to want to finish this thing off in a special way." – Schaub on Dec. 5, 12 games into the season
"It's very exciting to be a part of this and be out on the field with my guys and be able to win a playoff game. It's been a long time coming for this organization and for me personally." – Schaub on Jan. 5, after the Texans beat Cincinnati in the Wild Card round
"He's the quarterback of our football team. I've got no doubt about him. I think over the course of the last two years, he's won 70-plus percent of his starts. That's hard to do in this league. I feel very good about our quarterback. Our whole team has got to get better – that includes coaching and playing – for us to take the next step. And Matt is part of the team." – Texans coach Gary Kubiak on Jan. 14, at his season-ending press conference a day after the Texans' loss at New England
Twitter.com/NickScurfield