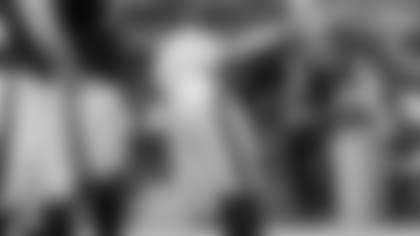 ]( "Texans RB Arian Foster")

Continuing a position-by-position look back at the Texans' 2012 season:
2012 Season in Review: QB
Arian Foster led the NFL in touchdowns for the second time in three years, ranked second in the AFC in rushing and made his third consecutive Pro Bowl in a workhorse 2012 season.
Foster gained 4.1 yards per carry, well below his career average of 4.7, but ran for 1,424 yards and 15 touchdowns. He led the league with a career-high 351 carries as the Texans led the NFL in average time of possession (32:53). He caught 40 passes for 217 yards, down from his 2010-11 averages of 60 catches and 611 receiving yards, and two touchdowns.
In his fourth season after going undrafted out of Tennessee, Foster topped 100 rushing yards seven times. The Texans were 7-0 in those games. Foster scored a touchdown in each of the first nine games and in 15 of 18 overall including the playoffs. He had 230 rushing yards in two playoff games, giving him 515 in four career postseason games. That ties former Denver Broncos running Terrell Davis for the most in NFL history.
Justin Forsett ranked second on the team with 374 rushing yards on 63 carries (5.9 average). The sixth-year pro had one rushing touchdown, a controversial 81-yarder at Detroit that was the longest run in team history. Third-year back Ben Tate had 65 carries for 279 yards (4.3 average) and two touchdowns. He missed four games with a hamstring injury and one with a toe injury after rushing for 942 yards on 5.4 per carry in 2011.
James Casey started at fullback for the second consecutive season. A fourth-year pro out of Rice, Casey set career-highs with 34 catches for 330 yards and three touchdowns and had one carry for six yards. He was a Pro Bowl alternate and earned a spot on USA Today's All-Joe team.
Fullback Tyler Clutts, a second-year pro, appeared in all 16 games primarily on special teams in his first season with the Texans. Rookie running back Jonathan Grimes played in six games on special teams before he was released in December.
2012 Running Backs in Review - Quick Hits
Starters: RB: Arian Foster (16 games – 2 in playoffs) / FB: James Casey (9 games)
Newcomers: Forsett (free agent – SEA), Grimes (undrafted rookie), Clutts (trade – CHI)
Injuries: Tate (toe, Week 5; hamstring, Weeks 9-12)
Notable number: 118.7: Foster's average yards from scrimmage in 51 career NFL games. That ranks fourth in NFL history among players with at least 50 games, trailing Jim Brown (125.5), Billy Sims (119.6) and Barry Sanders (118.9). Adrian Peterson ranks fifth (116.6).
Best game:** Week 2 at Jacksonville – Foster and Tate combined for 184 rushing yards and three touchdowns as the Texans set a franchise record for time of possession (43:17) in a 27-7 victory. They got the ball on 50 of the Texans' 83 offensive plays, combining for 40 carries (Foster 28, Tate 12) and 10 catches (Foster six, Tate four). Foster had 147 yards from scrimmage (110 rushing, 37 receiving) and a touchdown. Tate had 97 yards from scrimmage (73 rushing, 24 receiving) and two touchdowns.
Best play: Week 12 at Detroit – In the Texans' first Thanksgiving game, Forsett scored an 81-yard touchdown run that shouldn't have been. He took a handoff on second-and-10 with 6:50 remaining in the third quarter and gained about eight yards up the middle before he was hit and his knee and elbow touched the field. No whistles were blown, Forsett kept running all the way to the end zone and it was ruled a touchdown. The play would have been overturned because all scoring plays are automatically reviewed, but Lions coach Jim Schwartz nullified prematurely threw his challenge flag, which made the play unreviewable and resulted in a 15-yard penalty.
Quotable: "Turn around; let me see your name. I don't know you, bro." – Foster, mic'd up for NFL Films, to Dolphins cornerback Jimmy Wilson during the Texans' 30-10 drubbing of Miami in Week 1 at Reliant Stadium
"I see him break a run, and I'm chomping at the bit and thinking, 'I could outdo that.' Then I go out there and break one, and then he's out there (thinking), 'I could outdo that.' It's a good, friendly competition out there and also helps this team go." – Tate on Sept. 16, after the Texans' victory at Jacksonville
"You always play until the whistle blows. I felt weird because people started stopping beside me. I said, 'OK, something's not right,' so I turned around, and I didn't notice until the replay that my forearm was down. Thank God for that rule." – Forsett on Nov. 22, after his 81-yard touchdown run at Detroit
"He lines up at fullback and blocks linebackers. We put him out wide at receiver. He's in the slot for us. He lines up at tight end. We can just move him around so many different spots and he can run all those different routes that we do as an offense. He creates mismatches for other teams." – Matt Schaub on Casey on Nov. 28
"He's a man. I just talked to him in the locker room. I've been around some good ones, and this guy… The whole stadium knew we had to line up and run the ball, and boy, was he at this best there at the end. He's become a fine, fine player, and it just seems like the bigger it gets, the better Arian gets." – Kubiak on Foster on Jan. 5, after the Texans' playoff victory against Cincinnati
Twitter.com/NickScurfield