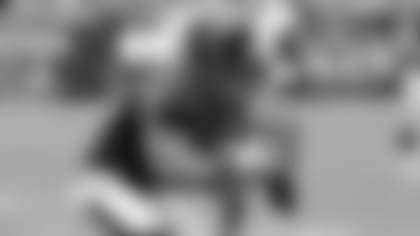 ]( "Texans TE Owen Daniels")

Continuing a position-by-position look back at the Texans' 2012 season:
The Texans were light at tight end in 2012 but got a Pro Bowl season from Owen Daniels and a breakout year from Garrett Graham, their two former fourth-round draft picks from Wisconsin.
In 2011, the Texans had three tight ends on their roster: Daniels, Joel Dreessen and Graham. They had two fullbacks: James Casey and Lawrence Vickers, a more traditional lead-blocker. Because Casey also played tight end, they essentially had 3.5 tight ends and 1.5 fullbacks.
The Texans lost Dreessen as a free agent to the Denver Broncos and released Vickers before the season. They acquired fullback Tyler Clutts in a trade, but he played just three percent of the offensive snaps in 2012. So they essentially had 2.5 tight ends and 0.5 fullbacks this season.
Daniels played in 15 games and had 62 catches for 716 yards and a team-high six touchdowns. It was his best season since 2008, when he had 70 catches for 862 yards and made his first Pro Bowl. The seventh-year pro said he felt as healthy as he had since before tearing his ACL midway through the 2009 season and missing five games with hamstring issues in 2010.
Graham had 28 catches for 263 yards and three touchdowns. In his previous two seasons, he had one total catch for 24 yards. Casey, who often motioned out of the backfield to a tight end role, had a career-high 34 catches for 330 yards and three touchdowns in his fourth season out of Rice.
2012 Tight Ends in Review - Quick Hits
Starters: Daniels (14 games 2 in playoffs), Graham (9 2 in playoffs)
Injuries: Daniels (hip, Week 10), Graham (concussion, Week 14)
Notable number: 18: Catches by Daniels in the Texans' two playoff games, which led all tight ends and ranked third among all NFL players in the postseason. Daniels had a franchise-playoff-record nine catches for 91 yards in the Wild Card round against Cincinnati and equaled that mark with nine more catches for 81 yards in the Divisional round at New England.
Best game:** Week 11 vs. Jacksonville – Daniels (6 catches, 57 yards), Graham (8 catches, 82 yards, 2 TDs) and Casey (3 catches, 20 yards, 1 TD) combined for 17 catches for 159 yards and three touchdowns in the Texans' 43-37 overtime victory against Jacksonville. Graham's two touchdown catches both came in the final the final 5:34 of regulation to tie the game at 34-34. He also had a career-long 30-yard catch in the third quarter. Daniels was questionable for the game after sitting out the previous week with a back injury.
Best play: Wild Card playoffs vs. Cincinnati – It was a short gain, but a crucial one. With 2:33 remaining in the fourth quarter, Graham caught a lofted seven-yard pass over the middle on third-and-two from the Houston 36-yard line, hanging on to the ball despite a vicious hit to the helmet from Bengals linebacker Vontaze Burfict. Graham wound up with a concussion, Burfict a 15-yard penalty for unnecessary roughness and the Texans a crucial new set of downs to help them run out the clock on a 19-13 victory.
Quotable: "Obviously, he's had a tremendous year catching the ball. It's hard for people to cover him underneath. Owen has done a great job, and we're working him down the field. He does a great job in the seams." – Texans offensive coordinator Rick Dennison in mid-October on Daniels, who had 33 catches for 416 yards and four touchdowns through seven games
"I feel great physically. The coaches really took care of me during camp, giving me days off here and there. I think that is translating into feeling good now and hopefully it will later in the season, too." – Daniels on Oct. 22, heading into the Texans' bye week
"They're the key to our versatility. We can run a bunch of offenses with those three. We can be in a two-back scheme. We can be in a one-back scheme. We can be in a three-wide scheme. Yesterday, we went to some empty stuff where all three of them were on the field. They give us a lot of flexibility. I think Garrett's development has been a key to O.D. staying healthy. James is playing all over the place." – Kubiak on the Texans' tight ends on Nov. 5, a day after Houston beat Buffalo at Reliant Stadium
"Garrett's been doing that all year, but he just happened to get the opportunities with the ball in his hands. Garrett really stepped up for us, especially in the red zone… He played outstanding." – Matt Schaub on Graham on Nov. 18, after Houston beat Jacksonville at Reliant Stadium
"It was huge, and Owen has been a little beat up and he battled through today and made some big plays for us. And nobody makes one bigger than Garrett there at the end." – Kubiak on Jan. 5 on the tight ends' involvement in Houston's Wild Card victory against Cincinnati
Twitter.com/NickScurfield