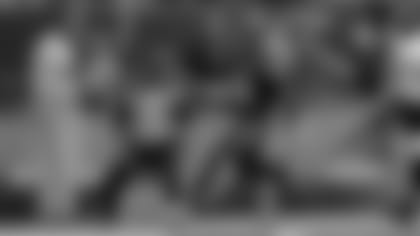 ]( "Texans WR Andre Johnson")

Continuing a position-by-position look back at the Texans' 2012 season:
At the age of 31 and in his 10th NFL season, Andre Johnson had the best year of his stellar career in 2012. The Texans' other four wide receivers combined for less than 1,000 yards as the Texans continued to search for a field-stretching complement to their star wideout.
Johnson, dogged all offseason by injury questions and speculation that his skills were diminishing, started every game and had a career-high 1,598 receiving yards, second in the NFL behind Calvin Johnson. He had 112 catches and four touchdowns en route to his sixth-career Pro Bowl selection. He joined Jerry Rice as the only player in NFL history to have 100 receptions and 1,500 yards receiving in his 10th season or later.
Johnson started out slow after missing nine games with hamstring injuries in 2011 and parts of the offseason with knee and groin injuries. In the first five games of the season, he had 17 catches for 283 yards (an average of 3.4 catches and 56.6 yards per game). Over the final 11 games, he had 95 catches for 1,315 yards (averages of 8.6 and 119.5). He had 12 catches for 157 yards in two playoff games.
Starting opposite Johnson in 14 games was Kevin Walter. The 10th-year veteran had 41 catches for 518 yards, ranking third on the team in both categories behind Johnson and tight end Owen Daniels, along with two touchdowns. Rookies DeVier Posey and Keshawn Martin and second-year receiver Lestar Jean combined for 22 catches for 323 yards and two touchdowns.
Posey, a third-round draft pick from Ohio State, emerged as a potential starter late in the season before tearing his Achilles in the Texans' Divisional playoff loss at New England. He had six catches for 87 yards in the regular season and three catches for 87 yards and a touchdown in the playoffs.
Martin, a fourth-round pick from Michigan State, had 10 catches for 85 yards and a touchdown. He also had four carries for 53 yards. Jean, who spent his rookie season on injured reserve after going undrafted out of Florida Atlantic, had six catches for 151 yards (25.2 average), including a 54-yard touchdown at Tennessee in Week 13.
2012 Wide Receivers in Review - Quick Hits
Starters: Johnson (16 games 2 in playoffs), Walter (14 2 in playoffs), Martin (1), Jean (1)
Injuries: Posey (torn Achilles, Divisional Playoff game), Jean (knee, Weeks 4-5)
Notable number: 461: Receiving yards Johnson had in Weeks 11 and 12, an NFL record for receiving yards in back-to-back games. Johnson had 273 yards on 14 catches in an overtime thriller against Jacksonville on Nov. 18, followed by 188 yards on nine catches in a Nov. 22 overtime game at Detroit.
Best game: Week 11 vs. Jacksonville – Johnson had a career-high and franchise-record 14 catches for 273 yards and the game-winning touchdown in overtime at Reliant Stadium. It was the ninth-most receiving yards in a game in NFL history and the most since Terrell Owens had 283 in 2000. Six of Johnson's 14 catches went for at least 20 yards – gains of 20, 22, 23, 35, 45 and 48. He had three catches for 73 yards on the first three plays of the game, seven catches for 132 yards by halftime and 12 catches for 214 yards at the end of regulation.
Best play: Week 11 vs. Jacksonville – Johnson capped the best game of his career with a walk-off 48-yard touchdown catch with 2:01 remaining in overtime, giving the Texans a 43-37 victory. Taking a screen pass from Matt Schaub near the right sideline, Johnson had room to run thanks to blocks by Walter and right tackle Derek Newton. He darted past the defense and strutted across the goal line before leaping into the stands in the north end zone.
Quotable: "That was the greatest day by a wide receiver I've ever been around. What a huge day. I don't know if that one will ever be touched. That was special from the Texans' standpoint." – Texans coach Gary Kubiak on Nov. 18, after Johnson's record-setting game against Jacksonville
"I've been telling you guys I've been feeling better and better every week. Maybe you guys will believe me after that." – Johnson on Nov. 18
"Just that I love him. I love the way he plays." – Schaub on Nov. 18, on what he said to Johnson after the game
"I've been fortunate to be with some Hall of Fame football players, and I think you're looking at one all the time. I don't think you really understand how great a player he is, but we'll all understand here down the road when he's not doing it anymore. He's a special player, and a special person. He's the 'go' for this team, and right now, he's money. You can count on him." – Kubiak on Dec. 16, after Johnson became the third-fastest player to 11,000 career receiving yards against Indianapolis at Reliant Stadium
"I don't really get caught up in what people say. You have to go out and play. Just like people said I was old, but I finished second in the league in yards; it doesn't matter what people say. You've got to go out and play the game." – Johnson on Jan. 9, on the Texans being heavy underdogs for their upcoming playoff game at New England
Twitter.com/NickScurfield